JUST IN: Marine Corps Commandant Prioritizing Anti-Ship Missiles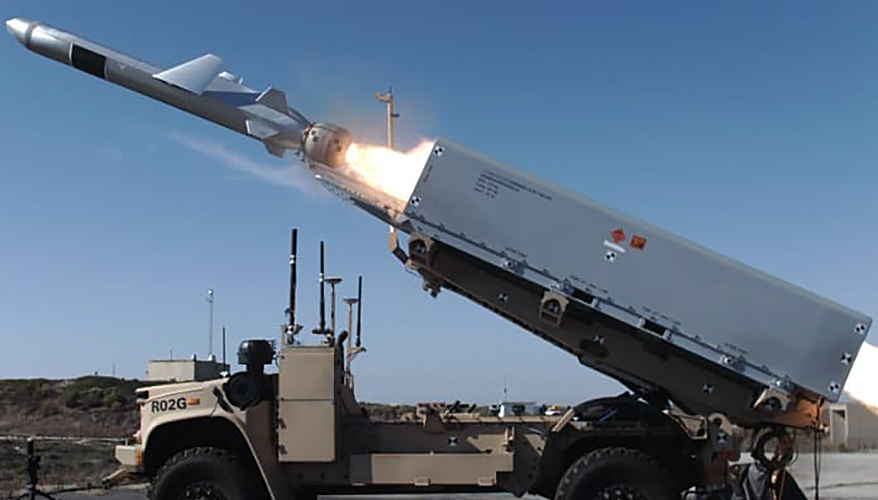 The military tests the Navy-Marine Expeditionary Ship Interdiction System (NMESIS) in November 2020.
Navy photo
Ahead of the release of the Pentagon's fiscal year 2022 budget request, the commandant of the Marine Corps said funding for missiles that can destroy ships is the service's "No. 1 priority."
Investing in ground-based anti-ship missiles is part of the Corps' plan to revamp its conventional deterrence capabilities, said Gen. David Berger at the McAleese and Associates annual defense programs conference May 13.
"That's a capability that makes an adversary think twice," he said.
The Defense Department is investing in ground-based platforms such as the Navy Marine Expeditionary Ship Interdiction System (NMESIS). Berger pointed to a demonstration of the capability on the coast of California last year when the military used a Naval Strike Missile mounted on an unmanned Joint Light Tactical Vehicle to hit a moving ship.
Capabilities like this support Force Design 2030, strategic guidance released in March of last year that recommends "sweeping changes" carried out by eliminating several legacy platforms, while adding advanced technologies such as robotics. Fewer tanks and smaller infantry battalions are also part of the plan.
"We are reorienting from a ground sustain land forces mode, which we've had to do for the nation for the past 20 years, into a naval expeditionary maritime mode," Berger said.
This shift is driving investments in new platforms like long-range precision fires and light amphibious warships, Berger said. The Navy has said it is considering acquiring 30 to 50 of the latter, also known as LAWs. The service is targeting a per unit procurement cost of $100 million to $150 million for the vessels, according to a Congressional Research Service report, "Navy Light Amphibious Warship (LAW) Program: Background and Issues for Congress."
Meanwhile, Force Design 2030 is gaining traction in Congress, Berger said. The commandant has met with several leaders of defense committees to explain the urgency of keeping pace with China.
"The current path that we're on — we have to move now, and Congress I found to be very supportive," he said.
When asked about his written testimony to Congress that mentioned plans to arm LAWs with containerized missiles, Berger explained that adding mobility to the ships was more important than making them more lethal with munitions.
"We'll have that discussion, but it's not the primary driver today," he said.
Another capability the service is interested in is defending against Chinese diesel electric submarines, Berger noted. But that item on the wish list takes a back seat to the other priorities listed in Design Force 2030.
"In terms of budget priorities, I wouldn't put it in a 1 to 10 list," he said.
The Marine Corps plans to invest in unmanned systems. Berger noted that the service may add more attritable aircraft to its forces. Currently, the service is relying on more proven aircraft like the MQ-9 Reaper drone for reconnaissance support.
But service leaders are open to incorporating new capabilities and technologies "down the road" as industry continues to develop attritable aircraft, he said.
"I don't know whether that means extra squadrons, or if they will be part of the squadrons we're building now," he said.
Berger noted that industry has an opportunity for innovation to help the Marines logistically support a more distributed force. The force of the future will operate inside adversaries' weapons engagement zones and be more mobile, he said.
"Of all the things that we're working on in the naval force, and narrowly within the Marine Corps, this is the hardest problem I think going forward: distributed logistics," Berger said.
Topics: Unmanned Air Vehicles, Amphibious