JUST IN: Pentagon Officials 'Doubling Down' on Acquisition Reform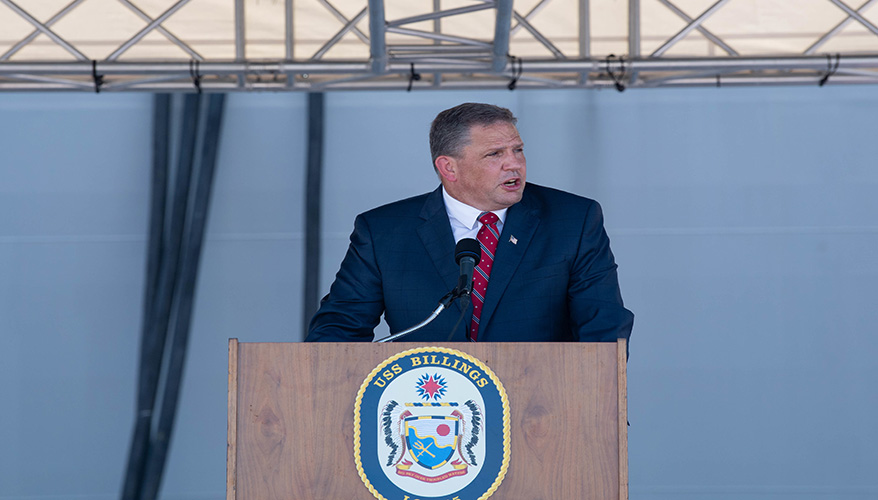 Acting Under Secretary of the Navy James Guerts speaks during the commissioning ceremony of USS Billings.
U.S. Navy photo by Mass Communication Specialist 3rd Class Marianne Guemo
James Geurts — who is currently performing the duties of the undersecretary of the Navy and previously served as the service's acquisition chief — said Pentagon officials are doubling down on efforts to reform the procurement process that were set in motion during the Trump administration.

Former Undersecretary of Defense for Acquisition and Sustainment Ellen Lord kicked off changes in the Pentagon's acquisition system by working to increase competition, deliver technology to warfighters faster and update policies associated with the DoD 5000 series.

"I would certainly applaud Secretary Lord and her team's effort and everybody over the last couple of years to get at the problem," Geurts said May 12 during remarks at the McAleese and Associates annual conference. "This [current] administration is doubling down on it. They understand the imperative. They understand how important it is for us to get there."
There has been no slowdown in work aimed at improving the acquisition process, said Geurts who noted that he is one of the few officials who has a "foot in each camp."

Such reform efforts are how officials can better achieve scale and speed in the procurement process, which has remained a perennial problem, he noted. By enabling those two aspects, "you inspire and empower the workforce. You give them a wide variety of tools to pick from, and then you hold them accountable to pick the right tool for the right job," he said.

For the Navy and Marine Corps, both services are gung-ho about solving obstacles to more streamlined acquisition processes, he added.

"If you don't see that … send me a note," he said while sharing his email address. "If you sense that we're slowing down, give me a holler."

The Navy has yet to achieve the scale and speed it needs, Geurts said.

"If we're going to compete globally, scale and speed matter — we can't just have niche demonstrations," he said. "We've got to figure out how to do that at scale, and that's where opportunism comes in mind and to be opportunistic you've got to be forward leaning. You've got to be forward thinking. You have to have great relationships and you have to have trust."

Meanwhile, as the Navy looks for funding to support an ambitious shipbuilding plan, it is going after the fundamental costs of programs and looking for savings.

"If you want to grow a Navy at some point, we've got to understand the budget allocation and that will be a debate at the highest levels," he said. However, "I'm right now focused on how … we maximize the output we can generate for the resources we have."

Before Geurts targets a program for cuts, he wants to ensure that the service has done everything is can do to reduce costs, he said.

"Look, we're going to build ships," he said. "With a 300-ship Navy ... [with] an average service life of 30 years, you're going to have to build about 10 ships a year just to stay even. The trick for us is how do we keep driving affordability so we can maximize the output for the resources we have and resist … [the] culture to continue to add complexity and cost into our product, as opposed to looking for other creative ways to get there?"

The past four years have been "pivotal" to setting the Navy on the right course to reduce costs, he noted. "My sense is everyone understands the problem," he said. "Everybody understands the complexity."

Geurts said he is constantly discontented and is always looking for opportunities to facilitate acquisition in a different and more efficient way.

Meanwhile, Vice Adm. William Galinis, commander of Naval Sea Systems Command, said the service is also working to make improvements to its maintenance availabilities, which he called his highest priority.

"We have seen a significant drop in the days of maintenance delays going from just over 1,500 days of delay in 2019 to just under 400 days of maintenance delay in 2020 and that's with six ships delivering over that time," he said.

Since 2010, NAVSEA has seen a 25 percent increase in its workload but has also grown its workforce by about 10,000 full-time employees, he noted. The Navy has overhauled its training programs which has helped improve maintenance delays. "That's really proven to be to be a real benefit for us," he said. "The time that it takes to train a mechanic today is roughly about half what it has been historically."

However, in an era of great power competition, getting ships back into the fleet and providing forward presence is critical and the improvements the service has made so far are not enough, he added.

One way the Navy is working to further improve its maintenance availabilities is through its Shipyard Infrastructure Optimization Program effort, Galinis said. SIOP is a 20-year, $21-billion effort to modernize the service's four aging public yards that repair its submarines and aircraft carriers. The yards are located at Kittery, Maine; Pearl Harbor, Hawaii; Portsmouth, Virginia; and Puget Sound, Washington.

The Navy has garnered what Galinis said is widespread support for the effort — which is employing digital twin technology to map out areas most in need of changes — and is working on ways to accelerate SIOP in the coming years. However, whether that happens or not will be driven by the service's ability to conduct maintenance availabilities, while at the same time recapitalizing the yards. It will hinge on what the future budget environment looks like, he said.

"We'll see how that how that plays out," Galinis said.
Topics: Acquistion Reform, Acquisition Programs