NDIA PERSPECTIVE INFOTECH
Conducting Business in a Virtual World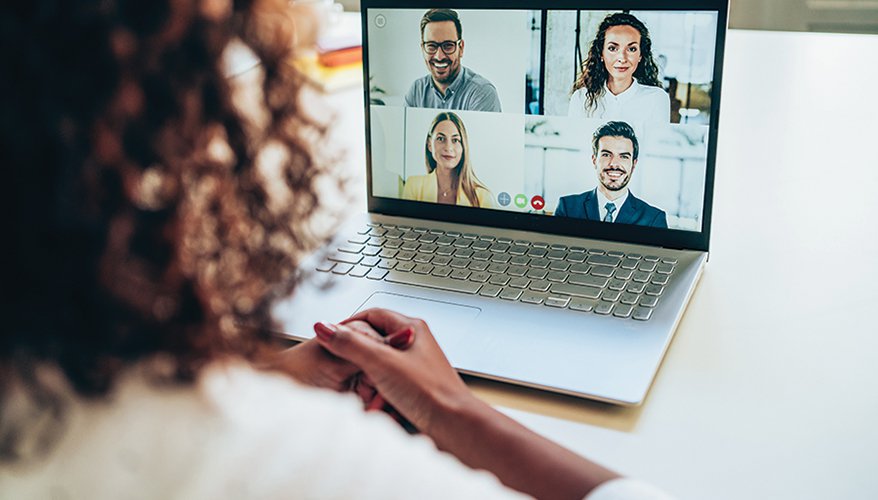 iStock photo
On March 16, 2020, I departed Honolulu heading home after the conclusion of a successful conference conducted with our partner Indo-Pacific Command. Little did I know it would be my last time on a plane for over a year. The next day the National Defense Industrial Association went into lockdown as the world changed.
NDIA works to ensure our warfighters enjoy decisive advantage across the spectrum of conflict. We execute by convening legal, ethical forums to exchange ideas, information, viewpoints and capabilities on issues related to national security. Adapting to a pandemic challenged NDIA's models and means for connection, communication and collaboration. Moving quickly to ensure we could continue to meet the mission became our immediate priority, recognizing we were operating in unfamiliar territory.
As my team postponed and then canceled meetings, conferences and events, we quickly realized we had to embrace change and innovation to meet constituents' needs. We needed to shift how we convened forums for critical information exchange and how we communicated and collaborated with our volunteer leaders to plan and execute events.
We needed to welcome, and embrace, the virtual world.
We recognized meeting face to face was not possible, so we had to quickly adapt to retain our hard-earned thought leadership position and remain connected to our members and partners. The situation required we adopt innovative processes and practices to remain at the forefront of the issues and policies impacting members and tangibly demonstrate NDIA's leadership in bringing industry, government and academia together.
Relying on our volunteers' strength, leadership and the relationships we built with government partners, we produced our first major virtual event, vSOFIC, in just five weeks. I could not be prouder of the teamwork and incredible effort from all stakeholders highlighted by extensive communication and unprecedented collaboration to execute an event that maintained SOFIC's reputation for innovation and impact. This success became NDIA's pathfinder for the next 12 months, ensuring the association continued to deliver events for industry, government and academia to communicate and collaborate in support of the warfighters.
NDIA continued to find more opportunities for engagement through virtual conferences, division meetings and member webinars. Working with our exceptional volunteer leaders to brainstorm new, effective methods to connect and collaborate, division meetings experienced higher attendance and participation. Several conferences found new life exploring opportunities to combine talents for more robust programs and formats.
Membership also pivoted to delivering benefits virtually. This past year, the Membership team supported 12 Chapter webinars, attracting 1,739 registrants and 1,137 attendees.
The team also partnered with Strategy & Policy, Divisions and our affiliate Women In Defense (WID) to offer 30 members-only webinars for 6,559 registrants and 4,001 attendees. These provided information on topics including Cybersecurity Maturity Model Certification and the Defense Department's resourcing processes. For registrants unable to attend, the association leveraged its new online community, NDIA Connect, to make recordings, slides and answers to questions available to members on their schedules.
NDIA Connect also enabled more than 60,000 defense professionals to stay connected from anywhere, at any time. Launched in April 2020, when professionals across the world shifted business operations and networking efforts online, NDIA Connect offers an effective channel for doing so despite temporal and geographical obstacles. Through this online community, thousands of NDIA members — along with affiliates National Training and Simulation Association and WID — have engaged on topics of interest to the defense community, promoting our collective mission in support of American warfighters, despite not currently convening in person.
In fact, our members are maximizing their access to NDIA Connect by participating in general and specialized communities through discussion threads and library entries dedicated to a wide range of topics. Every day, they are posting their thoughts, questions and answers while developing their professional networks.
NDIA Connect will remain a critical networking and information-sharing capability as the post-pandemic business landscape evolves.
Despite, and sometimes because of, the pandemic, the Strategy & Policy team shifted into high gear while moving to virtual platforms to engage, educate and advocate with and on behalf of our members. Whether related to the pandemic, the normal policy cycle, or brought on by the presidential transition, we did not skip a beat.
Most indicators point toward a 2022 or 2023 timeframe to return to business activity levels enjoyed prior to COVID. Until then, NDIA will continue to lead in identifying and providing tools for our members to interact, grow and learn.
NDIA recognizes the imperative to provide a marketplace for our members to conduct business virtually. While virtual meetings will never replace face-to-face interactions, networking or the vibrancy of a trade show, we can and will provide the potential for business by connecting all interested parties. Giving our members the tools to meet, connect and partner in support of our warfighters remains our No. 1 focus, just as it was on March 16, 2020.
The past year taught us success requires knowing how to listen, be flexible, creative, adaptable, innovative and improvise to serve the needs of members and warfighters. We believe, collectively, we achieved great success. However, we look forward to connecting in-person as soon as it is safe to do so.

Christine M. Klein, CMP, is NDIA's senior vice president of meetings, divisions and partnerships.



Topics: Defense Department, Infotech, Information Technology