JUST IN: Request for Proposals for Black Hawk Replacement Slated for Summer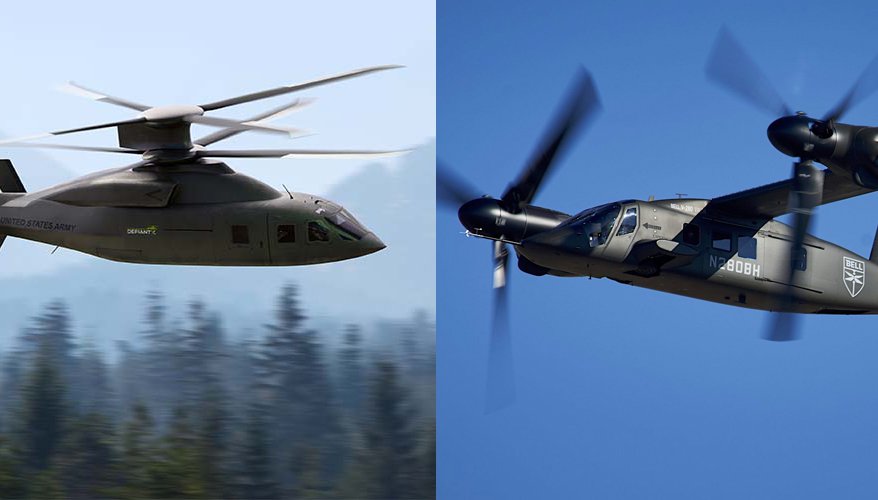 Sikorsky-Boeing image, Bell photo
Following the release of a draft request for proposals late last year, the Army is planning to drop a final request for proposals for its Future Long-Range Assault Aircraft sometime in the coming months, said an official April 30.
"We've gotten a lot of great feedback and comments on that draft RFP … from industry and from other government stakeholders," said Col. David Phillips, project manager for FLRAA. "We've incorporated a lot of that feedback and really we're now looking toward this summer to release that RFP."
FLRAA — which will replace the service's aging Black Hawk helicopters — is nestled under the Army's future vertical lift modernization initiative. Last year, the service awarded other transaction authority agreements to a Sikorsky-Boeing team and Bell for the effort.
The service has been undergoing a competitive demonstration and risk deduction phase with the companies, Phillips said during a media roundtable with reporters. In late March, the Army awarded phase 2 contracts to both teams for the competitive demonstration and risk reduction phase.
Sikorsky-Boeing is offering its Defiant X platform and Bell is offering its V-280 Valor aircraft.
The Army is working to accelerate the FLRAA program, Phillips said.
"We looked at the schedule we're on — which we knew was aggressive — … [and] wanted to move some of that design work to the left," he said. "We want to do that in a competitive environment … [and] optimize those designs going forward before we award our contract next summer" in 2022.
Requirements for the program were informed by a precursor effort known as the joint multi-role technology demonstrator, which both Bell and Sikorsky-Boeing participated in.
Following the selection of a vendor next year, the Army will launch directly into the engineering and manufacturing development phase of the program, Phillips said.
"We're maintaining … the momentum of the program, the digital engineering environment, the model-based systems engineering," he said. "We're getting to realize those efficiencies in real time."
Phillips said the final RFP will not likely have any major changes relative to the draft RFP.
"We really tried to analyze all that feedback [from industry] to make sure we understood the context, added additional clarity where we needed to … and added the right level of rigor into the process," he said.
Meanwhile, the Army is also pursuing another future vertical lift modernization effort known as the Future Attack Reconnaissance Aircraft, or FARA. Last year, the service awarded other transaction authority agreements to Bell and Sikorsky for FARA. Bell is offering its 360 Invictus platform and Sikorsky is offering its Raider X aircraft.
Col. Gregory Fortier, project manager for FARA, said 2021 will be a "data-driven" year for the program. The Army is planning in June to undertake its first deep-dive program management review, he said.
That will set the service up for a program readiness review later this calendar year "to inform the Army for future investment decisions and approvals for release of the draft" request for proposals for the program, he said. "While all this is happening, while we're building competitive prototypes, we're also running the conventional tailored acquisition processes that we need to get to a Milestone B" decision.
That includes an analysis of alternatives as well as affordability and schedule analyses, he said.