VIEWPOINT: Partnered Operations in SOF Acquisition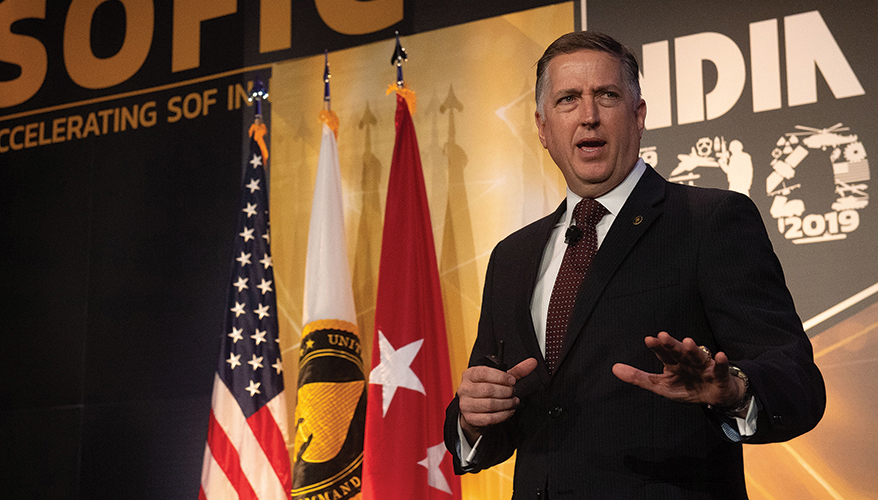 Jim Smith, U.S. Special Operations Command Acquisition Executive
Air Force photo by Master Sgt. Barry Loo
It's a simple enough principle — we are better when we work together with a diverse set of partners to provide the capabilities required to enable Special Operations Forces. SOF acquisition strives to mirror the competencies of the operators we support. While they excel at partnering in the operational domain, we need to excel at partnering in the acquisition domain.
Partnering with industry and academia — whether small or large businesses, commercial or defense members of the industrial base — and drawing upon broader perspectives and new ideas, is essential to competing against different and more capable adversaries. Like the command we support, the strength of SOF acquisition is partnered operations. But sometimes we fall short.
A SOF leader recently took the time to relate to me his strong support for one of our programs and his equal dismissal of another program.
The difference? In the former case, he appreciated the program manager's overt outreach to the operators while in the latter case, he felt the program manager had neglected to truly understand the operators' perspective. The SOF acquisition process functions at its best when we — the government, industry and academia — partner to support our SOF commanders by working together.
When Army Gen. Richard Clarke assumed the role of commander for U.S. Special Operations Command in 2019, he held a conference with all USSOCOM service component commanders, theater special operations commanders and senior enlisted leaders. Our leaders focused on drafting a clear, concise set of priorities that would apply across the breadth of the special operations enterprise.
The five priorities developed included advancing partnerships as well as competing and winning for the nation, preserving and growing readiness, innovating for future threats, and strengthening our force and families.
For members of the SOF acquisition government team, our job is to achieve these priorities in the acquisition space. As we work to advance partnerships, we not only think about how we can better team with foreign partners to share technologies and ensure interoperability among allies, but we also think about how we can better collaborate among the full breadth and depth of our industrial base and great academic institutions.
Events like this year's Special Operations Forces Industry Conference (SOFIC) are an opportunity to strengthen partnerships between SOF commanders, government acquisition professionals and industry and academic attendees to explore innovative solutions that will enable SOF operations in both the current and future operating environments. For this precise reason, we design the SOFIC schedule to hear from our commanders, to include Gen. Clarke's keynote address and the component commander panel, and we dedicate as much time to listening as we do to presenting as evidenced by the many one-on-one sessions offered with our program executive officers.
As partners in the acquisition space, the challenge we mutually face is one that we share with the operators we support. SOF are called on to conduct operations in the competition phase of international relations as well as enable the Joint Force in conflict. This wide breadth of responsibility requires our operators to be extremely agile and to think critically about how best to approach a problem strategically, operationally and tactically. There is no one-size-fits-all solution for SOF.
Likewise, we in the acquisition community must eschew the easy templated approach to acquisition. The techniques that have made SOF acquisition successful in the last 20 years supporting mainly counter-violent extremist organization (C-VEO) operations are not the same techniques that will allow us to be successful for the next 20 years in strategic competition against peer competitors.
We often design acquisition strategies framed by the tradeoff between cost, schedule and performance. Against a C-VEO threat, schedule often trumped cost and performance. To support SOF in strategic competition, acquisition strategies will need to consider the trades between not only cost, schedule and performance, but also security. We need to secure and protect the technology, techniques and tactics that give our operators an advantage in competition and conflict. We need industry and academia to team with us on a more robust means of protecting information.
There will be no default priority among the four tradeoffs. Sometimes speed will be our strength but, other times, the need for greater security may require a more deliberate approach. In all cases, we will work with our partners to design the right strategy and communicate that across our partners transparently at the appropriate security level.
Not to sound too much like Dear Abby, but communication is the key to successful partnerships. To date, SOF has established many venues to communicate our requirements to industry and academia. We recently established Engage SOF (eSOF), an online tool for our industry and academic partners to submit proposals and receive feedback. Since its inception in September, we have received 140 submissions from 120 unique companies.
We have also maintained the Vulcan tech scout website for the Defense Department and interagency government partners. Currently more than 15,000 government users have access to over 8,000 scout cards on which they've performed more than 18,000 assessments. In the last year alone, 6,500 new government users joined, and industry and academic partners added 2,200 scout cards.
Our SOFWERX platform, in partnership with DefenseWerx, has led over 20 collaboration and assessment events since the beginning of the fiscal year and added 5,000 partners to the 45,000-plus members in their ecosystem.
Finally, and I know this doesn't make me "viral" by any stretch of the imagination, but over 2,700 partners are linked into the USSOCOM Acquisition Executive account on LinkedIn.
This year, we will simplify the number of different venues our partners navigate in order to partner with USSOCOM. We're establishing a new web-based entry portal to link the separate SOF venues together in the digital space. If before we could be accused of having too many "doorways" for entry to SOF acquisition, we'll now have one "foyer" — a web location where an industry or academic partner can enter, receive direction on how to proceed and have the opportunity to provide their information.
We'll also link together the back-end databases so that if you join the SOFWERX ecosystem, submit a Vulcan scout card, participate in a technical experimentation event, or propose a solution to us via eSOF, we'll know who you are and our program managers will have access to all of your interactions with a single query.
We need industry and academia's active participation and feedback. I encourage our partners to review USSOCOM's capability areas of interest and our science-and-technology hard problems listed on the USSOCOM website. How can you help us with our modernization focus areas: next-generation intelligence, reconnaissance and surveillance; next-generation mobility; precision fires and effects; data and networks; hyper enabling the operator; and biotechnologies? How can you help close the gaps in our science-and-technology priorities in areas such as special communications, tailorable lethality, electronic warfare, human performance optimization or data-enabled SOF?
I encourage you to use SOFIC or any of the tools mentioned earlier to engage with us. We want to open new paths of communications with partners who can help us achieve our commander's vision of USSOCOM transforming into an AI-enabled command by applying the best practices of the commercial base to the areas listed above.
The single most tangible artifact of our partnership with industry and academia is our contract strategy. Our government team has worked diligently over the past few years to build competency in each of the tools Congress and the Office of the Secretary of Defense have authorized for our use. We have found that Other Transaction Authority agreements (OTAs) allow us to partner with industry in a more tailored fashion to develop prototypes. Just three years ago, we conducted our first two OTAs; in 2019 we did seven; and last year we did 40.
We're executing nine OTAs already in fiscal year 2021.
OTAs are not the one-size-fits-all tool for SOF contracting strategies, but our rapidly growing cadre of agreement officers have now developed the confidence and acumen to engage in OTAs when we view that as the best means to support our commanders.
Likewise, we're early adopters of the Defense Commercial Solutions Opening (CSO) Pilot. This pilot allows us to partner to "acquire innovative commercial items, technologies, or services that directly meet program requirements."
We initiated our first two CSOs last year for two of our newest programs: Hyper-Enabled Operator (HEO) and Mission Command System/Common Operating Picture (MCS/COP). Interestingly, these two programs are also breaking trail on how best to partner with the operational units.
For our HEO science-and-technology effort, our team has partnered directly with 7th Special Forces Group by conducting frequent experiments to determine how best to provide cognitive overmatch to the individual SOF operator and small team at the remote, austere edge of the battlespace.
In the case of MCS/COP — a software intensive program that will follow the Defense Department's new software acquisition pathway — the program office is partnering with our Special Operations Command Central Command. We know that software development is highly iterative and requires direct and frequent feedback from end users to support an agile development process. The MCS/COP program is causing us to rethink partnering on every level.
As announced at last year's SOFIC, we created a new program executive office specifically chartered to develop expertise in software acquisition and to exercise the software acquisition pathway in a manner that will enable acquisition at a pace and direction that commercial software developers will be comfortable with. For both MCS/COP and HEO we've reached out to academic partners to bring in engineering and computer science expertise to support the government team. These programs will lead the way on how we — the government, industry and academic team — can more directly partner with the operators we support.
I'll fill in one of the blanks I mentioned in the beginning. The program the aforementioned "SOF leader" strongly supported is this HEO effort. Our partnering with industry, academia and the operators has provided strong confidence within the user community we support. As to the program he dismissed, we're getting that one fixed by applying lessons we've learned from the HEO effort and others.
Many of the terms I have discussed above were presented for the first time at last year's SOFIC. USSOCOM remains a fast-paced environment and there are sure to be new concepts presented this year. Likewise, much has progressed with our industry and academic partners and we want to hear from you.
I'd ask you to take advantage of the SOFIC forum. Ask us questions, present your ideas and challenge our assumptions in the acquisition space. I'm personally looking forward to it and, as always, thank you for your partnership in support of our SOF.

Jim Smith, U.S. Special Operations Command Acquisition Executive
Topics: Special Operations, Special Operations-Low Intensity Conflict