VIEWPOINT DEFENSE CONTRACTING
Recommendations Based on Vital Signs 2021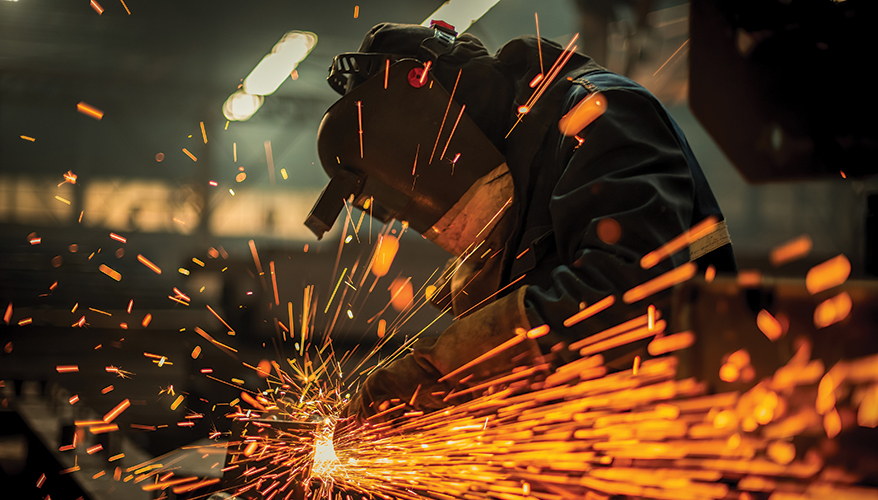 iStock photo
In February, the National Defense Industrial Association released Vital Signs 2021: The Health and Readiness of the Defense Industrial Base — an annual measure of the defense industry's health through eight conditions describing the business environment defense firms coped with over the preceding year.
Like the four traditional vital sign conditions physicians use to assess the status of life-sustaining functions — temperature, pulse, respiratory rate and blood pressure — we believe these eight conditions are essential to a well-functioning defense industrial base: demand, production inputs, innovation, supply chain, competition, industrial security, political and regulatory environment, and productive capacity and surge readiness.
Unlike the traditional medical vital signs measured in real time, the conditions and overall grade are measured using data gathered over the previous year. Still, they reflect the state of the defense industrial base as the COVID-19 lockdowns began in March 2020.
By compiling publicly available data, we converted each indicator into an index score on a scale of 0 to 100, like academic grades. These indicators show the environment we ask the defense industrial base to operate in received a "C" letter-grade for health and readiness — a barely passing grade.
The Vital Signs study makes conclusions but does not offer recommendations with an intent to prompt dialogue amongst the industrial base's stakeholders. However, the data and those conclusions indicate some important policy prescriptions.
First, the acquisition system is putting U.S. technological superiority at risk. Last year, the House Armed Services Committee-led Future of Defense Task Force noted that "China represents the most significant economic and national security threat to the United States over the next 20 to 30 years." To cope with this challenge, the Defense Department's acquisition process must adapt to further the ability to dominate across all warfare domains.
The emergence of digital engineering, advanced manufacturing, the importance of intellectual property, and the incentive structure created by the planning, programming, budgeting and evaluation system must all be considered for ongoing reforms.
To help solve these problems, Congress should direct the independent advisory panel on weapon system sustainment, established by Section 345 of the fiscal year 2021 National Defense Authorization Act, to develop recommendations on the impacts of digital engineering and advanced manufacturing on reducing overall lifecycle costs of weapon systems.
The Defense Department's increased use of other transaction authorities and the recent release of the "Adaptive Acquisition Framework" are positive developments for the department's ability to quickly field different types of technologies. More innovations like these are critical.
Software, its development, and the protection of private-sector intellectual property should be key considerations in any acquisition reforms. NDIA supports work to create a new appropriations category, or a new "color of money," for software acquisitions. This is vital as capabilities are increasingly "software defined and hardware enabled," and through patches and upgrades software is constantly delivering while never completely "delivered."
Commercial adoption of autonomous technologies, advanced communications, vision systems and other innovations have intensified the need for defense-wide intellectual property reforms to protect the rights of current defense contractors and to encourage new entrants. Raising the Simplified Acquisition Threshold to $500,000 will also likely encourage new entrants, as it lowers barriers to entry and speeds up procurement lead times. The current threshold of $250,000 was last increased in 2018.
The next action item is budget stability. The military services and industry need budget stability and predictability, which will enable efficient and effective planning and spending to meet readiness needs as well as modernization and recapitalization requirements. In our annual survey conducted as part of Vital Signs 2021, 39 percent of respondents said that "the uncertain prospect of continuing volumes of business" would limit their firm's willingness, or ability, to devote significant amounts of capacity to military production. "Uncertain prospects" was the top response, beating the burden of government paperwork and low profitability.
Convincing the U.S. public of the need to maintain current defense funding levels will be a challenge, especially with the budget pressures created by COVID-19. Even before the pandemic, Vital Signs found that recent military expenditure increases may have changed the public's general sentiment about the need for more defense spending. In a Gallup poll conducted before the pandemic, 50 percent of Americans believed that defense spending was "about right" — the highest response to that question in 51 years. Only 17 percent of respondents said that the United States is spending too little. This was the third-largest score decline from 2018-2020 of the 55 indicators that we calculated.
NDIA supports recent bipartisan efforts to reform the budget process including: implementing a two-year budget and appropriations cycle; and reforming rules to create more flexible spending when operating under a continuing resolution to enable new-start programs. NDIA also supports continued predictable levels of funding for the armed services and national security.
Next, we must stop under-investing in our nation's basic research and innovation system.
In 2017, federal research-and-development spending as a share of gross domestic product fell to its lowest level since 1955. Conversely, between 2011 and 2016, China's public sector investment in R&D increased by over 50 percent. Since the early 1970s, the Mansfield Amendment's legacy has limited the Defense Department's ability to fund outside basic science research programs that have the potential for breakthrough innovations.
Significantly increasing the number of new Vannevar Bush Faculty Fellows — the program currently onboards about 10 new fellows a year — would be a good start to re-energize basic research.
Additionally, every service should have its own technology accelerator, like AFWERX, to accelerate business model and technology innovations and reduce barriers to entry. Congress should also consider creating incentives for new entrants while allowing for the adoption of businesses models that are new to the Defense Department to stem the decrease in number of firms in the industrial base. The use of non-Federal Acquisition Regulation-based acquisition models should also be piloted for a few new programs, as proposed by Eric Schmidt, the former chairman of Google and former chair of the Defense Innovation Board.
Another major issue is the supply chain. The nation must continue to uncover the extent of supply chain vulnerabilities.
COVID-19 revealed many vulnerabilities to the supply chain. We continue to be concerned with the number of companies that are the sole eligible provider of defense products, which is 29 percent, according to the Vital Signs 21 survey.
Also alarming is the economy's dependence on foreign sources of rare earth elements. Rare earths are essential ingredients in batteries, clean energy generation and semiconductors. Secure supplies will be key to the economy's future.
Like the recent Executive Order on America's Supply Chains, NDIA supports measures that seek to understand the strengths, vulnerabilities and opportunities that confront the supply chain. Additionally, it supports the efforts of Congress to require a national security strategy for the national technology and industrial base to provide a strategic vision and associated goals on how to improve the health and readiness of the industrial base.
This strategy is vital to ensuring implementation of the most recent legislation focused on the defense industrial base, as well as the lessons learned about supply chain vulnerabilities during the response to the pandemic.
The Defense Department must also continue to establish risk-based, implementable measures to improve industrial security.
The defense industrial base faces unprecedented threats to the security of its operations, data and intellectual property. The department should continue to establish risk-based, implementable measures to protect controlled unclassified information and secure the information systems that handle proprietary data. NDIA supports the policy goals of the Cybersecurity Maturity Model Certification and Section 889 of the 2019 NDAA but has concerns about implementation of both policies. Effective and efficient execution of these requirements must include further definition of key terms and processes. For Section 889, new legislation should enable a risked-based approach to compliance and require a list of prohibited equipment and approved available replacements.
For CMMC, the requirement for contractors to comply with its framework prior to contract award, could deter cash-strapped potential entrants and their investors from participating in defense markets. Instead, potential entrants may choose to enter commercial markets with lower financial barriers to entry.
The association supports a risk-based approach and flexibility for some new entrants to obtain CMMC certification post-contract award and funding to ease compliance costs.
As far as workforce issues, Vital Signs 21 gave the defense industrial base high scores for gender and age diversity, but scores for racial diversity, and particularly representation from Latino groups, could be improved. Last year, NDIA created the Defense Workforce Project to develop workforce recommendations to government and industry leaders. Explicit support from the administration would significantly enhance this effort and support diversity and inclusion efforts across the defense industrial base.
For security clearances, over 10 percent of survey respondents said that simplifying the security clearance process was the most important thing that the Pentagon could do to help the defense industrial base. Efforts to streamline the process must continue. Additionally, NDIA recommends that Congress extend the reporting requirement for quarterly and annual briefings and reports, as directed by Section 925 of the 2018 NDAA, for another three years.
And finally, the report looks at culture change.
American creativity and risk-taking are among the country's greatest assets. These traits are found in Americans across the country and in every soldier, sailor, airman, Marine and Guardian. Unfortunately, these traits are not always harnessed at all levels of the acquisition workforce. NDIA supports a high-performing acquisition workforce that can tolerate smart failure and encourages experimentation, while harnessing the creativity of the workforce.
This may require people who have had different experiences. Congress should consider legislation requiring acquisition managers to have rotations inside private sector companies, like the joint qualification requirements for commissioned officers. NDIA supports efforts on behalf of Congress and the department to expand exchange programs with industry as well as identify and adopt best practices from existing exchange programs both in the public and private sectors.

Wes Hallman is NDIA senior vice president of policy, Nick Jones, director of regulatory policy and Kea Matory, director of legislative policy. Corbin Evans, principal director of strategic programs and Robbie Van Steenburg, regulatory policy associate, contributed to this article.
Topics: Defense Contracting, Defense Department