ROBOTICS AND AUTONOMOUS SYSTEMS
DARPA Looking to Infuse Aerial Systems with AI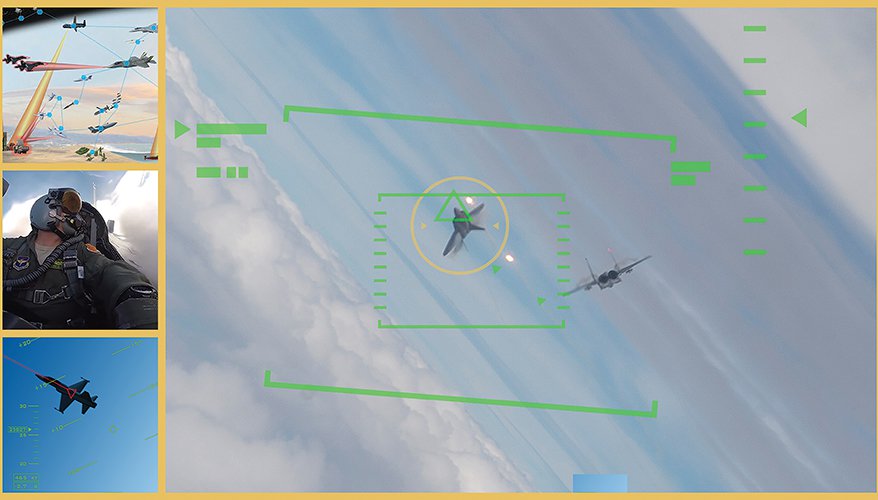 DARPA image
The Defense Advanced Research Projects Agency wants to help the military incorporate more artificial intelligence capabilities into air combat systems in the coming years, officials recently said.
Last year, an AI algorithm turned heads when it defeated a veteran F-16 fighter pilot in a series of simulated combat engagements during the final round of DARPA's Alpha Dogfight Trials.
The algorithm, developed by Heron Systems, went undefeated with a record of 5-0 against the airman.
"It was very evident that our artificial intelligence industrial base was really capable of playing a critical role in the future of air combat, and that's part of the motivation for what we're doing today," said Col. Dan Javorsek, a program manager at DARPA's Strategic Technology Office.
The agency's recent efforts will culminate in an advanced competition involving real aircraft piloted by humans and AI by 2024, he said in March at the National Security and Artificial Intelligence Conference hosted by the National Defense Industrial Association.
Last year's simulation and the planned demonstrations are part of the Air Combat Evolution program, or ACE, which aims to build trust in the use of autonomous systems for combat missions.
"The big tough challenge that I'm trying to address in my efforts here at DARPA is how to build and maintain the custody of trust in these systems that are traditionally thought of as black boxes that are unexplainable," Javorsek said.
The agency is trying to find new ways to incorporate AI into systems such as target weapon pairing and task assignment and entrusting lower decision level operations to machines, said Tim Grayson, director of the Strategic Technology Office.
"We're trying to push AI further down the stack, so that the human can focus on what the human does best when the machine focuses on what it does best," he said.
Another way DARPA is exploring partnerships with the industrial base is through commercial open source gaming platforms.
Grayson said a successful ACE program could utilize gaming platforms to create a weapons training system with a more intuitive user experience. The program isn't currently soliciting proposals but officials see removing the cognitive burden of learning a confusing training system as part of the bigger picture for fostering trust in artificial intelligence.
"Ultimately, you can imagine this notion of human-machine symbiosis really growing off of a highly integrated, symbiotic training environment," he said.
Topics: Research and Development, Robotics, Robotics and Autonomous Systems