JUST IN: Navy Chief Aiming for 355-Ship Fleet Despite Calls for Larger Force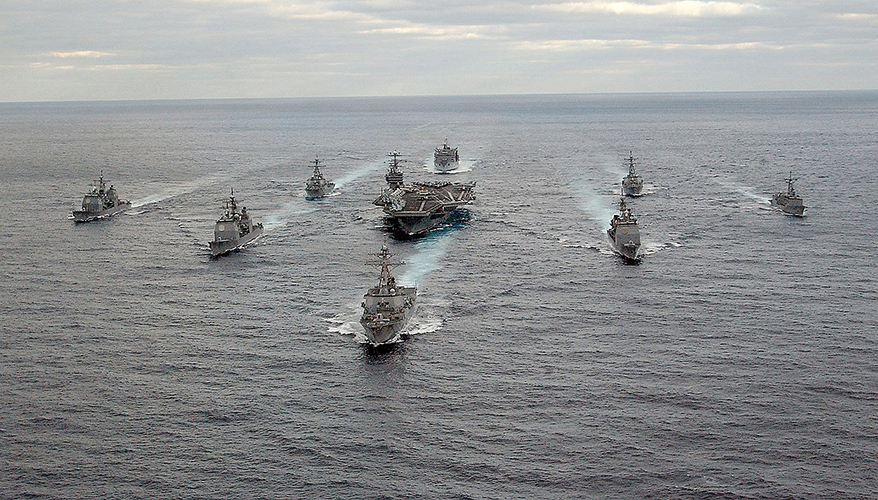 Chief of Naval Operations Adm. Mike Gilday wants a bigger fleet, but his force level goal falls well short of what some in the Defense Department are aiming for.
There are currently just under 300 ships in the Navy's manned battle force. The Pentagon's latest shipbuilding plan, released in December in the final weeks of the Trump administration, called for growing the fleet to 316 ships by 2026, 355 by the early 2030s, and 400 by the early 2040s.
"Recently I was asked by a member of Congress what my North Star is with respect to numbers right now," Gilday said April 27 during a webinar hosted by the Center for Strategic and Budgetary Assessments. "That's 355. I still think that's a really good target."
A 355-ship fleet had been the service's stated goal for a number of years, and is the force level that Congress has called for in legislation. However, the Future Naval Force Study conducted last year — which was championed by former Defense Secretary Mark Esper and helped shape the long-term shipbuilding plan — called for a number "far above" that, Gilday acknowledged.
But given the budget constraints that are expected in coming years, the Navy must grow the fleet at an "affordable rate," he said.
The Biden administration's budget outline released April 9, called for $715 billion for the Pentagon in fiscal year 2022, he noted. That is about 1.6 percent higher than the amount appropriated by Congress for 2021. The White House has yet to release separate toplines for each military service. A more detailed budget request is expected in May or June.
The military's budget will be "lucky to actually keep pace with inflation," Gilday said.
"What that will make most challenging, I think, is the fact that given the rise in personnel costs, given the rise in operations and maintenance costs, which typically rise at a rate higher than inflation, it will … potentially put a squeeze on the shipbuilding budget," he said.
Gilday said he's taking a "realist approach" to the Navy's investment strategy, and won't sacrifice readiness and capability in order to boost capacity.
"We need a fleet that's more ready and more capable and more lethal, more than we need a bigger fleet that's less ready and less capable and less lethal," he said.
Readiness is Gilday's top priority. That includes investments in manpower and training.
If the Navy gets into a fight with an adversary, the fleet and its commanders will only perform at the level to which they have been trained and prepared for battle, he said.
New capabilities that will require funding include hypersonic weapons, directed energy systems and improved networking for joint all-domain command-and-control, he noted.
Gilday also wants to bring a large number of robotic platforms into the fleet in addition to the 355-ship goal for manned vessels.
"It's an important part of the future," Gilday said. "We can't afford to field the Navy like we did in the previous century," he added. Manned-unmanned teaming — which eventually will lead to a more autonomous fleet — is where the service is headed.
By the mid- to late-2030s, up to a third of the service's surface and subsurface fleet could be unmanned. Additionally, about 40 to 60 percent of future air wings could be compromised of robotic aircraft, he projected.
Topics: Navy News, Shipbuilding