Light Amphibious Warships Face Survivability Questions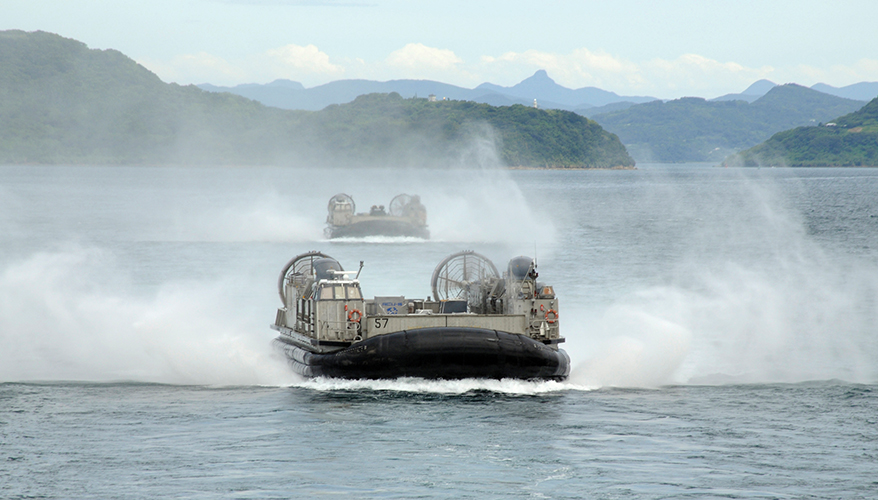 Landing craft air cushions speed toward the well deck of the amphibious dock landing ship USS Harpers Ferry.
Navy photo
The Department of the Navy is pursuing a new class of light amphibious warships that will be key to future operations in the Indo-Pacific region as the sea services work to counter China, experts say. But the platforms may need more defensive capabilities than some envision.
The amphibious force of the future will be characterized by the importance of smaller vessels, including the light amphibious warship, or LAW, said Rep. Rob Wittman, R-Va.
The platform will offer the military increased flexibility and allow it to be more distributed and deployed with smaller sized Marine Corps units, said Wittman, ranking member of the House Armed Services subcommittee on seapower and projection forces.
That will ensure "that we can hold the Chinese at risk in various places, but also be able to move our assets around," he said during an event hosted by The Hill in March. "We'll still need the larger ships as logistical connectors, but … [we will] use amphibious platforms to be able to move equipment around, to be able to supply Marine Corps units."
Moving forward, the United States will not see the large-scale amphibious assaults that took place during World War II, he predicted.
"That's just not going to be the future," Wittman said. "It's going to be much more about how do we move things around, how do we increase the level of uncertainty with our adversaries?"
In a potential amphibious assault in the Western Pacific near China, the Navy and Marine Corps would face an environment saturated with a combination of anti-ship missiles, ballistic missiles and cruise missiles, said Bryan Clark, director of the Center for Defense Concepts and Technology at the Hudson Institute.
Even with destroyer escorts, the threat would be more than a large amphibious warship could handle, he said in an interview. That currently leaves the service with few options. One includes using ship-based MV-22 Osprey tiltrotor aircraft to fly in troops from hundreds of miles away, which would keep the big-deck amphibs at a safe distance but leave Marines vulnerable.
However, a light amphibious warship could change that predicament, he said.
The vessel "could carry troops and some of their gear ashore in smaller packages so that the larger amphibious warships will stay farther away," he said. "For the Chinese, it may not be worth it to launch an anti-ship ballistic missile."
The ships would be harder to target and the cost exchange may not be ideal, he noted.
"The hope is, well, maybe these small ships are not as attractive a target as a large amphibious warship so that we can stream a bunch of these in and deliver troops into the Philippines or to the southwest islands of Japan," he said. "Then we can move them around in that environment at a lower risk, and even if the Chinese do attack a couple of them, the impact on the overall operation will be less than if we had driven that large amphibious warship close to shore."
Clark noted that while light amphibious warships will be important assets in future fights, one flaw is that they would have a limited ability to protect themselves if they do come under attack.
"Because they're not that big, they can't carry a whole bunch of self-defense" systems, he said. "We're going to have to ask the question: 'Are we willing to accept the vulnerability of these ships?' … Because the Chinese could decide, 'Well, I'm not going to launch an anti-ship ballistic missile, but I'll send a bunch of bombers over in that direction and I'll attack these with cruise missiles or anti-ship missiles."
The Navy, which is currently mulling over the vessel's requirements, may need to spend more money than originally anticipated to equip the ships with the necessary defensive weapons, Clark said.
The service is targeting a per unit procurement cost of $100 million to $150 million for the vessels, according to a Congressional Research Service report, "Navy Light Amphibious Warship (LAW) Program: Background and Issues for Congress."
"It might end up being a little more expensive" than that, Clark said. "If you put the rolling airframe missile on it, for example, that might be a $10 [million] or $15 million system ... but that's probably a pretty good price to pay."
Clark estimated each platform might cost around $200 million in order to equip them with the necessary self-defense systems. While they won't be invulnerable, such weapons would create dilemmas for adversaries such as the Chinese, he noted.
"You might have to launch four or five missiles at it to take it out," he said. "Now you get to the point where maybe the attack becomes either too expensive or too difficult."
The Navy and Marine Corps are considering how they can balance affordability with survivability, as well as operational and programmatic risks, Chief of Naval Operations Adm. Michael Gilday said.
"Those need to be balanced against each other in a decade where we're really trying to move fast and deliver," he said in April during a Defense Writers Group event.
Marine Corps Commandant Gen. David Berger called amphibious vessels a "Swiss army knife." The service is eyeing somewhere between 30 to 50 light amphibious warships. That is in addition to the 10 big-deck amphibs and 20 San Antonio-class LPD-17s the service has previously identified as requirements.
"That's what the nation needs to maintain the forward presence to be able to react to a contingency quickly," he said.
Retired Rear Adm. Sinclair Harris, former commander of U.S. Naval Forces Southern Command and vice director for operations for the Joint Chiefs of Staff, said investment in newer, smaller platforms such as LAW is essential.
It "is critically important when we look at not just today, but the future and how we're going to do distributed operations," he said during The Hill event. "In the future [it] is going to be important to have these smaller platforms with smaller units that can … operate both with Marines and probably special forces."
He noted that commandos such as Navy SEALs can operate from amphibious platforms.
The Navy is working closely with the requirements community in the development of the vessel, said Tom Rivers, executive director for amphibious, auxiliary and sealift in program executive office ships.
"The Navy is accelerating delivery of this critical capability by adapting commercial vessels and design standards," he said during remarks at the Surface Navy Association's annual conference in January.
The service is taking an "evolutionary" approach as it pursues the acquisition, he said.
"The Navy initiated initial industry studies to perform the early market survey activities and these efforts are informing the top-level requirements, the technical risks and the cost estimates," he said.
The service plans to award a contract for the lead ship's construction in the fiscal year 2022 timeframe, he added.
A request for proposals is expected to be released soon. Gilday said more information about the effort will likely coincide with President Joe Biden's fiscal year 2022 budget proposal, which is expected to be released in May or June.
"As part of the '22 budget review, we are taking a deep dive into shipbuilding," he said. That plan is grounded in the Future Naval Force Study that was released last year.
The intent "is to deliver a shipbuilding plan with the budget this year to the Congress," he said. That document will shed more light on future plans for amphibious vessels, including LAW, that support Berger's "vision for the Marine Corps to be more expeditionary in the littorals, supporting sea denial and sea control."
The light amphibious warships are envisioned as having a length of 200 to 400 feet, a maximum draft of 12 feet and a displacement of up to 4,000 tons, according to the CRS report, which was written by naval affairs specialist Ronald O'Rourke. It will have a transit speed of at least 14 knots and preferably 15 knots. It will be able to operate within fleet groups or deploy independently and is expected to have a 20-year service life.
The Navy's proposed fiscal year 2021 budget requested $30 million in research-and-development funding for initial industry studies and concept design work. Congress appropriated $24 million.
Vice Adm. William Galinis, commander of Naval Sea Systems Command, said the vessel's smaller form factor compared to traditional amphibious ships could allow for more industry participation in a competition.
That "opens up the aperture in terms of the yards that would have an opportunity to build this type of platform," he said during a Defense Writers Group meeting in November. "As we continue to evolve this concept, I can easily see a little bit of an expanded part of our industrial base" that could get the job done.
The Navy received 13 responses from firms, including nine shipyards, following an initial request for information for the program, according to the CRS report.
"There are a lot of yards that could do this that don't usually get an opportunity to build ships for the Navy," Clark noted.
On the Gulf Coast, in particular, there are a number of smaller shipyards that build vessels for the Coast Guard — such as the Fast Response Cutter or the Offshore Patrol Cutter — as well as other government customers such as the National Oceanic and Atmospheric Administration, he said.
For "these smaller shipyards, or non-military shipyards, ... it's a tough business because they get these sorts of episodic orders from the government and then otherwise, they're building ships for the Jones Act fleet domestically," Clark said.
The Jones Act — which refers to Section 27 of the Merchant Marine Act of 1920 — stipulates that ships transporting cargo from one U.S. point to another U.S. point be U.S.-built, and owned and crewed by American citizens.
The commercial fleet that is subject to Jones Act rules "just went through a big recapitalization, so that demand is going to be tailing off for about five or six years at least," Clark said. "These shipyards could really use the additional business that would come from the light amphibious warship."
While larger yards may be interested as well, it may not be as economical for them to pursue the program because their overhead and infrastructure is designed around building larger, more sophisticated ships, he explained.
The Navy may also decide to offer contracts to multiple yards due to the less complex nature of the vessel, Clark said.
"It's a ship that you could reasonably expect multiple yards to build, and it would be a good way to help out multiple yards that are going to be needing business," he said.
— Additional reporting by Meredith Roaten
Topics: Navy News, Marine Corps News, Maritime Security, Shipbuilding