Army Powering Through with Future Vertical Lift Programs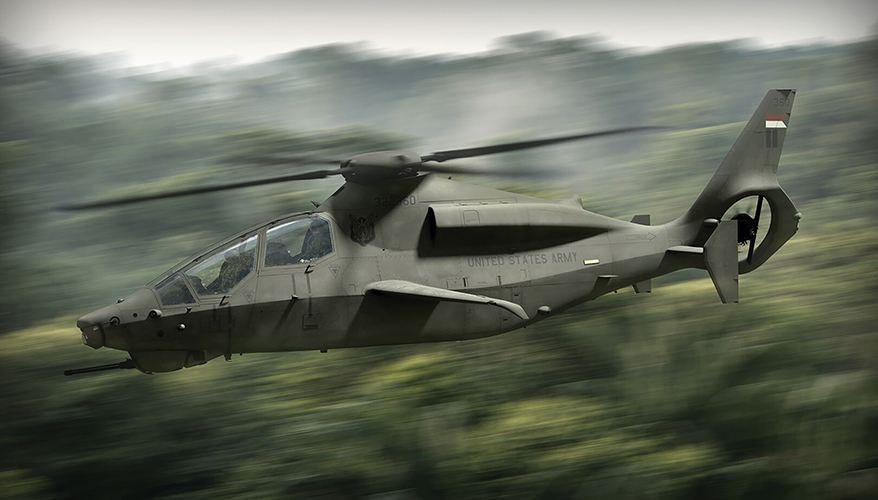 Bell 360 Invictus
Bell-Textron concept
The Army is working to rapidly acquire both a future scout helicopter and a Black Hawk replacement aircraft. Despite the ongoing COVID-19 pandemic, the service and industry are working together to ensure these projects' aggressive timelines aren't derailed.
The Army's future attack reconnaissance aircraft, or FARA, and future long-range assault aircraft, or FLRAA, initiatives are being spearheaded by the service's future vertical lift cross-functional team as part of Army Futures Command. FVL — which is envisioned as a new family of rotorcraft — is one of the Army's top three major modernization priorities as the service prepares for great power competition with China and Russia.
The service is leveraging other transaction authority agreements for both efforts. OTAs are a contracting mechanism intended to cut through bureaucratic red tape and fast-track military prototyping.
FARA — the effort to develop and field a new scout helicopter — is facing three major milestones in fiscal year 2021, said Project Manager Col. Greg Fortier.
In March 2020, the Army selected Bell and Sikorsky to move forward in the competition.
Throughout fiscal years 2021 and 2022, both competitors will be building prototypes, qualifying sub-components for safety of flight airworthiness, and developing flight control and improved turbine engine integration software, Fortier said in an email.
In April, the FARA abbreviated capabilities development document was slated to be presented to the Army Requirements Oversight Council for approval. Pending approval, the FARA project office will release the first version of the weapons system performance specification in parallel with the continued prototype air vehicle development by both Bell and Sikorsky, Fortier said.
As the calendar year comes to a close, prototypes of two key systems, the 20mm cannon and modular effects launcher, are slated to fire live ordnance and other "air-launched effects" from surrogate platforms during Project Convergence 2021, Fortier said.
Project Convergence is the Army's "learning campaign" focused on artificial intelligence, robotics and autonomy. It is held annually at Yuma Proving Ground, Arizona.
First flights for the competitive prototypes are scheduled for fiscal year 2023, Fortier noted.
Bell is offering the Army its 360 Invictus platform, which leverages technologies from its 525 Relentless program.
The company completed the final design and risk review in November, said Chris Gehler, vice president and program director for FARA at Bell. The company also received a "go" decision from the Army in November to continue with the program, he noted.
Before that decision, the service had the opportunity to potentially offboard competitors if they weren't meeting necessary milestones, he said.
The company is currently in the process of moving some of its engineers from working on the competitive prototype to the Increment 1 capability, Gehler said during an interview.
Increment 1 is the next phase of building and design work for the companies.
"We're starting to flow engineers from our competitive prototype design work to the Increment 1 design work that really … transitions us into a weapon system," he said.
Bell expects to conduct a system requirements review and a system functional review around June to fully kick off its Increment 1 preliminary design review, he noted.
Meanwhile, Sikorsky is continuing work on its Raider X aircraft which it offered for the FARA competition.
"We are encouraged by our engagements with the Army on Raider X," said Jay Macklin, business development director for future vertical lift at Sikorsky. "A key part of those engagements has been to keep the Army informed on ways we continue to reduce risk for the program."
One of the company's primary risk-reduction efforts is the flight test data it receives from the ongoing S-97 Raider flight program, Macklin said in an email.
The S-97 Raider is an 80 percent-scale prototype of the Raider X offering, according to Macklin.
"Every time we fly S-97 Raider, we are learning and feeding that learning back to engineering [experts] to help validate our models or justify a design decision," he said. "This flight data informs our design decisions, correlates our virtual prototype and enables us to experiment with the unique capabilities" that the technology provides.
The offering has completed its detailed design phase and is currently in final assembly, Macklin said.
"We are fully utilizing our digital thread and virtual prototyping tools to maximize the capabilities Raider X provides to our soldiers while optimizing the platform's affordability and sustainability over the lifecycle," he said.
Moving forward, the company is continuing to focus on analysis, technology and weapon system development in the joint all-domain operations environment to build future vertical lift systems that are mission focused, cost-effective and survivable, Macklin said.
The Army hopes to field the first FARA aircraft in 2028.
As the Army moves forward with its new scout helicopter effort, it is simultaneously making strides in its FLRAA project, which is aimed at developing a platform that will replace its aging Black Hawks.
In December, the Army released a draft request for proposals for FLRAA to Bell and a Sikorsky-Boeing team, said Project Manager Col. David Phillips.
"The Army has already received valuable industry feedback from the draft RFP, which has allowed us to continue to address program risks that industry and the Army have identified," Phillips said in an email.
Meanwhile, the service was expected to continue to execute FLRAA's competitive demonstration and risk reduction Phase 1 through March, he said.
The service awarded Bell and Sikorsky-Boeing competitive demonstration and risk reduction contracts last year for the next stage of its FLRAA program.
Phase 1 "focuses on transitioning from the joint multi-role technology demonstrations to weapons systems through design and requirements optimization in a digital engineering environment," he said.
Requirements for the program were informed by a precursor effort known as the joint multi-role technology demonstrator, which both Bell and Sikorsky-Boeing participated in, developing two new aircraft, the V-280 Valor and the SB-1 Defiant, respectively.
The Phase 1 effort "provides significant risk reduction for the Army by completing requirements derivation, tradeoff analysis and preliminary conceptual design," Phillips said. "This, combined with numerous other government efforts, will inform the final FLRAA requirements, acquisition strategy and program processes."
The Army is also executing plans for the Phase 2, effort, which will result in updated designs and requirements to the subsystem to achieve a preliminary design, he said.
This will lay the foundation for a contract award to a single vendor in 2022 and the execution of a formal program of record, he noted.
In January, Sikorsky-Boeing unveiled their team's new helicopter offering, the Defiant X.
After garnering feedback based on the team's original technology demonstrator — the SB-1 Defiant — and working with the service to inform requirements for the new capability, Sikorsky and Boeing created the new platform.
"We have really optimized our design based on both the Army requirements but also [by] leveraging and building on all of the test data that we have that we've generated to date," Heather McBryan, sales and marketing director for future vertical lift at Boeing, said during a January briefing with reporters.
A few of the main differences between the SB-1 Defiant and the team's new offering include: enhancements that reduce the aircraft's thermal signature and improve aerodynamic handling; tricycle landing gear to improve stability and taxiing in austere environments; and increased maneuverability through flight controls integrated with autonomy capabilities, Macklin said.
The aircraft was "really designed for growth so that out in the 2030s as missions change and the threats change, there is that growth capability," McBryan said.
Although the aircraft will be able to fly farther and faster than the UH-60 Black Hawk, the Defiant X shares enough characteristics with the legacy system to minimize changes required for pilot training, she noted.
Bell is offering the Army its V-280 Valor for the tech demonstrator effort, which will determine requirements for the 2022 program of record competition.
"Bell came to [the joint multi-role technology demonstrations] understanding that range and speed were critical aspects and capabilities of the future aircraft for the Army, and so we developed an aircraft that would replace the Black Hawk and be excellent in the Army assault mission," said Ryan Ehinger, vice president and program director for FLRAA at Bell.
Although the company leveraged its experience from building the V-22 Osprey tiltrotor aircraft used by the Marine Corps, Navy and Air Force Special Operations Command, the Valor has a number of differences, Ehinger said during an interview.
"We did a clean sheet design of the V-280," Ehinger said. "It is a tiltrotor, but we've changed the configuration really to cater toward the Army assault mission with a straight wing, with engines that do not rotate, with large, six-foot wide sliding cabin doors."
The V-280 also offers what Bell calls "360-degree operational safety" around the aircraft, he said. This allows soldiers to safely operate in and around the aircraft while conducting missions at night and in visually degraded environments.
"If you look at it compared to a Black Hawk, our rotors are higher, we don't have a tail rotor, we don't have a propeller, so really from a safety aspect … it provides a high level of safety for folks ingressing and egressing out of the aircraft," Ehinger said.
The aircraft's first flight was in 2017 and it has since accrued more than 200 flight hours during more than 159 test flights.
"We've flown with four U.S. Army experimental test pilots, and we've been able to knock out ... all of the key performance parameters that Bell had established early on in the program," he said.
Some of those performance parameters included speed and range. The company had aimed for the aircraft to reach 280 knots, but it was able to reach more than 300 knots.
"We've been very pleased with the performance we've been able to demonstrate with the aircraft inflight so far," Ehinger said. "Since that time ... we've moved on to more mission relevant maneuvers, deployment of a fast rope, executing swing-load operations, executing an autonomous flight, leveraging some of our software development processes and ... leveraging the fly-by-wire capability of the aircraft."
The first Army unit is slated to be equipped with FLRAA by fiscal year 2030.