Marine Corps Releases More Details on Utility Vehicle Phase Out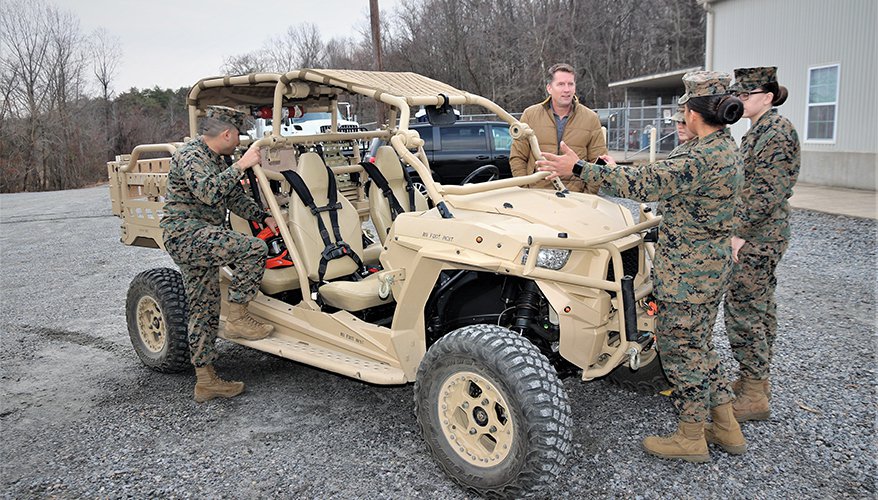 Marine Corps photo by Ashley Calingo
The Marine Corps is slated to replace its utility task vehicle with a new ultra light tactical platform in the next two years, according to an official.
The first generation of the small, all-terrain trucks will be phased out in fiscal years 2022 and 2023 as they come to the end of their five-year service lives, said Jennifer Moore, program manager for light tactical vehicles at Marine Corps Systems Command's logistics combat element systems office.
The Marines have 248 utility task vehicles — which are manufactured by Polaris Government and Defense of Medina, Minnesota. They are mostly intended to help lighten troops' loads, but are also used for reconnaissance missions, she said.
However, the UTV is completely maintained by contractors, which is not ideal for the expeditionary environments that Marines operate in, she said during a tactical wheeled vehicles webinar hosted by the National Defense Industrial Association.
Polaris will deliver more than 500 of the new ultra light tactical vehicles, which feature better maintainability between fiscal years 2022 to 2025, according to the service.
"The Marines need to be able to take care of their own vehicle where they are," Moore said. They will travel with all the spare parts needed, she added.
The move to a more sustainable supply chain will allow Marines to maintain their vehicles is in support of the Marine Corps' Force Design 2030 — a strategy for the service to prepare for amphibious operations and potential conflict in the Indo-Pacific region that was released last March, Moore noted.
Officials are also looking for options to alleviate the impact of corrosion from salt water and sea spray on the vehicles, she added.
"We're interested in learning more about scalable armor solutions … as well as winterization packages and features that [industry] may have to offer," she said.
Additionally, the Marine Corps is in the middle of a study examining its inventory of tactical wheeled vehicles, said Lorrie Owens, program manager for medium and heavy tactical vehicles. The study will help inform the service's ground combat tactical vehicle strategy.
The Marine Corps is also working with the Army to study the possibility of integrating autonomous capabilities into new vehicles, she noted. The platforms would use leader-follower technology that allows several robotic vehicles to follow a manned system. A demonstration for the effort is slated to take place in 2021.