JUST IN: Army Tests Interoperability in Joint Exercise with France, U.K.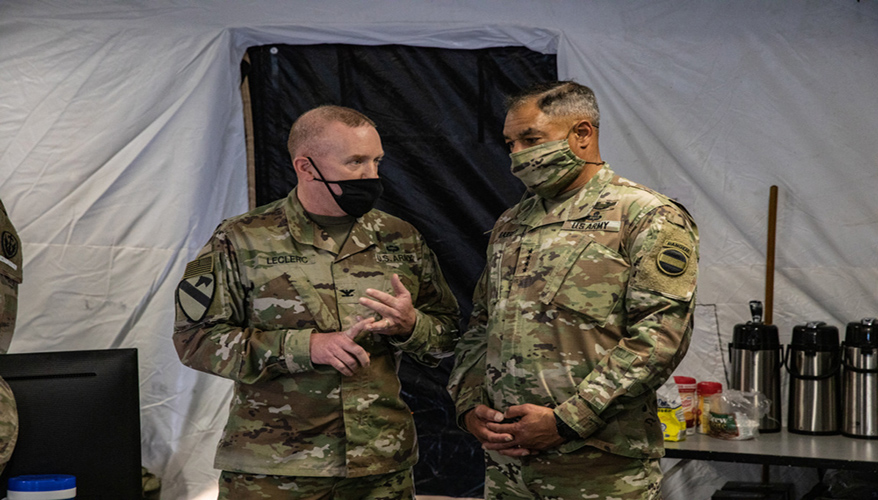 Gen. Michael Garrett (right), U.S. Army Forces Command commanding general, receives a briefing during the Warfighter 21-4 exercise in Fort Hood, Texas.
U.S. Army Photo by Sgt. Evan Ruchotzke
U.S. Army Forces Command recently completed a joint exercise with the United Kingdom and France where the allies worked together to increase interoperability, the head of the command said April 16.
The event — known as Warfighter 21-4 — is a major multinational warfighter exercise with the U.S., U.K. and French Army tactical divisions, said Gen. Michael Garrett. Thousands of troops participated across multiple bases including Fort Hood and Fort Bliss, Texas; Fort Bragg, North Carolina; and Grafenwoehr, Germany, according to the Army.
"It's a computer simulation driven event, and we do these to train our division and corps … in large scale ground combat operations," Garrett said told reporters during a virtual Defense Writer's Group event. "We're never going to fight alone and our partners are always going to be incredibly important to us and training with them, gaining a better sense of our interoperability requirements and challenges just make us stronger," he said.
FORSCOM is the Army's largest command with approximately 740,000 soldiers, Garrett said. The command is responsible for training and preparing the force in order to build and sustain readiness to meet combatant command requirements.
On April 15, Garrett participated in the exercise's final after action review where he was debriefed and analyzed the event. The ongoing COVID-19 pandemic posed particular challenges for participants to overcome, he noted.
"What we have done over the last year — and what we do every day — is continue to master our ability to operate in the COVID environment and when I talked to the French leadership and the British leadership it was not lost on me all of the things that they had to do in order to exercise, to meet our training objectives … [and] to do it in a safe manner," Garrett said.
Although there weren't any "huge surprises" during the event, the Army expanded its knowledge of interoperability requirements, he noted. "These exercises show us where we may not be as interoperable as we need to be," he said.
During the event, the U.S. Army also performed a number of actions it had never practiced before including placing a U.S. brigade under a French division, Garrett said.
"As we continue to unpack this there are going to be a lot of useful lessons that will help drive future exercises so that we can improve on the interoperability that already exists out there," he said.