TACTICAL WHEELED VEHICLES
JUST IN: Industry Teams Line Up for Army's Fighting Vehicle Competition (Updated)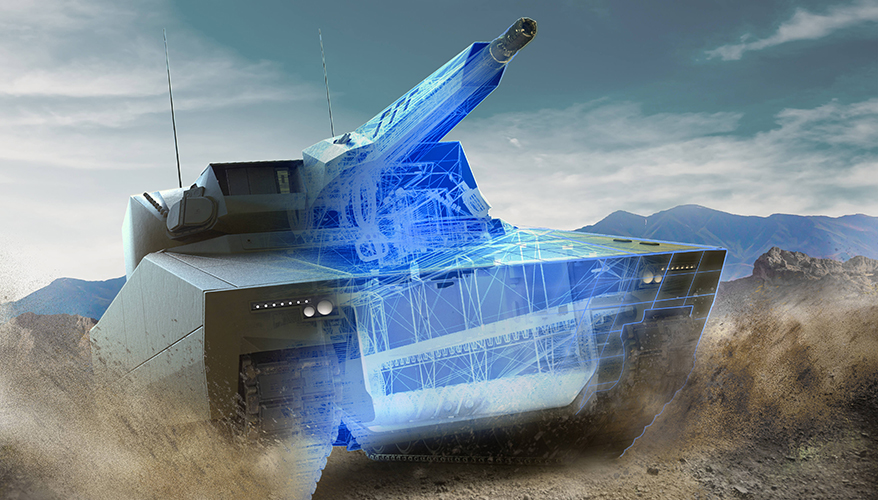 Lynx
Rheinmetall concept
The Army is "waiting with bated breath" for proposals to finish rolling in for its Bradley fighting vehicle replacement program, an official said April 15.
Proposals for the Optionally Manned Fighting Vehicle, or OMFV, are due April 16 and the service is looking forward to seeing what concepts industry has come up with, said Maj. Gen. Ross Coffman, director of the Next-Generation Combat Vehicle Cross-Functional Team at Army Futures Command.
"Proposals are due from industry tomorrow and we are all waiting with bated breath to see what our fine industry partners can develop," he said during a conference hosted by the Association for Unmanned Vehicle Systems International.
While he does not know how many industry teams will submit a proposal, there has been significant interest, he noted.
"The worst part about this is it's coming in tomorrow and even I will not know because it will go behind the curtain at that point of how many we have," he said. "But I am confident that we're going to have lots of competition and it's going to be a great program. It's going to be good for our American soldiers in the future. I guarantee it."
The Army released its OMFV request for proposals for a "concept design" phase in December and companies have begun debuting their offerings in recent days.
American Rheinmetall Vehicles — a subsidiary of German company Rheinmetall — and L3Harris Technologies announced April 14 that they had entered into a teaming agreement to develop a platform for the OMFV program. Textron and Raytheon are already working with Rheinmetall on its offering known as the Lynx.
L3Harris will provide vehicle mission systems, cybersecurity and its modular open systems approach, also known as MOSA, for the effort.
That will enable cross-platform and cross-domain commonality of parts and subsystems for easy and affordable upgrades, according to a press release.
"We have a long history providing similar support to multiple platforms using our MOSA approach for mission systems and electronic warfare," said James Gear, vice president of L3Harris' domestic business development division in a statement. "We look forward to working with American Rheinmetall Vehicles to further expand into the ground defense vehicle market."
Mathew Warnick, managing director for American Rheinmetall Vehicles, said L3Harris will offer Team Lynx a tremendous capability as it works to build a "digitally engineered OMFV" platform.
Rheinmetall manufactures two variants of its Lynx system, the KF31 and the KF41. The KF31 weights up to 38 tons and can seat nine soldiers. The KF41 is slightly larger and can carry 11 soldiers, according to the company.
The company has contracts with the Hungarian and Australian armies for the KF-41 variant. Its offering for the OMFV program will be based on the variant.
Meanwhile, on April 15 BAE Systems released a statement announcing that it had submitted a design proposal for the Army program.
"We are designing a combat system that will meet, with ample growth and adaptability, our soldiers' needs for lethality, mobility and survivability on future battlefields," the company said in a press release. "To do this we are teaming with innovators like Elbit Systems of America to provide the Army with the most capable next generation capability: the OMFV."
General Dynamics Land Systems announced April 15 that it had submitted its concept design proposal for the OMFV program. In a statement, the company said its offering "provides the innovative, next-generation approaches necessary to develop an OMFV that delivers required capability and transforms all aspects of the infantry fighting vehicle's mission and value chain."

"Our innovative digital engineering approaches ensure that as requirements evolve throughout the platform's lifecycle, the digital tools necessary to efficiently update our design are maintained in our single-source-of-truth environment," said Don Kotchman, vice president and general manager for the company's U.S. operations.

"Our best-in-class industry team is focused on early implementation of the transformative technologies required to deliver a platform that provides an immediate leap forward in capability, with the growth margins and modular open architecture necessary to accommodate and rapidly incorporate changes to integrate new capabilities without major redesign," he said in a statement.
The current effort is the Army's second go at procuring an Optionally Manned Fighting Vehicle. An earlier program was canceled in 2020 after officials said "a combination of requirements and schedule overwhelmed industry's ability to respond within the Army's timeline," according to a Congressional Research Service report titled "The Army's Optionally Manned Fighting Vehicle (OMFV) Program: Background and Issues for Congress."
Update: This story has been updated to include information about General Dynamics Land Systems' Optionally Manned Fighting Vehicle offering.

Topics: Tactical Wheeled Vehicles, Army News, Robotics and Autonomous Systems, Robotics