ROBOTICS AND AUTONOMOUS SYSTEMS
SMALL DRONE THREAT: Pentagon Consolidates Counter-UAS Programs as Menace Grows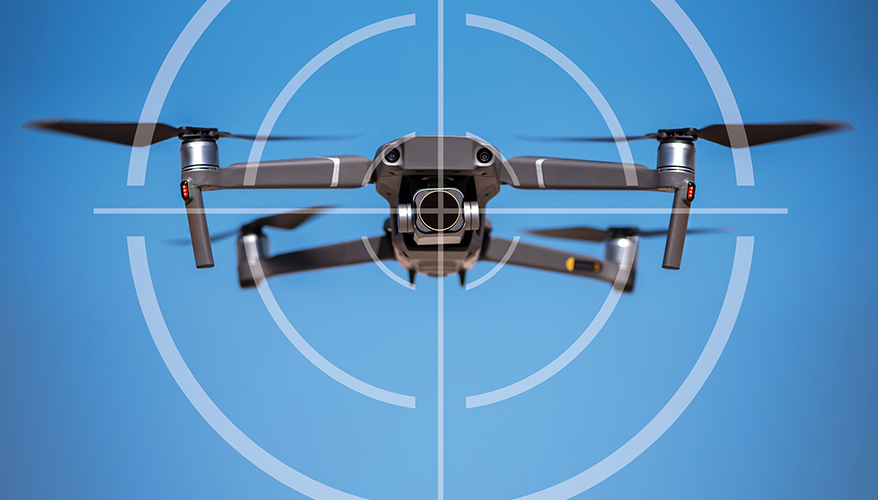 iStock photo
The military is facing a growing threat as adversaries develop and purchase inexpensive — but potentially lethal — drones. To counter these systems, the Defense Department is investing in defensive platforms that can jam or knock out rogue aircraft.
Terrorist groups like ISIS have already used small drones on the battlefield against coalition forces. Because of this, military leaders are arguing that counter-unmanned aircraft systems will play a crucial role in future battlefield operations.
In 2019, former Secretary of Defense Mark Esper designated the Army as the executive agent for counter-UAS. Following that decision, the Army established the Joint Counter-Small Unmanned Aircraft Systems Office, or JCO, to lead and direct efforts for identifying and prioritizing counter-drone solutions.
"The secretary understood the importance of the threat and felt we needed an enterprise approach to get after this problem set," said Maj. Gen. Sean Gainey, director of the JCO.
In January, the Pentagon released its new Counter-Small Unmanned Aircraft Systems Strategy. The document laid out the framework for addressing the challenge posed by enemy drones, by developing common information-sharing architecture solutions, synchronizing investments in key technologies and establishing joint protocols across military departments.
"These guiding documents serve as the basis for providing a path ahead for industry demonstrations, experimentation and innovation opportunities," Gainey said during an event hosted by the Center for Strategic and International Studies. "The department will continue to work with industry to bring interim systems to full maturity and to eventually replace them with follow-on enduring solutions."
The strategy was the first department-wide framework for counter-small UAS technology, noted Nicole Thomas, division chief for strategy and policy at the JCO.
The services and combatant commands had developed their own regional or service-specific approaches, but the new strategy looked at the challenge across the entire military, she said during the CSIS event.
"One of the first and most important things that we did is to ensure that all the stakeholders were part of developing the strategy, and together we spent a considerable amount of time making sure that we accurately captured the problem so that we could develop a relevant and executable framework for the strategy," Thomas said.
Through the implementation of the strategy, "the department will be positioned to address the small UAS challenge we encounter across all three operating environments — that's homeland, host nation and contingency locations," she said.
As the office drafted the document, it explored what challenges it needed to overcome to defeat adversaries' small drones. It identified several dozen areas that needed to be addressed and filed them into three categories.
"The first line of effort is called 'ready the force,' and it addresses our concerns about our ability to keep pace with this rapidly evolving challenge," she said. That can be done by leveraging existing science-and-technology work that has been done by research facilities, academia and industry.
The second line of effort is to "defend the force," which focuses on development and refinement of common non-material solutions, such as doctrine, joint doctrine, training and concepts, she said.
And last, the office is focused on how the joint force can maximize its counter small-UAS capabilities in the homeland and overseas.
"To do that, we needed to improve our interoperability with both our international partners and federal agencies," Thomas said. "We developed a line of effort called 'build the team' and that prioritizes interoperability and information-sharing among our critical partners."
Last year, former Secretary of the Army Ryan McCarthy assigned the service's Rapid Capabilities and Critical Technologies Office — also known as RCCTO — as the material and acquisition lead in support of the Joint C-sUAS Office, Gainey said.
The JCO recently conducted a capabilities assessment where it examined counter-drone systems currently in the Defense Department's inventory to determine what equipment the Pentagon should invest in, Gainey noted.
It looked at criteria such as effectiveness, usability, sustainment and integration, Gainey told reporters.
In June, Pentagon leadership approved the results of the assessment and selected 10 initial joint counter-UAS systems for continued investment, he said. To build on these capabilities with emerging technologies, the JCO and RCCTO held an open house with industry in October.
"At this event, we described the path for industry to bring new capability to meet our requirements," he said.
Moving forward, the office will host biannual industry days where contractors can demonstrate their capabilities that will help inform requirements, Gainey said.
The first event is scheduled to take place in April at Yuma Proving Ground, Arizona, in collaboration with the Air Force.
During the meeting, industry will have the opportunity to bring low-collateral effects interceptors to the common test range. The office will choose the best technology from the demonstration to move forward with a joint solution, Gainey said.
A low-collateral effects interceptor is a counter-drone system that, when used, is less likely to damage or interfere with non-enemy aircraft operating in the area.
The Air Force in April will run the demonstration with the Rapid Capabilities and Critical Technologies Office. From there, the JCO will downselect and open up a contract for all the services to purchase the interceptors, Gainey said.
Col. Greg Soule, director for acquisition and resources at the JCO, said, "We wanted to provide this as a recurring opportunity for industry to be able to show us the latest and greatest that they're working on so that we can make a decision as a department on what solutions look promising to either evaluate further or roll them into our system-of-systems approach."
The office in February was evaluating industry whitepapers to decide which companies would receive an invitation to the event.
"From there, we will make the final decision on who comes and based on the results and performance demonstrated at those events, working with the Air Force … we will be formulating a path forward" for a follow-on assessment in late fiscal year 2021, he told reporters during a recent call.
In fiscal year 2022, the office will select an initial capability for procurement and fielding.
"Ultimately, our goal is to align existing and future counter-UAS solutions to best address warfighter needs while applying more resources effectively," Gainey said.
Congress in the 2021 National Defense Authorization Act asked the Pentagon to come up with a plan to develop, test and begin production of a counter-small UAS system that can be fielded as early as 2021. The timeframe for fielding the new low-collateral effects interceptor suggests the service will likely miss this 2021 goal.
"We don't see the counter-UAS problem set as one enduring solution, we see it as a range of capabilities integrated into a common … [command-and-control system] that gives you the ability to address threats across the range of threats out there, and have the ability to keep up with the pace of" evolving challenges, Gainey said.
His office is taking a "system-of-systems" and layered approach to address this, he added.
It is working to fill capability gaps by developing new capabilities and upgrading existing ones, as is the case with the low-collateral effects interceptor, Gainey said.
Additionally, the office is working to test directed energy capabilities that can zap unmanned systems, he noted. Lasers offer the military a low cost-per-shot option, but can require large amounts of power to operate.
"We have high-energy lasers that have proven successful in the contingency environment," he noted. "We're building off of that capability to where you will see high-energy lasers integrated into our architecture — some of them are integrated now — and it is a matter of scaling it up to the ultimate scale that we want."
The office is currently testing the systems, he added.
It is also working with the Air Force to field and test a high-powered microwave capability that will be deployed "pretty soon," he said.
The Pentagon selected Northrop Grumman's Forward Area Air Defense Command and Control system — or FAAD C2 — last year as its interim capability for a new command-and-control solution. The platform will serve as the basis for the Defense Department's joint counter-small UAS effort, Gainey said.
"We looked at it from a perspective of … what's the best C2 system we have right now?" he said when asked about the Army's selection last summer. "FAAD C2 was that system. However, we understand that there are other systems out there that the services are using that show promise."
As an example, Gainey mentioned the Air Force's Multi-Domain Control Station for Unmanned Systems, also known at MEDUSA.
"We've worked with the Air Force, putting funding for the integration of that system with FAAD C2 so it's interoperable," he said.
Prior to the recent counter-drone efforts, FAAD C2 was the Army's command-and-control system for short-range air defense, said Chris Frei, director of the SHORAD operating unit at Northrop Grumman. It was also selected for the Army's Initial Maneuver Short-Range Air Defense platform.
In recent years, the company started integrating a number of new sensors, effectors and other counter-drone technologies into FAAD C2, Frei said in an interview.
Because the technology "had proven to be very adaptable and scalable and extensible we were able to quickly integrate these systems," he said. "That is really what led to this selection by the JCO as the interim counter-UAS system."
Northrop Grumman tested the system at Yuma Proving Ground in March.
The company is constantly working to add new capabilities to the platform, he noted.
It "just seems like it's never ending — the ideas to integrate new systems, make incremental adjustments, get it out deployed, and then iterate on it," he said. "It's this constant iteration process that keeps going as technologies evolve."
FAAD C2 is currently deployed in several theaters of operation for counter-drone missions as well as counter-rocket, artillery and mortars.
"We've integrated dozens and dozens of sensors and effectors," he said. "As new sensors become available, we quickly integrate them."
Topics: Robotics and Autonomous Systems, Robotics, Air Power