JUST IN: HASC Chairman Says Officials Should 'Cut Our Losses' on F-35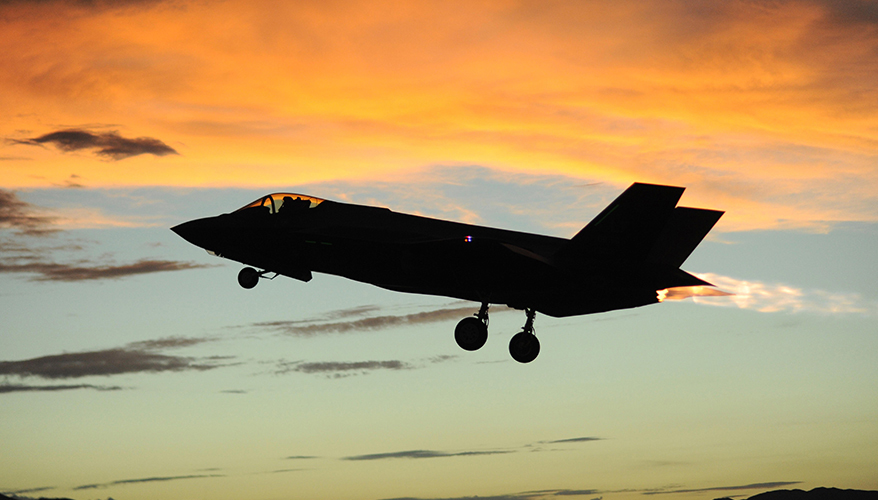 Air Force photo
Officials should find a way to "cut our losses" on the F-35 joint strike fighter program, the chairman of the House Armed Services Committee said March 5.
Rep. Adam Smith, D-Wash., said he hopes officials can find a way to spend less money on the fifth-generation aircraft, which has been troubled by a number of issues over the years.
"I want to stop throwing money down that particular rathole," he said at a Brookings Institution event.
The program is the largest acquisition in Pentagon history, with a projected cost of more than $1 trillion. The Air Force, Navy and Marine Corps are purchasing different variants of the plane, as are a number of U.S. allies and partners.
Advocates of the platform, which in addition to being stealthy is also equipped with cutting edge sensors and data networking capabilities, say it will be a critical asset in the U.S. military inventory as the United States competes with advanced adversaries such as China and Russia.
However, the jet, which comes with a high price tag and has experienced a number of technical problems over the years, also has many critics, including Smith.
The full-rate production decision was recently delayed yet again, partially due to technical issues with the Joint Simulation Environment as well as the COVID-19 pandemic.
Smith described the program's issues as "painful" to contemplate, especially in light of its costs. The F-35A now costs about $80 million per plane. Officials and prime contractor Lockheed Martin have been working to drive down the procurement as well as the operation and sustainment costs for the program, which have come down significantly.
"What I'm going to try to do is figure out how we can get a mix of fighter attack aircraft that's the most cost effective," Smith said. "A big part of that is finding something that doesn't make us have to rely on the F-35 for the next 35 years."
Smith added his ultimate goal is to spend funding more effectively in the future and acknowledged the importance of having a fleet that will provide an advantage over adversaries like China and Russia.
"When it comes to fighter attack aircraft, we have certain needs," he said.
The Air Force recently announced that it would conduct a tactical air study to determine the right mix and quantities of aircraft for the fleet to have 10 to 15 years from now, including examining the F-35, fourth-generation aircraft and a future sixth-generation system known as Next-Generation Air Dominance.
Despite his objections, Smith said he realizes there is strong political support for buying the platform and it will be difficult to make cuts to the program. In recent years Congress has directed the Pentagon to buy more F-35s than it has requested.
Additionally, because the F-35 is expected to be a centerpiece of the fighter jet fleet, it's not feasible to stop buying the platforms completely, Smith said.
"It just hurts and the problem is that there's not an easy way out of it," he said.
Senate Armed Services Committee Chairman Sen. Jack Reed, D-R.I., recently said he has concerns about the program but said cutting fighter jets would not be a top priority.
Topics: Air Power, Acquistion Reform, Acquisition Programs