SCIENCE AND ENGINEERING TECHNOLOGY
Q&A with Dr. Mark Lewis, Director of NDIA's Emerging Technologies Institute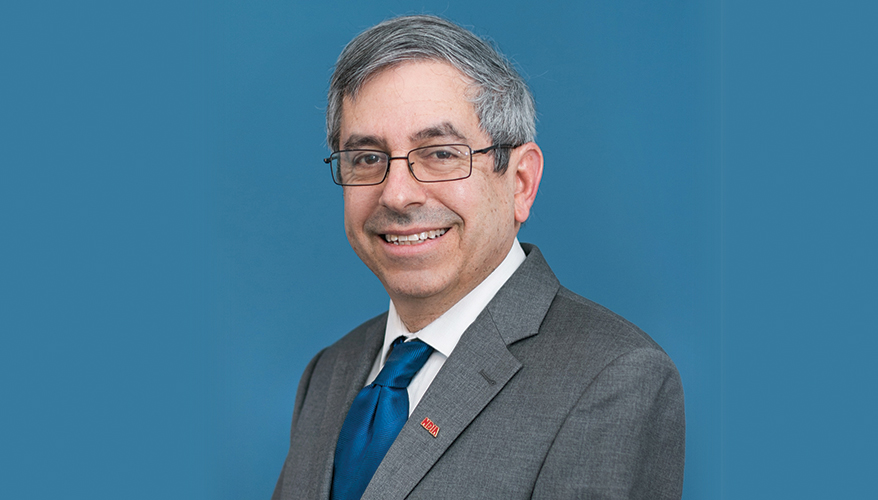 NDIA photo
Dr. Mark J. Lewis in January took the helm of the National Defense Industrial Association's new Emerging Technologies Institute after serving dual roles in the Pentagon as the acting deputy undersecretary of defense for research and engineering and director of defense research and engineering for modernization.
One of the nation's foremost experts in hypersonics, he has also held positions as chief scientist of the Air Force, the founder of both the Center for Hypersonics Education and Research and the NASA-Air Force Constellation University Institutes Project, and the director of the Institute for Defense Analyses' Science and Technology Policy Institute.
He recently shared his thoughts with National Defense magazine Editor in Chief Stew Magnuson on the role of the new institute and some of the advanced technologies it will be following.

Can you tell us about the new institute and what you hope to accomplish as its first leader?

The Emerging Technologies Institute (ETI) is NDIA's new organization, devoted to accelerating the development and implementation of technologies that will be essential to the future defense of our nation. Our nation's defense is at a critical point; the technological superiority that our military has come to depend upon is being challenged across the board by peer competitors and emerging threats. Make no mistake, we are in a race, and it is one with the most serious of implications.
If the United States is to retain its military advantage, we need to double down on the full range of modernization technologies, including artificial intelligence and autonomy, biotechnology, cyber, quantum science, microelectronics, networked systems and communications, directed energy, space and hypersonics.
To that end, ETI is being stood up as a source of trusted information and thought leadership on defense research and engineering. Very importantly, we're not just here to advocate for more total spending on research and engineering, but rather to present credible and reliable analyses on where those investments should be made, in order to maximize their value and minimize the time to delivery.
Do you see it playing a role in influencing the Defense Department's advanced technology goals? If so, how will you do that?

I absolutely do expect ETI to play a role in setting the department's goals, as well as impacting how those goals are realized.
Ultimately, we want to not only contribute to the national debate, but actually frame that debate in order to encourage actions that will accelerate the delivery of modern capabilities into the hands of our warfighters.
We'll do that in several ways. ETI will pull together teams of members who will work with appropriate government officials and other essential partners, to research and convene discussions on a carefully chosen set of technology issues. Remember that NDIA's approximately 1,700 corporate members and more than 63,000 individual members represent an incredible pool of talent that includes expertise on just about any technology topic we might touch upon. That's a strength that is truly unrivaled by any comparable organization.
We are committed to producing research products that are of the highest quality, building a reputation for objectivity and independence, and drawing on the incredible resources of NDIA as well as the unrivaled access we have to industrial and government leadership.
We are also building strong partnerships with academia so that we can leverage the best and the brightest that our universities have to offer. Further, we will take full advantage of NDIA's incredible convening authority to address audiences across the executive branch and on Capitol Hill, as well as industry, academia and the broader research community.

I heard you say about two years ago that the technological challenges developing hypersonics were tough but by no means insurmountable. Are the services developing the technology making progress? What are some of the harder challenges that lie ahead?

I have spent the majority of my research career in hypersonics, and it's an area that I believe is absolutely essential to national defense. The simple answer is yes, we have made remarkable progress in developing this technology and getting it closer to fielded systems.
Unfortunately, so have our competitors, who are ahead of us in a number of key aspects. We can always improve the technology, but at this point I honestly believe our remaining challenges are more policy and infrastructure than technical.
We know hypersonic systems work. Now it's just a matter of being able to design, test and deploy these systems in a timely and efficient manner.
In many ways, that means relearning how we used to do things in the past and insisting on moving beyond prototypes to deliver real capabilities at a useful scale.

What do you see as the main benefits of AI in the military? How do you assess the services' efforts to integrate artificial intelligence into their day-to-day operations?

Al is often called a game-changer, a term that is overused, but in this case is absolutely appropriate. But we also have to be careful, because the term AI is misused quite a bit, thrown about with some abandon.
There are too many folks who think they can solve technological roadblocks by merely invoking AI, but we're not there yet. True AI brings several important attributes — including the ability to rapidly incorporate information from multiple sources, and to speed up decision-making cycles. AI can help us relieve humans of tedious tasks so that people can do what they do best. We have also learned that AI-powered systems are willing to take risks to themselves that humans would be unwilling to take.
The services are indeed all stepping up to the plate in AI. I would also note that beyond the services we have activities across the enterprise, including the Defense Advanced Research Projects Agency, the Joint Artificial Intelligence Center, as well other Defense Department organizations such as the Office of the Director of Operational Test & Evaluation, which is taking an early lead in thinking through how we will effectively test AI systems.
Having said that, I would warn that we are still in the early stages of learning how AI can be used best, including when and where it can buy its way into future systems. To that end, I would argue that our goal has to be establishing AI as a systems engineering discipline and coordinating R&E efforts across the board.

There are many alarmists who warn against the dangers of AI being applied to weapon systems. What's your take on the controversy?

The Department of Defense has been very clear on establishing ethical guidelines for the use of AI. I actually think AI can lead to weapons that are used more responsibly. For example, an AI system that helps us refine and pinpoint a target could reduce the chances of collateral damage or targeting errors; and an AI system that removes a human operator from harm's way is clearly one that I would prefer.
This is an issue in which ETI, and NDIA as a whole, will have a very credible voice.
I do worry about how our peer competitors will use AI, and that is one of the reasons I want the United States to develop these capabilities first.

There is an adage that laser weapons on the battlefield are always just a year away from becoming a reality. The year may be up as the Navy is integrating a solid-state laser into an Aegis Weapon System aboard a destroyer later this year.
Do you think this will be a niche capability, or open the floodgates to more applications if the program is successful?

We are definitely seeing the dawn of directed energy as another arrow in our defense quiver.
This is being driven by two developments. The first is the practical realization of lasers that operate at useful power levels. It isn't just about power of course, other aspects of the technology are also important, including beam control, though we have seen significant advances there as well.
Another development is a refined understanding of how we would use directed energy. We have come to understand that a laser that simply duplicates the effects of a kinetic weapon really doesn't buy its way onto a platform unless it can do so at significantly reduced cost; and a laser that brings some new capability — say defense against a hitherto unstoppable threat — really brings value.
The Navy application is especially exciting — think of a directed energy weapon that could give a ship a near-infinite magazine depth.
Base defense, particularly against low-cost unmanned craft, is also a very attractive application, from both a capabilities standpoint as well as a cost tradeoff.

Biotechnology is a field that the military obviously has an interest in developing. What are some potential applications for biotech in the military?

Until recently, many in the DoD viewed biotechnology as promising, but not something that was directly relevant to their mission. That has changed significantly since the pandemic began, in part because much of the success of the various COVID vaccines was built on investments that the Department of Defense made years ago.
But biotechnology is about much more than medicine or human performance. In fact, it opens up new opportunities for manufacturing and can enhance the industrial supply base, not only giving us new materials but also alternate, less vulnerable, production pathways.
Biotechnology, for example, can offer new ways to manufacture structural materials — think of repairing a runway crater by spraying microorganisms into it — or even in-situ manufacturing of jet fuel. That makes biotech one of the most exciting disciplines of this century.

What concerns you most about the technological competition between the U.S. and its allies vs. China and its ambitions?

Earlier I referenced peer competitors who are breathing down our necks, and have in some cases exceeded our capabilities. China is the country that concerns me the most. They are making significant advances in a number of the critical technology areas, including hypersonics and AI, and they have done so in large measure by wholesale theft of American intellectual property.
But what I worry about most is the somewhat minimal likelihood that China will apply the same ethical standards to those technology areas as we will. For example, consider the dangers of biotechnology if misused; will China abide by ethical standards? There are about 12 million Uyghurs who would tell you no. What about the application of AI? Just look at what the Chinese are doing in establishing and manipulating social ratings of their own population.
Even in the hypersonics arena, we see China and Russia both blurring the lines between conventional and nuclear systems in ways that we will not. So bottom line, this is a technology race we dare not lose. And that is why the ETI is so important at this time.

Finally, if you could do one thing to boost the number of U.S. students pursuing careers in science, technology, engineering and math, what would you do?

I actually don't think it's a matter of attracting more students into the STEM disciplines, as there isn't much evidence of an overall STEM shortage. What I would like to do instead is attract students already interested in STEM to work on problems in national defense. And the way to do that is to give scientists and engineers exciting and meaningful things to work on that will contribute to the growth and security of our country.
Topics: Defense Innovation