Coast Guard Ship Modernization Under Full Steam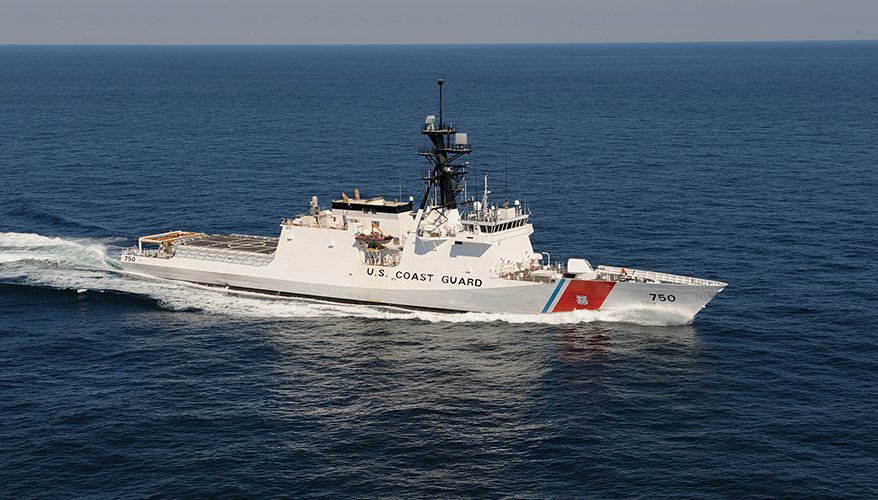 Coast Guard photo by PAC Tom Sperduto
As work continues on replacing its fleets of outdated ships, the Coast Guard is kicking off the development of two new programs — a vessel for Arctic operations and a family of boats that will ply inland waterways.
"We have a lot going on. We're doing more acquisitions than we've done since World War II," said Rear Adm. Mike J. Johnston, assistant commandant for acquisition at the service.
Progress continues on the Coast Guard's top shipbuilding priority, the Offshore Patrol Cutter, he said at the Surface Navy Association annual meeting in January.
Hull No. 1 of the planned 25-ship fleet is under construction and on track to be delivered to the Coast Guard in 2022. It will take about 20 years to build out the fleet. The $12 billion program will replace the service's 270-foot and 210-foot medium endurance cutters, which are becoming increasingly expensive to maintain and operate, the Coast Guard has said.
Eastern Shipbuilding Group is the contractor for the first four hulls. In 2018, the company's Panama City, Florida, shipyard suffered heavy damage when struck by Hurricane Michael, which resulted in the Coast Guard having to revise the costs and schedule of the program as the company rebuilt its facilities. The Department of Homeland Security granted the company $659 million in relief, but announced that hulls five through 25 would have to be recompeted.
The Government Accountability Office in a November 2020 report, "Coast Guard Acquisitions: Opportunities Exist to Reduce Risk in the Offshore Patrol Cutter Program," said the revised schedule was risky.
"The Coast Guard authorized the start of construction for the first two OPCs despite not having a stable design, which is inconsistent with shipbuilding best practices," the report said.
"Further, the revised post-hurricane delivery dates for the first four OPCs are optimistic and do not fully incorporate schedule risks, increasing the likelihood that the OPCs will not be delivered when promised," the report said.
Johnston sounded a more optimistic note. Despite the storm damage and the COVID-19 pandemic, the program is back on track, he said.
The second hull will follow in 2023 and funding is in place to buy long-lead time materials for hulls three and four, he said.
The service has yet to name a shipbuilder for hulls five through 25, he said. "We have had a lot of industry study and engagement to ensure that that's a fair and open competition," he added.
The service's second highest priority, the Polar Security Cutter, is also on schedule to begin construction by the end of the year, Johnston said.
"This has been a very unique program because we haven't built a heavy polar ice breaker in the United States in about 40 years," Johnston said.
The joint Coast Guard-Navy program has funding for two hulls so far "and very good support for hull three," Johnston said.
The Coast Guard currently operates only one icebreaker, the aging Polar Star. Coast Guard Commandant Adm. Karl Schultz said at the same conference that the service needs "a minimum" of six.
Johnston said: "That's going to be an incredible asset. And the partnerships and the relationships [with the Navy] that we built out has spread across all of our acquisition programs … and that has paid incredible dividends."
Meanwhile, the Coast Guard is in the pre-acquisition stage of developing a new ship it is calling the Arctic Security Cutter, which will also be designed to operate in cold climates and serve as a medium-sized icebreaker, Johnston said.
"At this point it's a little early to really pull out the strategy, but we will certainly be planning to engage industry as we move forward," he said.
How many Polar Security Cutters are ultimately built will have an impact on the new program and allow the Coast Guard to better refine requirements.
Schultz said he would like to have six icebreakers and three of the smaller Arctic Security Cutters for a total of nine ships.
To ensure there is always icebreakers on hand, the service is considering renting them to meet its needs, Schultz said.
"We're looking at some leasing options as a bridging strategy — not to be in lieu of [buying vessels], but additive — to close some gaps," he added.
"Truly in the high latitudes, it's all about presence. And we are excited to be off to the races on building icebreakers," he added.
One idea that had been considered but appears to be dead now is nuclear-powered icebreakers.
"We have moved off the nuclear-powered" icebreaker, Schultz said. "The ability to operate that in the Coast Guard — that just doesn't exist, and nor could we build out to that with all the demands on our plate."
Meanwhile, the National Security Cutter program continues with the ninth ship recently delivered by the contractor, Huntington Ingalls Industries' Ingalls Shipbuilding of Pascagoula, Mississippi.
The original program of record had eight NSCs in the Coast Guard inventory, but Congress has since authorized funding for three more, plus kicked in $100 million to purchase long-lead time materials for a 12th ship.
Fast Response Cutters, which replace the service's 110-foot cutters, are past the middle of their production run, with 42 of a planned 64 boats now completed.
Capable of sailing at 28-plus knots, Johnston called them "a game-changer." Two of the new vessels will be sailing to Bahrain to replace two legacy ships that have been there since Operation Iraqi Freedom, he said. There will eventually be a total of six stationed there, Schultz added.
The multi-mission Fast Response Cutters are just "one tool," Schultz said. "They complement our 11 National Security Cutters as well as our forthcoming 25 Offshore Patrol Cutters. Add to that [up to] three new Polar Security Cutters, and you have a fleet of 103 highly capable U.S. Coast Guard cutters," he said.
That will add 2,000 more sea-going billets for the service's personnel needs, he noted.
As for the ships, "they're not one-for-one replacements at all," Schultz said. "Each new platform outperforms the legacy hull it replaces. And we haven't yet even fully realized the capabilities or the potential of these platforms. I continue to challenge our cutter community, our cutter commanding officers to deploy these ships in innovative ways and really press the limits of their maximum effectiveness."
Another program in the pre-development stage is the Waterways Commerce Cutter, which will be a family of three platforms intended for rivers, lakes, intracoastal waterways and harbors. Some of the boats this program would replace — inland tenders — have been in the water for 77 years, Johnston said. They maintain and replace navigation buoys that facilitate the safe passage of commercial watercraft.
A request for proposals to replace the 35 legacy tenders should be out in March, Johnston said. The service is looking at three monohull variants.
The Coast Guard plans to acquire 16 river buoy tenders, 11 inland construction tenders and three inland buoy tenders. The new tenders will have greater endurance, speed and larger deck load capacity than their predecessors. The ships will also feature improved habitability and will accommodate mixed-gender crews, according to a service factsheet.
A draft request for proposals was released in July with an anticipated contract award in 2022 and initial operating capability scheduled for 2025.
"The ability to affordably and safely move product across and throughout the nation is vital to American prosperity," Johnston said.
"We are producing the cutters and capability for the operator on schedule and on budget the majority of times, but we are far from perfect," he said.
The service is in the middle of an acquisition study being done by independent consultants that will look at where the Coast Guard can improve.
"We're looking forward to using that as a tool to drive us from good to great," Johnston said.
There is a lot more work to be done to support all these new ships, Schultz said. The Coast Guard is looking for more funding to boost its capacity and capabilities. It is pursuing upgrades to its information technology systems and other assets, as well as looking to bring on more personnel, the commandant said.
"To close the Coast Guard readiness gap, we need sustainable annual budget growth — I would say 3 to 5 percent over the next five years," Schultz said. "We need a booster shot of sorts, about $900 million to $1 billion dollars to address our most pressing needs."
— Additional reporting by Jon Harper
Topics: Maritime Security, Shipbuilding, Defense Department