Empower Warfighters Through a Digital Battlespace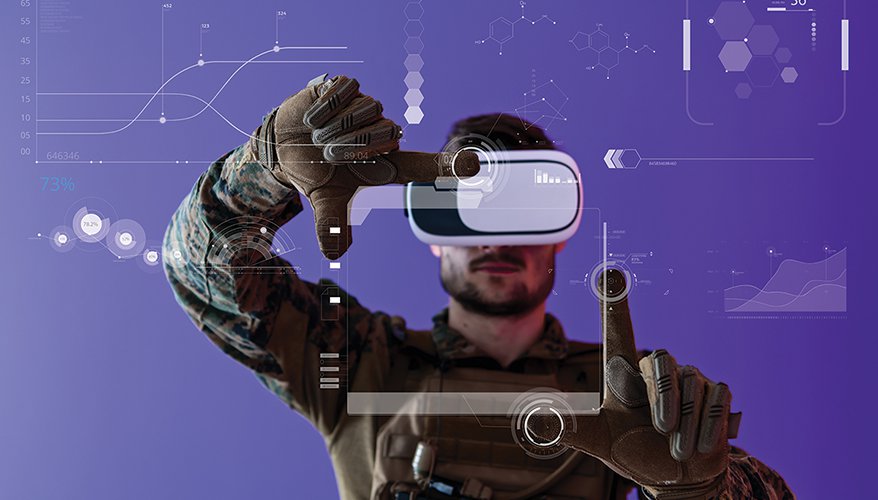 iStock photo-illustration
The era of the digital warrior has arrived. Technology is advancing faster than ever, allowing for the creation, transmission, analysis and distribution of data across the battlespace at a pace never seen before.
These advances are empowering warfighters in new ways. At the tactical edge, humans and machines are beginning to team to gather and share tactical data, and troops are being equipped with a plethora of body-worn digital systems, from augmented reality goggles linked to biometric sensors, thermal imagers and cameras, to miniature computer systems equipped with navigation aids and battle management apps.
These connected warfighters operate within the context of the "digital battlespace." With artificial intelligence and machine learning for predictive insight, faster communications networks such as 5G coming online for connectivity during training, innovations like virtual and augmented reality, edge computing for faster processing, and integrated sensors and advanced analytics that bring it all together, the digital battlespace is a powerful internet-of-battlefield-things, enabling faster action with increased situational awareness and real-time intelligence.
Such advancements — paired with a new mindset toward integration, procurement and innovation — offer nearly limitless possibilities to provide warfighters across the military with better situational awareness and decision-support tools.
The digitization of the battlespace allows for the strengthening of warfighters' capabilities before they even step foot into the battlefield.
Traditional training scenarios are often limited by location, cost and logistics, and hampered by scenarios that may feel unrealistic. They may also lack the ability to objectively measure progress and deliver precise feedback.
Immersive training, which utilizes advancements in virtual and augmented reality, helps take warfighter preparation to the next level.
Virtual training empowers servicemembers through interactive experiences, actionable metrics and continual learning. It engages the brain on multiple levels: experiential, cognitive, behavioral and emotional. This type of virtual training can augment — and in some cases replace — live training. Warfighters can "train as they fight" at an unparalleled level of realism short of actual combat with reduced cost, increased safety, and more easily accessible training that provides real-time feedback and a continuous cycle of improvement, particularly when machine learning and AI enter the equation.
Increasingly ubiquitous connectivity makes virtual training more readily available, realistic and impactful over time.
In line with this type of immersive virtual training, defense leaders are recognizing the potential of 5G to add bandwidth, speed and capabilities. In October, the Defense Department announced $600 million in awards for 5G experimentation and testing, the largest full-scale 5G tests for dual-use applications in the world.
Among these tests is a 5G-enabled, AR/VR-powered prototype for combat-like training at Joint Base Lewis-McChord. Additionally, 5G also offers a competitive edge beyond training, namely in the support of multiple integrated digital devices and systems used by warfighters.
For servicemembers to get the most out of these new advances, however, these technologies must be integrated through an open and connected architecture rather than simply procured in the traditional stovepiped way. Why is this important? Not all that long ago, before the invention of smartphones, a person could leave their house with many of the same capabilities we have available in a smartphone today — a cell phone, camera, music player, flashlight, calculator, laptop computer, etc. However, you would have needed a backpack to lug around all the equipment required to do what today's 7-ounce smartphone can do. This is currently the experience of our warfighters, burdened by separate devices for navigation, night vision, radio communications and various other functions, along with the redundancy and associated weight of each item's individual power supply and networking components.
From a threat standpoint, adversaries have access to many of these technologies, and varying security standards among them make it even more difficult to secure them.
Moving forward, digital warriors need devices and systems, linked together through open architectures, that eliminate redundancies, maximize efficiencies, strengthen security and lighten both the physical and mental load in battle. A war­fighter's kit can — and should — consolidate, streamline and improve their lives in the same way that smartphones do our daily lives in the civilian world.
In today's threat environment, information alone is not enough. Digital warriors need intelligence with real-time context for their specific mission and situation. Advancements in AI, data science and machine learning can help quickly triage the data, quiet the noise, and accelerate response.
AI can power numerous new technologies, from performance monitors that can detect if a warfighter is dehydrated, to self-diagnosing equipment that reports malfunctions before they impact performance, to remote sensors automatically reporting locations of enemy combatants to a common operating picture similar to how traffic apps share where congestion and accidents happen. AI can also be used to automate routine tasks, freeing up humans for more complex problem-solving in the digital battlespace.
Emerging technologies, quickly obtained through agile, modern procurement methods and then rapidly connected through open architectures will be possible in the digital battlespace, where warfighters are empowered with real-time data for faster decisions, mobile networks that support coordinated operations, and advanced cybersecurity to keep sensitive information away from enemy forces.

Joel Dillon is a Booz Allen Hamilton vice president and technical leader in the firm's Army portfolio, leading the Digital Warrior Solutions practice.
Topics: Infotech, Information Technology, Battlefield Communications