EDITOR'S NOTES HOMELAND SECURITY
So We Have a Border Wall — Now What?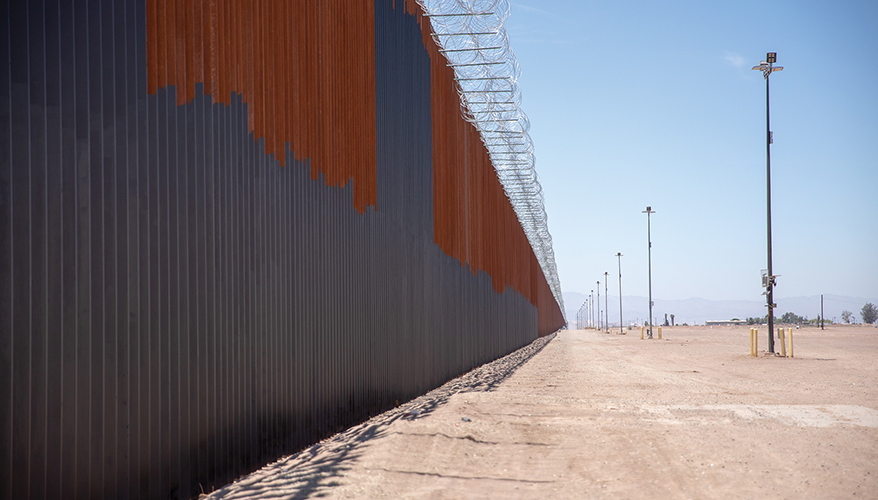 CBP Public Affairs photo
I was driving in the Lancashire countryside with an English friend of mine a couple years ago when I spotted what looked to be a crumbling tower on a hilltop.
"What's that?" I asked. "Some kind of Roman ruins?"
"No," he laughed. "That's a folly. Haven't you heard of a folly?"
I knew the word, of course, but never in this context. Apparently, British aristocracy had old-looking structures constructed on their lands to make it seem like they owned something interesting or historic, when they really didn't.
The word "folly" comes to mind when considering the border wall constructed in the Southwest United States over the past four years.
Was it a folly, or did the last administration leave behind something useful for national security? It's an important question because some $922 million was taken from the Defense Department's infrastructure budget to construct some 450 miles of border barriers — most of it reportedly 30-foot-tall steel fencing replacing older infrastructure.
Four years ago, in a column written shortly before President Donald Trump was sworn in, I predicted that the border wall as he described it in his campaign would never be built, even if he served two terms. It's fair to look back at that column and determine what I got right and what I got wrong.
First of all, I put aside the discussion on whether there should be a wall or fencing at all. It's every sovereign nation's right to determine whom it lets pass through its border and what kind of infrastructure it wants to build there. That's not the debate.
The thinking behind the column I wrote four years ago was based on three investigative trips to the Southwest border, extensive reporting on the George W. Bush administration's Secure Border Initiative and years of covering the Department of Homeland Security and Defense Department's cumbersome acquisition systems.
My thesis was that it would take the slow acquisition system years to determine the right technology for the border and to choose a contractor, thus eating up time before construction kicked off.
It's obvious that prediction was off base as a whopping 450 miles of new or replacement fencing was completed before the Biden administration called a halt to the project in January. On its face, that's an impressive number.
We now know that the Trump administration simply ignored the traditional acquisition system, ran roughshod over federal environmental regulations and paid for the project by raiding the Defense Department's infrastructure accounts.
According to documents acquired by McClatchy News Service, the former administration requested $3.6 billion in Defense Department funds, but spent only $922 million.
That's still a lot of money. What happened over the past four years should be put aside and the question should now be, "We have 450 miles of new barriers — now what?"
Is the new infrastructure effective? There needs to be a serious, bipartisan, unemotional and unflinching study on what exactly U.S. taxpayers received for their money.
Keep in mind that no wall has ever been built that human ingenuity hasn't been able to defeat. That was a lesson I learned visiting the Checkpoint Charlie Museum in West Berlin back in 1985 — the bad old days when the Berlin Wall still stood and attempting to cross it could result in death. The museum was full of displays showing the numerous clever ways freedom-seeking East Germans defeated the most heavily armed border structure ever built.
If the new fence can't be 100 percent effective, what is an acceptable number to measure success?
Border Patrol agents I rode along with in the 2000s always described fencing, car barriers and cameras as something tactical. None of them ever said the infrastructure could stop every would-be migrant. Fences slowed down border crossers, making it easier to catch them.
Meanwhile, the Trump administration seemed to want a "strategic" wall — something that would keep out migrants seeking work, leaving more jobs for Americans, along with criminal aliens, rendering America as a whole, safer.
The study should determine if the new barriers are tactically useful for Border Patrol agents, and if so where? Any investigation should start by asking these agents, who know the lay of the land better than any bureaucrat.
The "where" question is important because DHS officials in the past have said there didn't need to be a border wall stretching from the Gulf of Mexico to the Pacific Ocean — as Trump envisioned — because nature and topography often provided the needed barriers.
As the Bush administration discovered during the Secure Border Initiative, building fences is expensive, but maintenance costs are forever.
The forces of nature — wind, extreme heat, extreme cold and gravity — are already wearing on the "Trump Wall." Drug smugglers and would-be migrants are looking for structural weaknesses to exploit and creating holes that need to be repaired.
A study should determine what parts of the wall are worth maintaining and estimate how much this will cost. If there's no upkeep, then the fencing will begin to deteriorate and it will truly end up as a folly.
The story of the Trump Wall did not end with the stroke of President Joe Biden's pen. The next administration could restart construction, or Congress could mandate it. But before that happens, taxpayers should know if they are receiving any value for their money.
Topics: Defense Department, Homeland Security