Air Force Investing in Alternative Energy Sources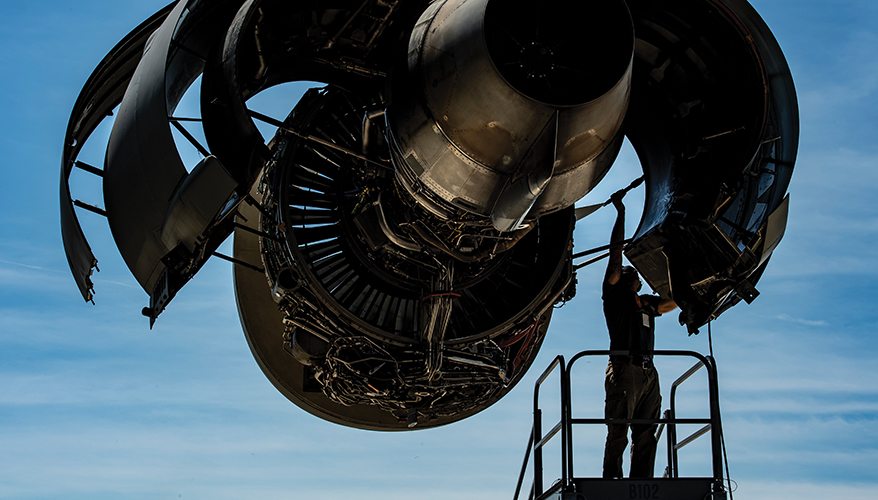 A technician works on a C-17 Globemaster III engine.
Air Force photo by Joshua J. Seybert
The Air Force and Space Force are making technology investments to prepare for current and future energy challenges.
As civilian regulations for clean and efficient energy continue to advance, the military is making efforts to reduce fuel consumption and decrease emissions while continuing to recognize the importance of ensuring fuel availability to warfighters, said Kristen Baldwin, deputy assistant secretary for science, technology and engineering in the office of the assistant secretary of the Air Force for acquisition, technology and logistics.
"What I see as our most pressing opportunity is to ensure promising technologies transition to the warfighter quickly," Baldwin said during the Air Force Association's virtual Aerospace Warfare Symposium in February. "I believe that we can and should do this by redesigning how we emphasize and reward programs that make lifecycle energy efficiency considerations a prerogative from the start."
The military should also design opportunities for adoption of new technologies into fielded systems by enabling them to be modified as new tech becomes available, she said.
The Air Force Research Laboratory is tackling the issue by investing in four key S&T efforts. These include: advanced engine concepts, weight and power reduction, advanced or alternative fuels, and batteries.
AFRL is developing technology for next-generation turbine engines through its advanced turbine technologies for affordable mission capability program, Baldwin said.
"We have government and industry teams working together on advanced turbine-based propulsion power and thermal technologies for legacy as well as [those] in development and future military propulsion programs," she said.
Technology goals include reducing costs and increasing fuel efficiency, she said. Capabilities that the lab is looking for include adaptive engines with variable turbines, high pressure ratio compressors and ultra-compact combustors for long-range air superiority.
In terms of weight and power reductions, the laboratory is investing in two areas of electrification in order to support efficiency, system performance and weight reduction.
"We've got research in turboelectric and hybrid electric technologies," she said. "We're looking at megawatt-class facilities that can help enable testing and development."
The service is also looking at new materials that can provide significant structural weight savings and improve fuel efficiency, she said.
Additionally, AFRL has a fuels and energy branch that is working on advanced and alternative solutions.
"We have ongoing research in targeting fundamental chemistry that can help enable improved fuel quality and military performance," she said. "We're also exploiting combustion properties to increase system performance, we're looking at hot fuel thermal management architectures, and we're looking at fuel technologies and formulations that enable hypersonic flight."
Lastly, the lab is investing in battery research, which is relevant for all domains of warfare, she said.
"We have a three-year project co-funded with industry that is looking to develop a high-rate battery with increased power, decreased weight and volume, and more timely recharging," she said."We have a lot that we can gather here in the Department of Defense from our commercial partners who have this same challenge that we do."­
Topics: Air Force News, Air Power, Energy