WEB EXCLUSIVE: U.S., China Engaged in 'Superpower Marathon'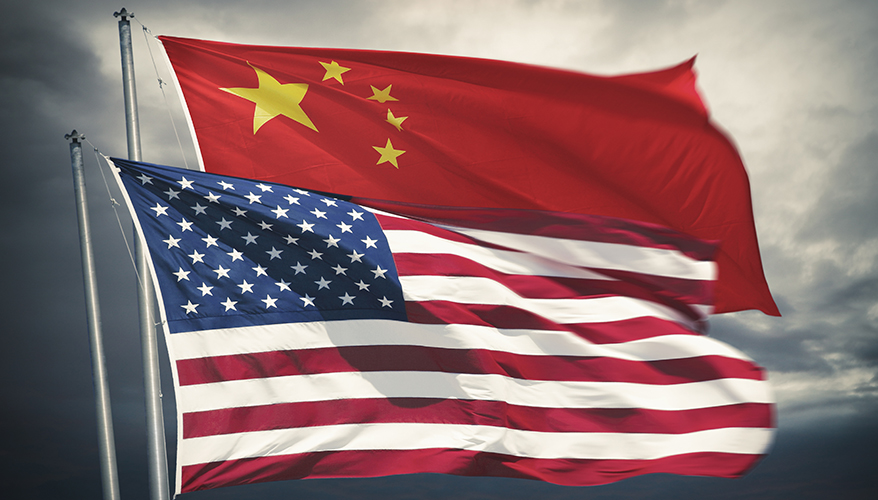 iStock photo-illustration
The United States and China are engaged in a "superpower marathon" as Beijing makes massive investments in key technologies such as artificial intelligence, unmanned systems and 5G networks, said the director of the Pentagon's Defense Innovation Unit March 23.
"I call it a superpower marathon because I believe that it's the challenge of our time," Michael Brown said during the National Defense Industrial Association's virtual National Security AI Conference and Exhibition. "It's the national security challenge of our generation and it probably is going to last many, many years."
The organization that Brown leads, also known as DIU, was established in 2015 to help bridge the divide between the Defense Department and the nation's tech hubs and help the military leverage capabilities developed by the commercial sector. It is heaquartered in Mountain View, California, in Silicon Valley, with additional outposts in Austin, Texas, Boston and the Pentagon.
The United States needs to be prepared for a multi-generation strategic competition, Brown said. At the heart of that competition is a technology race.
"China is really the pacing threat ... because of the size of its economy and the [nation's] focus on technology," he said. Overwhelmingly, the competition between Washington and Beijing is economic, Brown added.
"China very smartly has seen that technology is the key to transforming its economy," he said. "That's the way it expects to achieve a faster growth rate and also to provide more for its own citizens. … The government is placing a very heavy hand to make sure that China has what I'll call an unfair advantage on the world stage when competing in technology."
Beijing has a well-formulated industrial policy and has aggressively gone after foreign technology, know-how and talent, Brown said.
China has engaged in widespread cyberespionage to siphon intellectual property and critical data from foreign companies, U.S. officials say.
"They are also doing this in legal ways as much as possible," Brown noted. This includes making investments in early stage technology being developed by U.S.-based firms and "sitting at the same table with our venture capital industry."
According to Brown's slides, China currently leads the United States in technologies such as cryptocurrency, small drones, e-commerce, electric batteries, electric vehicles, facial recognition software, genetic data, high-speed rail, hypersonics, mobile device manufacturing, quantum communications, solar energy, telecommunications such as 5G deployments, ultra-high voltage electricity transmission, and wind energy.
Areas where China is challenging the United States' lead include artificial intelligence, biotechnology, pharmaceuticals, space launch, quantum computing, quantum sensors and supercomputing, according to his slides.
"If you look at where they're challenging us in AI, … they're a lot closer than we would like in this area. And we need to continue to invest to make sure that we maintain a lead," he said.
In some areas of artifical intellgience, such as facial recognition, China has already pulled ahead, Brown said. However, in other areas, such as applying machine learning or sensing data, the United States still maintains a lead.
Eric Schmidt, former CEO of Google and the chairman of the National Security Commission on Artificial Intelligence — which recently released its final report to Congress — has said the United States is a year or two ahead of China when it comes to AI.
However, Brown the United States can't afford to take its foot off the gas in this tech race.
"I don't take any comfort in thinking that it might be as much as two years," he said. "We've got to make sure that we have a challenger mentality on this rather than a mentality of being on top as if that's our innate place in the universe."
The Defense Innovation Unit is concerned that a U.S. rival has taken the lead in capability areas such as small drones, where Chinese companies such as DJI have 75 percent of the global market share in the technology.
"This is an important capability for the military," Brown said. "Our adversaries [and] non-state actors can buy the same Chinese drones off the internet. We've never had … that democratization of a military capability before. DJI is leading the way. We need U.S. alternatives and we're working on that today."
For the United States to win this superpower marathon, it needs to focus on a number of steps including bolstering investment in basic research and development by the federal government and the private sector.
"There have probably been things that we could do with R&D tax credit, capital gains tax that would create more incentives for longer term investments," he said.
U.S. investments are often focused on short-term capabilities, he noted. "One of the advantages of federally funded R&D is you get a very long-term time horizon and some willingness to take risks," Brown said.
The nation should also invest more in its STEM talent, he added.
Additionally, government departments and agencies need to work together more, he said.
"This gives us an organizing principle in terms of making sure we're leading the tech race," Brown said. The threat posed by China should instill a "sense of urgency" and motivate U.S. efforts, he added.
Topics: Global Defense Market, International, Defense Department