F-35 Procurement Could Be Swayed by Robo-Jets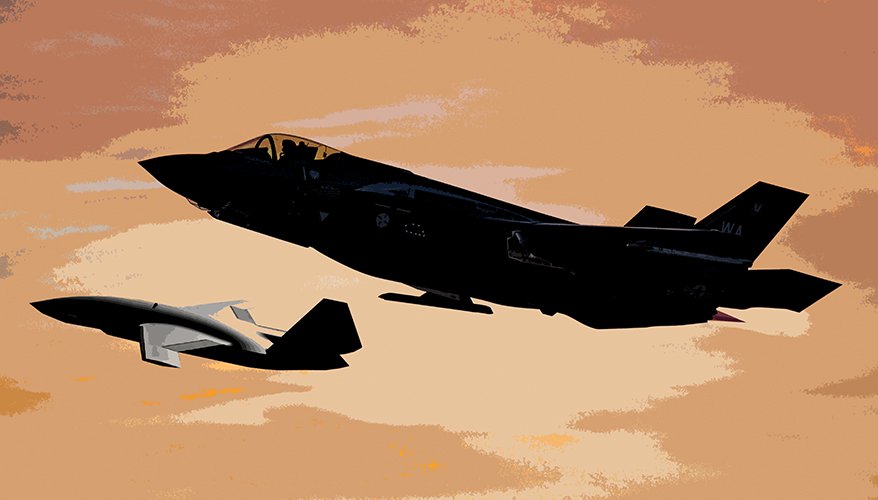 Photo-illustration, Air Force/Boeing images
The future of F-35A joint strike fighter procurement will likely be affected by the development of robotic jets — known as loyal wingmen — and how the Air Force decides to integrate them into the tactical aircraft fleet, according to one leading analyst.
A TacAir study has been launched by Air Force Chief of Staff Gen. Charles "CQ" Brown Jr. to determine the right force mix and quantities of aircraft that the service needs to have 10 to 15 years from now to be successful in a potential conflict with an advanced adversary such as China.
"One of the conversations we are having is, what does a fighter squadron look like in the future?" Brown told reporters recently. That includes determining how many manned and unmanned platforms should be part of it. "It's an area we have to look at as part of this study."
The outcome of the review is expected to drive funding decisions starting with the fiscal year 2023 budget request.
Richard Aboulafia, vice president of analysis at the Teal Group, an aerospace consulting firm, praised the decision to review the tactical aircraft portfolio.
"You're talking about something that consumes $10 billion-plus a year in resources," he said. "Decisions made today impact force mix decades hence. … In terms of what's being purchased and when it's being purchased, I think it's high time for a proper strategic review to drive things."
Brown said he sees a need for some "lower end" fourth-gen fighters, higher end fifth-gen platforms such as the F-35, and a future sixth-gen capability known as Next-Generation Air Dominance, or NGAD.
How will aircraft procurement shake out in coming years?
"The big variable is maturation of loyal wingman and effectiveness of loyal wingman," Aboulafia said.
The robotic aircraft, which are under development by a number of contractors, are expected to be relatively inexpensive planes designed to serve as force multipliers and accompany manned fighters into battle, which will require networking. The Air Force hopes to begin integrating the drones into the fleet by 2023.
"That might actually help the F-35" when it comes to aircraft purchases because the joint strike fighter is expected to provide cutting edge data-sharing capabilities, Aboulafia said. "You could easily see a scenario where it's accelerated" in the short- to medium-term, which would likely result in the Air Force purchasing lower quantities of fourth-gen fighters such as the F-15.
However, Boeing has said that the company's upgraded F-15EX was built with manned-unmanned teaming in mind. Other fourth-generation platforms might also be able to leverage loyal wingmen, which would reduce the need for F-35s, Aboulafia noted.
"It could be that loyal wingman is viewed as connectable to any platform," he said. "In which case, the air vehicle matters less, and why rely exclusively on the F-35" for quarterbacking robo-jets when less expensive systems can get the job done?
The Lockheed Martin-built F-35A currently has a price tag of about $80 million per plane, on par with some fourth-gen platforms. However, the joint strike fighter has much higher operating and sustainment costs, although Lockheed officials say they are working with the Air Force to further drive those down in coming years.
Aboulafia doesn't anticipate cuts to F-35A procurement anytime soon to free up money to invest in Next-Generation Air Dominance because that program is still in the research-and-development phase. However, in the long term he said he doubts the Air Force will ever come close to its planned total buy of 1,763 F-35As, as a variety of new platforms — including robo-jets — come online that will compete for funding.
Meanwhile, the Air Force Research Laboratory's loyal wingman program known as Skyborg is moving along, and contracts have been awarded to a slew of companies to provide prototypes.
"They're making pretty good strides," Brown said of the firms developing the aircraft.
In March, Boeing announced the successful completion of the first test flight of the Loyal Wingman system it has been developing for the Royal Australian Air Force. The company is also offering a version of it to the U.S. Air Force for the Skyborg program. — Additional reporting by Stew Magnuson
Topics: Air Force News, Air Power, Robotics, Robotics and Autonomous Systems, Budget