Columbia Submarine Program Challenges Supply Chains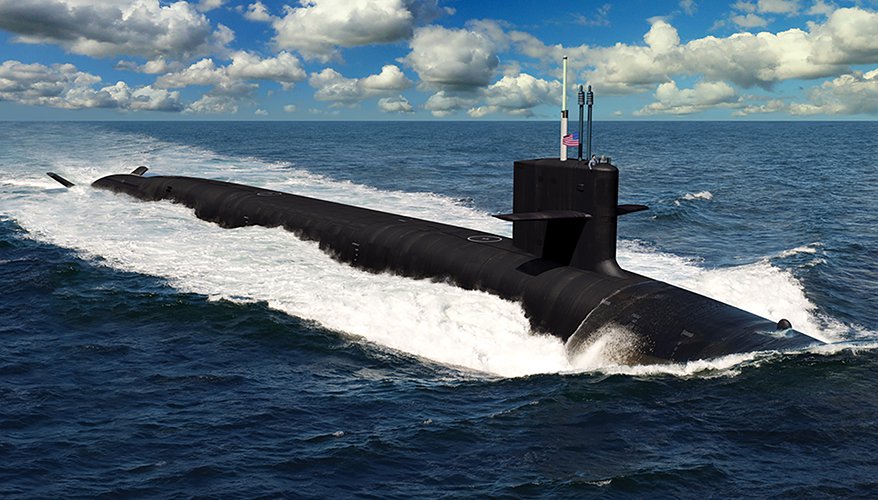 Artist's rendering of a Columbia-class submarine
General Dynamics Electric Boat rendering
The effort to build the Navy's next-generation ballistic missile submarine has moved into the full construction phase, but the sea service and its industry partners face supply chain challenges as they work to keep the project on track.
The Navy's fleet of hard-to-detect SSBNs, also known as "boomers," are the most survivable leg of the U.S. nuclear triad. However, today's Ohio-class boats are aging and the effort to replace them, the Columbia program, is the Navy's No. 1 acquisition priority.
At 560 feet long with a displacement of nearly 21,000 tons, the new vessels will be "the largest, most advanced, most capable submarine ever produced by this nation," Rear Adm. Scott Pappano, program executive officer for Columbia, told reporters during a media roundtable.
The service plans to procure 12, and each boat will carry up to 16 Trident II D-5 nuclear-armed missiles.
The lead ship in the class is expected to be on patrol by early fiscal year 2031. The Navy wants the platform delivered in 2028 so that all of the required testing and certifications can be completed in time to meet that target date.
Pappano called the delivery schedule "aggressive, but achievable."
Capt. Jon Rucker, Columbia program manager, said: "We continue to look for how we can improve that schedule margin, because on the back end we don't have it [for] when we deliver the ship."
In November, the program reached a milestone when the Navy announced that it awarded General Dynamics Electric Boat — the prime contractor for the effort — a $9.5 billion contract modification for full construction of the USS Columbia beginning in early fiscal year 2021, as well as advance procurement, advance construction and coordinated material buys. The deal also calls for the start of full construction for the second boat, USS Wisconsin, in 2024, assuming Congress appropriates funding in line with the Navy's schedule.
Electric Boat will perform about 78 percent of the Columbia's construction. Much of it will take place at the company's manufacturing complex in Quonset Point, Rhode Island. Final test and assembly will occur at its shipyard in Groton, Connecticut, at a 200,000 square-foot facility built specifically for the program.
Another major shipbuilder, Huntington Ingalls Industries Newport News Shipbuilding, will construct and deliver six module sections for each of the first two boats.
With little margin for hiccups, the Navy and its industry partners are doing what they can to try to keep the project from drifting off schedule.
The maturity of the program's design going into construction — about 90 percent complete — surpassed all previous submarine efforts the Navy has worked on, according to acquisition guru James "Hondo" Geurts, who is performing the duties of undersecretary of the Navy.
Officials hope that design maturity will enable more efficient construction.
"We've done a lot of work with large-scale land-based prototyping to shake out the design," Pappano noted. "We've done significant construction prototyping to shake out our manufacturing processes, such as building our prototype first article 'quad pack' to shake out the entire assembly of a common missile compartment in a modular fashion. We've done quite a bit of early advanced procurement and construction to shake out the defense industrial base," which has helped identify issues that needed to be addressed.
About 2 million man-hours of advanced construction work had been completed before final construction kicked off, according to Electric Boat.
But there is a lot more heavy lifting to be done.
"We have a ton of work ahead of us," Rucker said. "We know that there are going to be challenges and we intend to attack and manage them in a timely and efficient manner."
The supply chain for the program is vast, with over 5,000 suppliers in 48 states.
In a recent report to Congress, "Columbia-Class Submarine: Delivery Hinges on Timely and Quality Materials from an Atrophied Supplier Base," the Government Accountability Office issued a warning.
"The program faces schedule risk during construction stemming from supplier readiness and quality problems that, if unmitigated, are likely to intensify when the shipbuilders outsource additional materials," the watchdog said.
"Since additional suppliers will produce materials as the shipbuilders enact their plans for outsourcing, manufacturing operations at the shipyards will be increasingly dependent on the timely delivery of these materials. Moreover, the shipbuilders' ability to support risk reduction among suppliers that are currently unable to meet demand will be important for achieving on time delivery of the lead submarine," it added.
Notably, builders will be constructing the Columbia-class boats at the same time as Virginia-class attack submarines, and they will have to rely on materials produced by a supplier base that is roughly 70 percent smaller than in previous shipbuilding booms, the report said.
"The consequence of this reduction has been an increased reliance on sole-source suppliers and a reduced number of suppliers that compete for contracts," it said.
About 350 companies have been identified as critical suppliers, according to Vice Adm. William Galinis, commander of Naval Sea Systems Command.
"Five to 10 percent or so [of the vendor base] is where we think we're somewhat challenged in one phase or another to be able to meet the demand," Galinis said during a Defense Writers Group event.
For a program like Columbia, "you're going to have production issues along the way," he acknowledged. "Then the next phase is when you start to activate systems, bring the submarine online and then get it delivered to the fleet. So that will really be our next challenge."
Vice Adm. Johnny Wolfe, director of the Navy's strategic systems programs, has noted that Ohio-class subsystems are being modernized and the technology will be transferable to the Columbia class when it comes online, which is intended to reduce technical and schedule risks.
The service is watching the submarine supplier base closely, Galinis noted, adding that PEO Columbia and PEO Submarines have "done a pretty good job" reaching out and working with industry to better understand where they face risks with vendors.
Problems arose during advanced construction of Columbia when substandard welds were discovered in some of the missile tubes delivered by a subcontractor.
"A big lesson learned for us was our interaction with the supply base and what we're doing to partner with them more directly," said Kevin Graney, president of General Dynamics Electric Boat.
"The way we came through that was by partnering with them directly, sending some of our … welders and fitters, for example, to their facilities and really working with them shoulder to shoulder, and helping them come through some of their issues with regard to the training of their workforce, the proficiency in their workforce, the quality of the work that they're doing," he told reporters after the contract modification was awarded.
Although the episode left the program with some catching up to do schedule-wise, "we're in a position right now where I think we've retired a lot of that risk," he said.
That effort to work directly with sub-tier suppliers to address issues will serve as the model going forward, Graney said.
"It's going to be on us to provide some of our best and brightest across the industrial base to make sure that we're not just waiting for those problems to arrive at the doorstep, we're actually seeking those out, solving them before they ever leave the vendor," he said.
An unanticipated challenge for the program was the emergence of COVID-19.
"We've got some individual cases throughout the supply base that have flared up," Graney said. "But broadly, I think the worst is behind us."
During the early stages of the pandemic, there was a reduced pace of delivery of certain design products, Electric Boat said in a statement to National Defense.
"This trend was addressed and reversed," it said. "Our vendor base has been resilient throughout the pandemic and is currently supporting the program's requirements."
Full construction began on schedule despite COVID, but the company said it's not letting its guard down. It has advanced cash payments to suppliers to ensure they can meet their financial obligations, including to their workforce.
"We continue to monitor our supply chain closely and have optimized and accelerated our integrated master schedule to ensure design, material procurement and ship construction support on-time delivery," Electric Boat said.
As of press time, 700,000 man-hours of work had been performed since full construction began on the lead ship. More than half of the hull was complete, and major internal modules, decks, tanks and bulkheads were underway at Quonset Point and at subcontractor sites.
Additionally, the program was nearing final assembly on the lead ship's first "quad pack" section of hull with four missile tubes, the company said.
"Vendor components and material are arriving daily, well in advance of need," it said.
Meanwhile, Navy officials are looking at options for again extending the service lives of as many as five Ohio-class boats to provide more flexibility in meeting deterrence requirements in case there are any unforeseen issues during the transition to the next-gen submarine, according to a recent Congressional Research Service report, "Navy Columbia-Class Ballistic Missile Submarine Program: Background and Issues for Congress," by Naval Affairs Specialist Ronald O'Rourke. The move, if funded by Congress, could provide some cushion in case problems arise during production of Columbia-class vessels.
However, the service still needs to avoid schedule delays that increase costs. Cost growth in the Columbia program is a major concern because it could wreck other shipbuilding plans, O'Rourke noted.
Rucker said the "affordability threshold" for Columbia is $8 billion in calendar year 2017 dollars in average procurement costs across the 12 boats.
Officials say they expect the cost of follow-on ships to decrease as the program reaps the advantages of serial production and incorporates lessons learned from building the first two vessels.
Starting in 2026, when the Navy plans to procure one Columbia-class boat each year for a period of 10 years, the service estimates that the program will require approximately $7 billion in fiscal year 2019 dollars annually in procurement funding, according to the CRS report.
Navy leaders have insisted that the program will be fully funded. That means cost overruns would eat up money that would otherwise be available for other projects as the service plans for an ambitious ramp up in the size of its battle force, from just under 300 ships today to 377 by 2035.
"The Navy's track record over the last 30 years in building lead ships and getting the cost [estimate] right has not been very good," said Eric Labs, senior analyst for naval forces and weapons at the Congressional Budget Office.
"You've got a number of new shipbuilding programs that are going to manifest themselves … over the next 10 years," he said at the Surface Navy Association's annual symposium. "If we end up with cost growth in the Columbia-class program, … that's going to have substantial ripple effects across all parts of the Navy budget."
Topics: Maritime Security, Undersea Warfare, Navy News