JUST IN: Army Anticipates Boost in Funding for Arctic Equipment (Updated)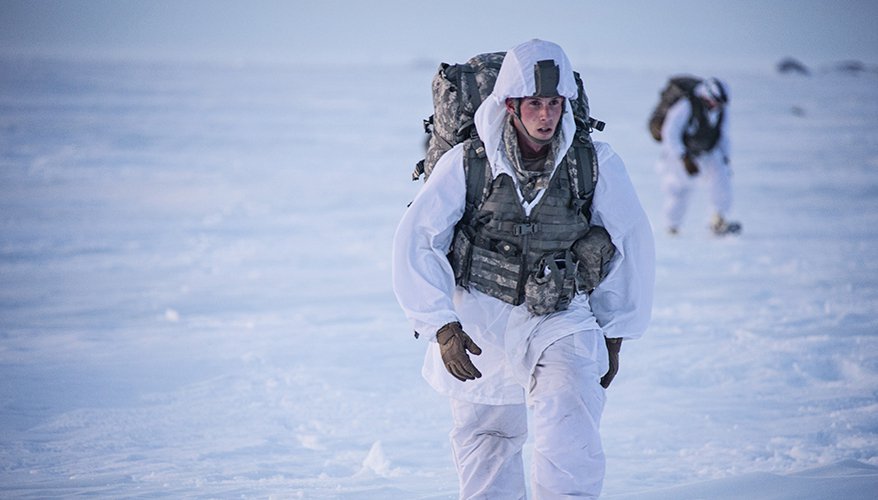 Army photo by Sgt. Edward Eagerton
The Army plans to ask for additional funding in coming years for equipment needed to carry out its new Arctic strategy and regain dominance in the High North, a service official said March 17.

"Probably within the next presidential budget, we will see some money earmarked for things that we see as being near-term deficiencies," Col. J.P. Clark, chief of the strategy division for Army operations, plans and training, said during a call with reporters.

Clark later clarified he was referring to the fiscal year 2023 budget and not the 2022 presidential budget request which is expected to be released this spring.

The Army's new strategy document, titled "Regaining Arctic Dominance," which was released March 16, lays out how the service plans to train, organize and equip its forces to partner with allies to secure U.S. interests and maintain stability in the region.
China and Russia's activities in that part of the world have increasingly concerned the Pentagon. The Navy in January released its own Arctic strategy, and the Air Force unveiled its strategic blueprint last July. Those moves came after the Defense Department released a broader strategy for the region in 2019.

One example of a shortfall the Army could potentially see additional funding for is the winterization of soldier equipment so troops can operate in below freezing temperatures, Clark said.

"We have a year to kind of dig into those questions and see where we want to have the money go," he said. "And all of that, of course, is pending decisions from the secretary of the Army and the chief" of staff, he noted.

When asked, Clark declined to discuss in detail what specific capabilities the service wants to purchase.

The 54-page Arctic strategy includes plans to: establish a new two-star headquarters with specially trained and equipped combat brigades; improve materiel readiness for extended operations; better train regional forces; and improve quality of life for military personnel.

Notably, the strategy makes no final decisions regarding stationing more soldiers in Alaska, Clark noted. Whether and under what timelines the service will move additional troops there is being discussed among Army senior leaders. "We expect that there will be announcements for that probably later on this year or maybe even next," he added.

Another issue the strategy addresses is how to properly train Army forces to operate in the High North.

"We're looking at training of our Arctic-capable formations," said Elizabeth Felling, strategic planner for Army operations, plans and training. "There is a significant number of training areas that provide a great opportunity to do this training in Alaska."
Currently, the Northern Warfare Training Center in Black Rapids, Alaska, is a key location for preparing soldiers to operate in cold climates. The service is now exploring how to further utilize those training facilities.

Officials are "looking at how do we do those culminating training events for our Alaska-based formation or for other units that may require cold weather training," Felling said.

The service will conduct analyses on how to organize training events and make recommendations to senior leaders based on their findings, she noted.

-- Additional reporting by Meredith Roaten
Correction: A previous version of this story incorrectly stated that Clark and Felling worked for the Army's Training and Doctrine Command. It has been updated to reflect that they work for Army operations, plans and training.
Topics: DOD Budget, Operations