ROBOTICS AND AUTONOMOUS SYSTEMS
Fire Scout Tested for Potential Anti-Sub Mission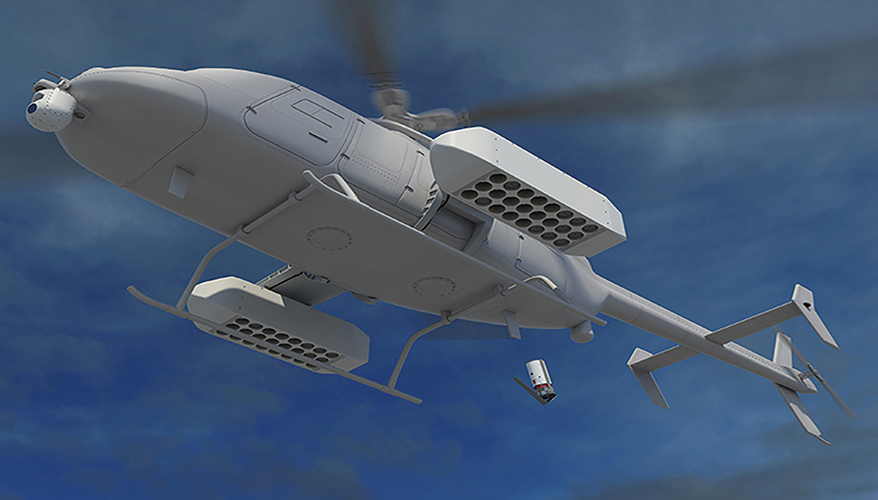 Northrop Grumman concept
Northrop Grumman is looking to add an anti-submarine mission to its Fire Scout unmanned helicopter, a company executive said.
The potential upgrade — known as multistatic acoustic search — is a technology that uses a network of buoys to locate objects in the water, said Dan Redman, the company's Fire Scout maritime mission expansion lead.
A test conducted last fall confirmed that a Fire Scout dropping a series of acoustic detection buoys would save time and manpower during submarine detection missions, he said.
There are no existing Navy requirements for the capability, but as defense budgets decrease and submarine threats from Russia and China increase, the need for a more efficient way to detect enemy subs will continue to grow, Redman said.
Both Moscow and Beijing have increased their submarine activity in the North Atlantic and Western Pacific, he added.
"We have a lot of water, and we don't have very many assets," he said. "The area that we're looking at now is the size of an area that used to be reserved for long-endurance patrol airplanes, not helicopters."
The MQ-8C Fire Scout unmanned helicopter can fly for up to 12 hours. The Navy awarded Northrop Grumman a $262 million contract in 2010 to build the platform, which achieved initial operating capability in 2018.
The anti-submarine warfare capability used multistatic acoustic search using small buoys developed by Ultra Maritime, a U.K.-based shipbuilding company.
The October test off the coast of Southern California involved a modified, manned Bell 407 helicopter that acted as a surrogate for Fire Scout, Redman said. The aircraft carried a pod launcher, which dropped the sonobuoys into the water to search for signals. During a 12-hour mission, a Fire Scout can carry up to 40 G-size buoys, which are half the size of the typical A-size buoy.
The Fire Scout was able to spread the buoys farther apart, boosting the search area. This approach enables the platform to do more with less, Redman said.
Multiple countries have submitted requests for information about the new system, but Redman declined to provide details.
Topics: Air Power, Robotics, Robotics and Autonomous Systems