BREAKING: Army Releases New Arctic Strategy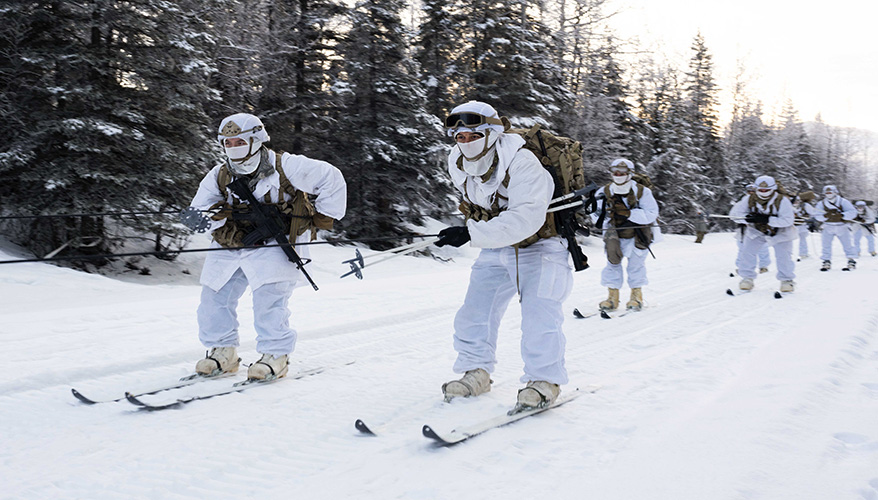 Department of Defense photo by Alejandro Peña
The Army on March 16 publicly released its long-awaited strategy to better position itself for operations in the Arctic region.
The strategy, titled "Regaining Arctic Dominance," will help the service address intensifying regional competition with China and Russia, Army Chief of Staff Gen. James McConville said at the Association of the United States Army's Global Force Next conference.
China and Russia's activities in the region have increasingly concerned the Pentagon. The Navy in January released its own Arctic strategy, and the Air Force unveiled its strategic blueprint last July. Those moves came after the Defense Department released a broader strategy for the region in 2019.
"Many of our competitors are focused on the Arctic, and also many of our allies and partners are concerned about that competition," McConville said. "Working together with our allies and partners is very, very important. We do have interests there and like everything else, we need to protect our interests."
Russia, a major regional power, is refurbishing abandoned airfields and other infrastructure while building new bases and developing an integrated network of defenses, the new Army strategy noted. China has linked itself to the region with its Belt and Road Initiative and has strategic ambitions in the High North.
"Russia seeks to consolidate sovereign claims and control access to the region. China aims to gain access to Arctic resources and sea routes to secure and bolster its military, economic and scientific rise," according to the strategy.
The 54-page document includes plans to: establish a two-star headquarters with specially trained and equipped combat brigades; improve materiel readiness for extended operations; better train regional forces; and improve quality of life for military personnel.
"This strategy poises the Army to adapt how it generates, postures, trains and equips our forces to execute extended, multi-domain operations in extreme conditions in support of the joint warfighter," the strategy said.
Material readiness includes ensuring equipment works at low temperatures and exploring methods to increase mobility in the region.
Additionally, the Army will train units to work with equipment ready for the harsh conditions, and promote the appropriate mental and physical toughness necessary for soldiers to operate in the region, the document noted.
The strategy's unveiling is the latest move in the U.S. armed forces' efforts to better prepare for Arctic warfare. Special Operations Command is pursuing technology for commandos who deploy to the region. The Coast Guard, which is part of the Department of Homeland Security but supports the military, is developing a new polar security cutter.
Meanwhile, the Army is preparing to release two other strategy papers, according to McConville. One is focused on multi-domain "transformation" and the other on great power competition. Those papers will be declassified in a "very short period of time," he said.
Topics: Materiel, Training, Land Forces