TACTICAL WHEELED VEHICLES
Army Approaches JLTV Trailer Milestone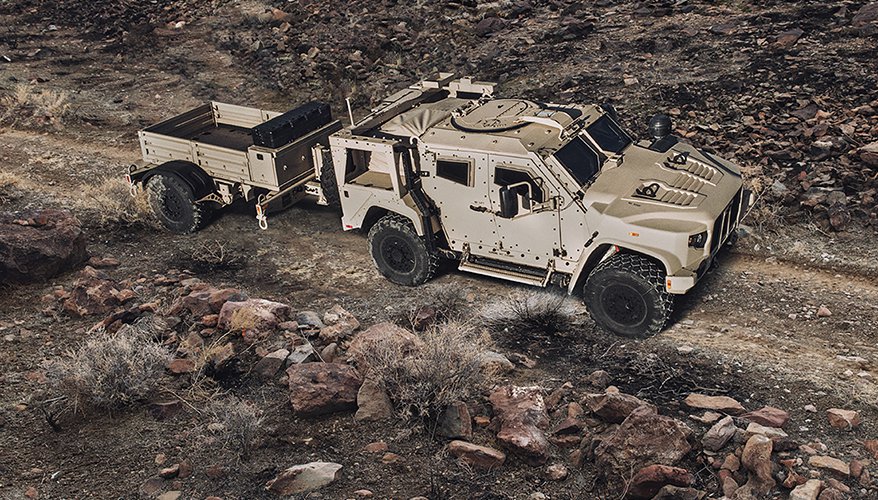 Oshkosh Defense photo
Approximately two years after the Army's first unit equipped milestone for the Joint Light Tactical Vehicle, and after service exploration of available alternatives, the broader program is preparing to begin fielding of the program's trailer.
The JLTV-Trailer will be capable of carrying a 5,100 pound payload with similar mobility characteristics as that tow vehicle, according to Michael Sprang, program manager of the JLTV Joint Program Office.
Operational testing demonstrated that the current Light Tactical Trailer designed for the Humvee was not compatible with the JLTV when operating at mission profile speeds, Sprang said in an interview. "The JLTV truck off-road mobility capability is significantly higher than the Humvee it is replacing. As a result of this, the capabilities of the JLTV are limited to the safe towing speeds of the LTT to limit equipment damage."
This is "the only trailer solution available that allows the JLTV to maintain this critical capability while towing a trailer," he added.
The trailer design features a bolted steel frame rail and cross-member design with an independent trailing arm and air spring suspension. This allows for a mobility profile to match that of the JLTV, and reduced height for transport-loading procedures. Additionally, tires and rims are common with the JLTV. Other features include an onboard stowage box for the removable sidewalls and tailgate as well as attachment of the cargo deck to the chassis through ISO locks, providing a quick removal capability.
Significantly, the lock interface allows the trailer chassis to be a baseline for any future requirements that will need to be pulled behind the vehicle.
Sprang acknowledged that the trailer has been a part of previous acquisition and development phases of the family of vehicles, which included several variants of the truck, kits and companion trailer. In fact, the production contract source selection following the engineering manufacturing and development phase, which was awarded to Oshkosh Defense, included scope for the JLTV-T production.
However, at the Milestone C Defense Acquisition Board, the Army position was to leverage the investment in LTT with JLTV and not resource the procurement of the companion trailer. As a result, initial production quantities were limited to test assets.
However, in June 2019, an Army Requirements Oversight Council decision was made to consider and field the JLTV and trailer as a system — rather than a mixed fleet — setting the stage for establishing a JLTV-T distribution plan and funding profile for additional procurement.
The council also approved fielding the JLTV with the use of the LTT — and a reduced mission profile — until the JLTV-T program was established.
JLTV-T full unit equipped is currently planned for 2nd Stryker Brigade Combat Team, 4th Infantry Division, Fort Carson, Colorado, in the third quarter of fiscal year 2021. Subsequent fieldings will continue afterwards to match that of the JLTV.
Topics: Tactical Wheeled Vehicles, Army News