Air Force Enhances Special Warfare Training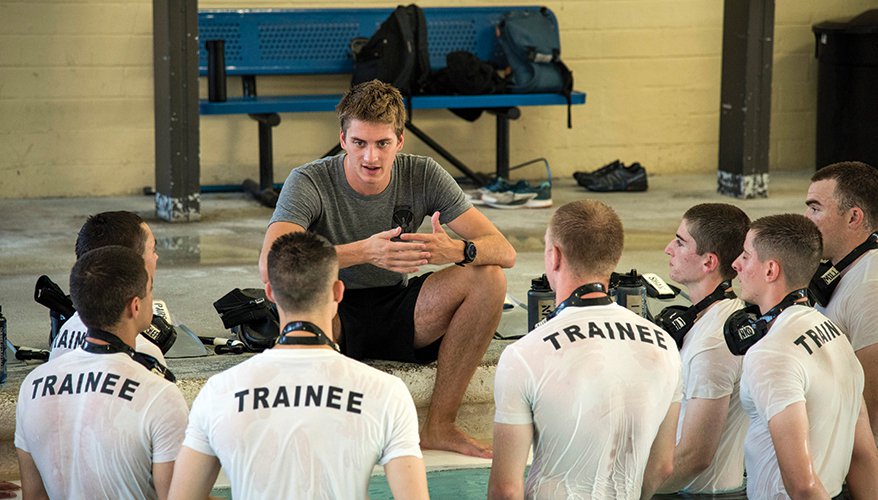 Special Warfare trainees listen to instructions at Joint Base San Antonio-Lackland, Texas.
Defense Dept. photo
Special operators are known for tackling some of the military's toughest and most grueling missions. With that often comes both physical and mental stresses that can wear commandos down over time.
To better prepare elite personnel for challenging environments, the Air Force is improving how it trains them through the use of innovative technology and techniques.
"Human performance experts and technologies are being used after the Air Force identified that Special Warfare candidates and operators were facing injuries and challenges that could be mitigated with upfront training," Chief Master Sgt. Joshua Smith, Special Warfare human performance program manager, said in a statement. "Our goal is to provide our students with an agile training pipeline that provides tools and knowledge that helps prevent injuries during training and throughout their careers."
The Air Force established the Special Warfare human performance support group in 2018 under the Special Warfare Training Wing at Joint Base San Antonio-Lackland, Texas.
"Our airmen are our greatest asset, and ensuring their health is essential to their success and the readiness of our Air Force," Smith said. "It is our priority to invest in our student's mental and physical well-being during training and beyond."
Lt. Col. Shawnee Williams, an aerospace operational physiologist and commander of the human performance squadron, said the organization examines how to optimize the performance, lethality, readiness and sustainability of what the Air Force calls its "special warfare human weapon system."
"The human performance squadron combines research, technology integration, strength and conditioning, performance, nutrition, physical and occupational therapy and psychology," she said during a call with reporters in November.
Just as the Air Force maintains its aircraft in a comprehensive way, it also needs to take care of its special operators, she noted.
"We hadn't had up until now a really thorough programmatic review of how we look at the human weapon system, and teaching the students a comprehensive overview of performance, the proper way to fuel their body, how to healthily mentally cope with technique, and perform better and really be elite," she said.
"It's not just about getting by, it's about how you take it to that next step and train people for these fundamentally different environments that they're going to have in the operational community and ensure that they know how to cope with it."
To do so, the squadron uses a number of different technologies to track the health and performance of trainees in real time and make appropriate adjustments, Williams said.
Officials examine fatigue and various physiological inputs from heart rate to core body temperatures, she said. They also look for asymmetries in musculoskeletal performance to determine if that could result in a trainee having a proclivity toward a certain injury; or if they are already hurt, what their recovery timeline might look like.
These devices help officials ascertain the nature of a particular injury, how they can best help the trainee recuperate, and what are the success rates of recovering from those types of injuries, she noted.
The Air Force's Special Warfare Preparatory Course and the Assessment and Selection Course both utilize human performance technology. During the A&S course, trainees are equipped with wearable devices that track their health and help instructors make adjustments to training objectives.
"The goal is to push candidates to their limit, not to break them," noted Maj. Lindzi Torres, Special Warfare human performance squadron operations officer. "By monitoring the performance status and health of each candidate, instructors can better tailor and plan training objectives in a way that test candidates' abilities while mitigating injuries or delays in training."
The devices also allow instructors in follow-on courses to access a trainee's profile and view their historical data which includes injuries, training setbacks as well as health and performance information and trends, according to the service.
The squadron utilizes specialized bands that can track fatigue and also monitor sleep patterns, Torres said. It also has devices that can conduct hydration, sweat and metabolic testing.
"There are some new technologies that can actually measure energy expenditure in the field," she said. "We have quite an array of technology."
Each Special Warfare trainee is physiologically different and using body monitoring devices can help instructors tailor training to their specific needs, Williams said.
Over the next six to 12 months, the squadron will be working on changing the dashboards that display users' data, Williams said.
"Sometimes you get programs that go into a unit and people are asked to kind of pick it up," she said. "We don't want that. We have the experts within our squadron to supplement that, manage it and harness that information so that it's meaningful, because you can get a ton of data all day long and if you don't have a way to interpret it and apply it, it doesn't get you anywhere."
The squadron is also working to increase the number of human performance technicians at some of its locations, she said.
Torres noted that while wearable devices can provide a user with a plethora of health metrics, it is sometimes useful for individual wearers to not see that data on a day-to-day basis.
For example, trainers may ask users to fill out a wellness survey which will ask how the student feels and how they perceive their performance, nutrition or hydration.
"We [then] compare the objective technological data against the student's data to see if there are any discrepancies," she explained. "We were tending to find that the students thought that they were going to underperform because the device said they were going to underperform."
Torres noted that the service is taking a "holistic" approach to the needs of trainees. For example, the Air Force established a special dining facility specifically for them.
Additionally, the squadron is working with other entities in the Defense Department as well as sports teams on its model, she said.
"We've seen a lot of successes and feedback," she added.
The squadron is also thinking about how it can use technology to have trainees better leverage what they have learned already.
"We're looking at … how do we put in strength and conditioning workouts and what system do we use that allows those conditioning workouts to build upon themselves from the 18 to 24 months pipeline," Torres said.
"It's not just siloed events where they're getting this instruction," she added. "What happens at [Joint Base San Antonio-Lackland] then builds on each of the courses that they go to … along the pipeline."
Torres said the squadron is looking at technology such as a 360-degree "capture system" that tracks the physiological movement of trainees to predict where injuries may occur.
Officials are looking to industry for new, cutting edge systems that it can demonstrate within its trainee population, she said.
The Air Force is also refining its eight-week Special Warfare Preparatory Course which is required for airmen interested in joining the Special Warfare community. The course is completed following graduation of basic training.
"In the past, candidates arrived unprepared both mentally and physically for the rigors of the Special Warfare pipeline, which drove historical levels of high attrition," Chief Master Sgt. Todd Popovic, Special Warfare training wing command chief, said in a statement. "However, this course provides a firm foundation to educate and prepare each airman for what's ahead and has proven to decrease attrition in the follow-on courses."
Master Sgt. Michael Blout, superintendent of the course, said the Air Force is conducting better and more well-rounded training, which provides the service "with more capable operators straight out of the training pipeline," he said.
So far, the program is paying dividends and officials have seen an improvement in the health of its student body, he said.
"On a day-to-day basis, our airmen are better equipped, better trained both physically and mentally than they ever have been in the past," he said.
However, Blout noted that the effectiveness of the changes in the training process will best be measured in the long run.
"For us to effectively say that … we have changed the game, I think it will be a little bit too early, a little bit presumptuous of us to say that" now, he said. However, "we're absolutely on the right track."
Blout — who has been in charge of the course since March 2020 — said it is constantly changing.
"In the world of sports medicine, nutrition, physicality, mental resilience — all of these are ever evolving and … [we're] on the cutting edge of the forefront of trying to pioneer new TTP — tactics, techniques, and procedures — for how to train these young airmen, these weapons systems," he said.
The organization is "mapping" the successful and unsuccessful traits of its candidates, examining what works and doesn't work, and considering the right attributes a successful candidate should have, he noted.
The service is thinking about "what does a successful Special Warfare airman look like in the civilian realm, which will help us do targeted recruitment of individuals that we know are going to be closer to fitting the model of what fits into the Special Warfare or the SOF mold," he said.
Topics: Training and Simulation