Q&A with Gen. Thompson, Vice Chief of Space Operations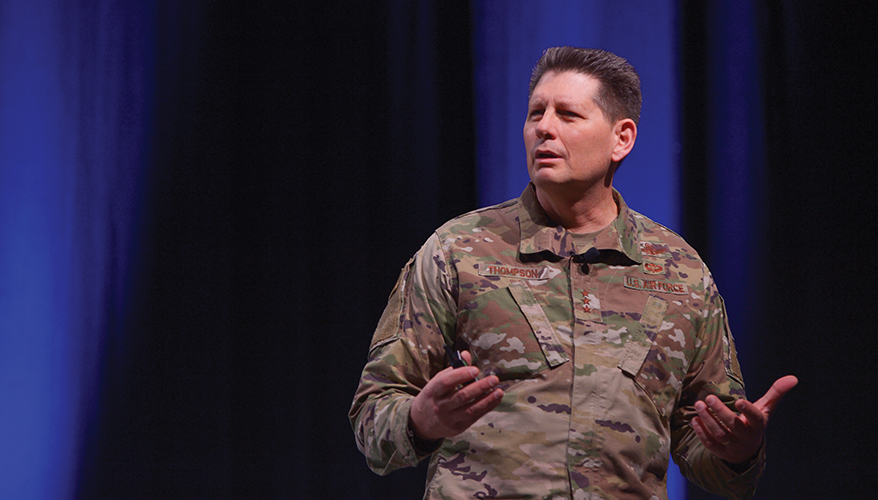 Gen. David "DT" Thompson
Space Force photo
Gen. David "DT" Thompson serves as the first vice chief of space operations for the Space Force, the military's newest armed service. On Dec. 11, shortly before the one-year anniversary of the establishment of the organization, Thompson spoke with National Defense Senior Editor Yasmin Tadjdeh about the service's accomplishments, its future and working with industry. The following Q&A has been lightly edited for length and clarity.

The Space Force is now a year old. What accomplishments over the past 12 months are you most proud of?

We've created an entirely new service. … We created an entire new service design — our field command structure, some of our supporting unit structures, an innovative headquarters structure. We focused on making it lean and agile. We cut two levels, two echelons of command, out of our field structures. The echelon structure we inherited is well-suited to the Air Force and how it trains at home and generally expects to deploy overseas and has a large maintenance footprint with its aircraft. We fine-tuned our structure to be focused on our space forces and our space systems and how we fight from home station.
When you look at the first designs for our service headquarters here in the Pentagon, we have cut the size of that by 40 percent. Initial designs had us numbering over 1,000 [personnel] in terms of our headquarters and our final design is going to bring us in under 600 folks.
We've transferred in over 2,100 folks already. We're about ready and we've made notifications to about 3,500 more. We've commissioned our first cadets straight out of the Air Force Academy. We just yesterday assessed the first seven members of the Space
Force from basic training who walked in off the street. Obviously, we've transferred a good number of enlisted folks from the Air Force, but these were our first seven to walk into a recruiting office and say, 'I want to join the Space Force' and to join, and then to go through basic training, graduate basic training.
We've published our first doctrine. The chief of space operations has already put out planning guidance. ... Our priority is make sure we're executing the space missions we need to every day — positioning, navigating and timing through GPS; missile warning through our space-based infrared system; space domain awareness, keeping track of all those items and objects to include debris; launching and deploying other systems in orbit; global satellite communications. We did all those things. We could never lose sight of our focus or drop the ball on any of those missions while we did all this, and then continuing to push on redesigning our forces and our capabilities to address the threats we face in that domain.

Looking to 2021, what are some upcoming milestones in store for the Space Force?
In '21 we're going to finish building out the force and continue to integrate it and integrate it effectively with the services and combatant commands. We established the design for the field command, Space Operations Command, Space Systems Command; Space Training and Readiness Command. We stood up Space Operations Command in October. We're going to finish the design and stand up a Space Systems Command and Space Training and Readiness Command in 2021. We're creating a new warfighting analytical function that we're going to establish in 2021 and couple that with what we hope and believe to be a more streamlined and agile acquisition approach.
We're right now working with the intelligence community to establish, first of all, an appropriate national security space intelligence activity to support our warfighting domain that we hope will lead to a full-blown national space intelligence center. And if you follow some of the comments out of the [Office of the Director of National Intelligence] here recently, working with them and anticipating and hoping that we will become the 18th member of the intelligence community. All the other services — the Army, the Navy, the Marine Corps, the Air Force — are all members of the intelligence community and we expect to be a standalone member as well.
In addition to that, ... a couple of the tenets of the service are digitally based — a digitally fluid force, ... digitally enabled processes, but also establishing digital engineering as the foundation of all our acquisition programs. We created those plans here in 2020, and really building them into the DNA of the force will be another thing that we do in 2021.

You mentioned Space Systems Command. Space Force Chief of Space Operations Gen. Raymond recently said that's forthcoming. Could you discuss the progress of that initiative and what are the benefits that it will offer when it's up and running?
We are very close. It's in the last one or two steps of final approval. … We have Space and Missile Systems Center today, a longstanding center of excellence for military space capabilities. The Space Rapid Capabilities Office in Albuquerque, New Mexico, is part of our enterprise already. The Space Development Agency will be coming onboard here in the next couple of years. We've assumed responsibility for research, science and technology for space as part of the Air Force Research Lab. We're bringing over satellite capability from the Navy MUOS constellation — Mobile User Objective System — and its functioning is coming over. … [We're] taking all of those piece parts and building them into an organization, first of all, that leverages the approach to fielding space capabilities in different ways.
The Space Development Agency is highly leveraging commercial activities, commercial investment, commercial capabilities, moving quickly and rapidly adopting it to military needs. The Space and Missile Systems Center continues to provide those capabilities for the warfighter that we've needed for years — missile warning, GPS, satellite communications, our access to space through space launch with SpaceX and with ULA and that approach. They're going to keep doing that for us.
The Space Rapid Capabilities Office is diving into areas and mission sets we've never dealt with before. They're really helping us in the aspects of helping to defend and protect our capabilities in orbit among other things. So putting all of those organizations together in a way such that they ... complement each other.
But the other thing is — and not fully, and not in a duplicative sense — we're interested in seeing how they can compete with each other in the sense of, if we need a new constellation for data relay and communications, let's look at solutions that the SMC might propose, let's look at solutions that the Space Development Agency might propose. As we look at resilient architectures and ways to defend and protect our capabilities and make them more robust, let's see what ... the Space Development Agency is going to give us, let's see what SMC is going to give us, let's see what Space RCO is going to give us. As we look at how to provide command and control, how to build it on a digital platform, these are things that they all need to do for their specific space capabilities.
At the same time, we want them bringing us forward innovative and creative and different approaches to solve those problems and provide solutions so that we can look and we can test them against the requirements and we can test them against technology and we can test them against costs.
Just like out there in the commercial market, competition improves the breed when you've got the business next door that's doing similar things and if they provide some capability, you need to provide it better or at a lower cost or sooner. We want to build a little bit of that into our acquisition process in our Space Systems Command.

Some lawmakers are pushing back on some of the acquisition plans that the Space Force is proposing and suggest that there might not be enough transparency. How are you convincing Congress that this is the right approach?
Well, some of it is going to have to be a little bit of "trust me," and I know for various folks at various sides ... they may not have that trust. … What we need to be able to do is a couple things: First of all, be able to really explain why these new approaches — the way we're doing business is the right approach in some cases, because it reflects the way that the current industry is going to develop and field capabilities faster and at lower costs. So we have to be able to show them why, and then we're going to have to demonstrate that we're worthy of that trust in terms of the way we do it, the way we share data.
None of our proposals and none of our approaches are intended to reduce the level of transparency, to make them more opaque. We absolutely want to ... ensure the level of transparency expected and assure it's provided. But we would like to be able to do that while at the same time ensuring that our processes become more streamlined and agile; that the need for transparency, the need to provide the right information at the right time doesn't inappropriately slow down our progress, and let's move forward.

How is the service engaging with the defense industry? How important is it to have those open communication lines with industry? How are you working with these companies to get the technology that you need?
There are several ways that we're doing that already … but I will also say it's an area that we need to get better at to develop. And in some cases, we've got ideas, but in some cases, we're going to need to dialogue with industry, listen to their ideas. … It was about a year ago, last November, we did our first Space Pitch Day out in San Francisco. We've since collaborated with the U.K. here last month in a Space Pitch Day that they did out in the U.K. The idea is to bring forward those small companies, those small businesses, those entrepreneurs with creative and potentially groundbreaking ideas who need a little capital, who just need a little bit of funding to go out and develop further.
AFWERX is another mechanism to engage those young entrepreneurial startups with new ideas, new technologies. … We just established last week as well, a SpaceWERX version of [the Air Force's] AFWERX to help with that.
Our Space Enterprise Consortium initiative out of SMC and out of the Catalyst Campus in Colorado Springs is another way. ... We've got a lot of those great tools in place. Where those need to go next is hopefully ... [take] those ideas, then those technologies, then those new ways of operating and acquiring, and develop, find their way into the systems and the program that we're going to field. That will be the next test of how well we're doing. So that's one aspect of the relationship.
I would tell you the Space Development Agency is one example, but we're doing it with the Space Rapid Capabilities Office and Space and Missile Systems Center through their commercial partnership office, looking for ways to do exactly that — leverage the tremendous, tremendous investment in the commercial sector to our advantage, but also try and help define some of the new relationships with industry.
Part of it, I think, has to be an engagement with others in the commercial sector, and ask their thoughts on how we ought to be engaged. We've long since needed to have gotten past the idea that we have all the answers, we understand things, we know what's best for us and best for industry. We need to open up that dialogue a little wider, share some ideas with them, let them share ideas with us and come to a series of initiatives and programs and solutions that make sense for them and make sense for us.
Topics: Space