JUST IN: Space Force Looking to Bring Biden Administration Up to Speed (UPDATED)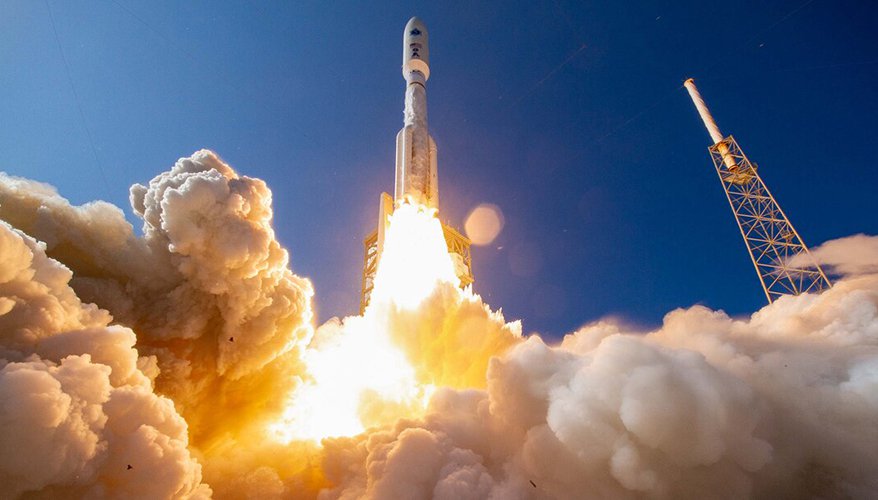 ULA photo
Amid speculation that the Biden administration may not prioritize the newest branch of the military, the Space Force's top officer said on a Feb. 3 press call that he has not had a chance to have a conversation with the new president or his newly confirmed defense secretary.

Gen. John W. Raymond, chief of space operations, has attended meetings where Secretary of Defense Lloyd Austin laid out priorities, but he has not had any discussions with him about the Space Force, Raymond told reporters during a Defense Writers Group event.

"I look forward to having further conversations with him about space, but I have not had specific dialogues at this time," Raymond said.

President Joe Biden was sworn in Jan. 20. Austin was confirmed Jan. 22 to be the new leader of the Pentagon.

Raymond's remarks came a day after White House Press Secretary Jen Psaki received backlash after joking about the Space Force.

Psaki was asked about Biden's plans for the Space Force at a press briefing on Feb. 2. She compared the question about the military branch to a previous question about the color scheme of Air Force One, which some inferred as suggesting that she viewed it as frivolous

"Wow. Space Force. It's the plane of today," she said.

The top Republican on the House Armed Services Committee criticized Psaki's comment. Rep. Mike Rogers, R-Ala., told Politico that Psaki should "immediately apologize" for "blatantly [diminishing] an entire branch of the military."

Psaki later walked back her comment on Twitter with a statement inviting Space Force leaders to brief the press on the service's efforts.

"We look forward to the continuing work of Space Force and invite the members of the team to come visit us in the briefing room anytime to share an update on their important work," Psaki tweeted.

Raymond said he would take Psaki up on her offer, saying he was very proud of the service's personnel, who are now known as "guardians."

"I see the value of this force each and every day and I'm happy to talk to anybody about the great work that they're doing," he said.

The Space Force was established in December 2019, making it the newest branch of the military. The creation of the organization was a pet project of former President Donald Trump, and it closely associated with him in the eyes of many observers. Some have speculated that Biden would not prioritize the Space Force as much as his predecessor, whose policies he has been rolling back since taking office.
When asked about her comments at a press conference on Feb. 3, Psaki told reporters that the Space Force has "full support" from the administration.
"We are not revisiting the decision to establish the Space Force," she said. "The desire for the Department of Defense to focus on the growing security challenges in space has long been a bipartisan issue informed by numerous independent commissions and studies conducted across multiple administrations and thousands of men and women proudly serve in the Space Force."
The administration is expected to release its new defense budget in the spring. Raymond declined to weigh in when he was asked if he expected growth in the service's funding for fiscal year 2022.

"I haven't been in conversations yet on the budget with the new administration," he said. "So I won't speculate on what they may or may not do."

Congress appropriated $15.2 billion for the Space Force in 2021 as part of a nearly $700 billion budget for the Defense Department . He noted that the military space budget has grown in recent years and that the area is a clear national security priority.

Raymond added that the Space Force was prioritizing developing technology to allow smaller satellites to be more operationally relevant and maintaining access to space.

"We want to make sure that access to space is assured, and I will tell you today in the strategic environment that we face, that is not a given," he said. Pentagon officials are concerned about China and Russia's anti-satellite capabilities.

Last month experts called for more science-and-technology funding for the new military branch.

Meanwhile, Raymond said the Space Force has been working to correct its public relations problem with its communication strategy. The necessity for protecting access to space is hard for the public to understand and much of the information surrounding threats to space access is classified, he noted .

"You can't reach out and hug a satellite," he said. "You can't see it. You can't touch it. It's hard to have that connection. It's 22,300 nautical miles above your head. It's invisible, largely. But there is a very, very, very strong connection between those capabilities and our way of life."

Raymond addressed criticism that the Space Force's focus on faster acquisition could make congressional oversight more difficult. He said the Space and Missile Systems Center has expanded its industrial base to give the United States an advantage through working with nontraditional partners.

The small size of the Space Force compared to the other services will help the organization maintain transparency about its acquisitions, he said.

"I'm not looking to reduce — at all — the congressional responsibility for oversight," Raymond said. "In fact, I'm looking forward to giving them even more strengthened ways to do so."
Updated: This story has been updated with additional comments by White House Press Secretary Jen Psaki.
Topics: Defense Department