ROBOTICS AND AUTONOMOUS SYSTEMS
Navy Has High Hopes for Robotic Ships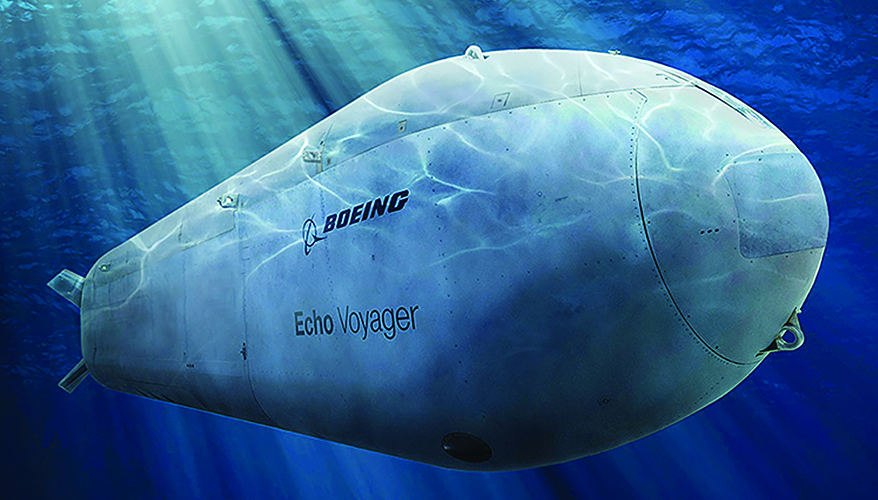 Boeing's Echo Voyager, which is informing development of the company's Orca XLUUV for the Navy.
Boeing illustration
The Navy is keen to integrate large unmanned vessels into the fleet in coming decades. But there remains a great deal of uncertainty about how much of the total force will be robotic as political, budgetary, operational and industrial considerations complicate the calculus.
Chief of Naval Operations Adm. Michael Gilday in his "CNO Navigation Plan" said these types of vessels will play a vital role in the future.
"Successfully integrating unmanned platforms … gives our commanders better options to fight and win in contested spaces," he said in the guidance, which was released in January. "They will expand our intelligence, surveillance and reconnaissance advantage, add depth to our missile magazines, and provide additional means to keep our distributed force provisioned."
They will provide additional "offensive punch" and "affordable solutions" to grow the Navy, he added.
Officials also tout unmanned platforms as a way to keep sailors and Marines out of harm's way.
The sea service's latest 30-year shipbuilding plan, released in December during the final weeks of the Trump administration, laid out a long-term vision for robotic vessels, calling for additional resources to "accelerate fielding the full spectrum of unmanned capabilities, including man-machine teaming ahead of full autonomy."
For the future years defense program in fiscal years 2022-2026, the blueprint calls for about $4.3 billion for 12 large unmanned service vessels (LUSV), one medium unmanned surface vessel (MUSV), and eight extra-large unmanned underwater vehicles (XLUUV).
The Navy envisions LUSVs being 200 feet to 300 feet in length, with full load displacements of 1,000 tons to 2,000 tons; MUSVs being 45 feet to 190 feet long, with displacements of roughly 500 tons; and XLUUVs having a diameter of more than 84 inches, according to the Congressional Research Service.
The large surface ships are initially intended to operate as missile-launching platforms in support of manned multi-mission platforms; the medium ones as low-cost forward deployed sensors and communications nodes; and the extra large boats as modular platforms capable of delivering multiple payloads at extended ranges.
Beyond the FYDP, a wide range of numbers have been thrown around for how many platforms could be acquired.
The Pentagon's Future Naval Force Study called for procuring 143 to 242 unmanned surface and undersea vessels, including 119 to 166 USVs and 24 to 76 UUVs by the 2040s.
"We're not sure of the exact numbers yet," Chairman of the Joint Chiefs of Staff Gen. Mark Milley said at the U.S. Naval Institute Defense Forum Washington conference. However, at some point in coming decades upwards of 25 percent of the fleet could be sailorless, he said.
However, many details about what the Navy will buy, and when it will buy, have yet to be fleshed out.
"As we learn from land-based testing and as prototypes are matured, specific procurement profiles outside the FYDP will be refined," the shipbuilding plan stated.
Meanwhile, lawmakers are questioning the Navy's vision. The fiscal year 2021 National Defense Authorization Act cut $205 million from the service's $464 million request for medium and large technology components and prototypes.
The act also put restrictions on the Defense Department's ability to add offensive capabilities to such systems until it could satisfy Congress that the platforms would adhere to the laws of armed conflict and were the most appropriate vessels to meet offensive requirements.
"I want to make sure we get it right," Rep. Rob Wittman, R-Va., ranking member of the House Armed Services seapower and projection forces subcommittee, said at the Surface Navy Association's annual symposium.
"I want to make sure we don't lose time by taking some missteps," he added. "I would rather take a little bit of time to exactly determine how unmanned gets integrated into the fleet, how things get done with the capability there."
Other challenges identified by naval observers include connecting the platforms to the service's broader command, control and communications network, and how problems will be addressed when the vessels have problems at sea with no sailors aboard to fix them.
The ships will need to have a relatively high level of autonomy and not be remotely piloted, noted Brent Sadler, senior fellow for naval warfare and advanced technology at the Heritage Foundation's Center for National Defense.
"It's not going to be like [today's aerial] drones where you have to have constant or near-continuous control or data feeds to control these platforms," he said. That's especially true for underwater robots.
Rep. Joe Courtney, D-Conn., chairman of the HASC seapower subcommittee, said lawmakers aren't fundamentally opposed to relying more heavily on robotic systems.
However, "it's not unreasonable before we make large investments, to really get some of these basic fundamental questions fleshed out," he said.
Eric Labs, senior naval analyst with the Congressional Budget Office, said legislators have generally been supportive of new shipbuilding programs. However, "they are not very supportive when they do not have a clear understanding and vision of what the ship is going to do and how it's going to serve U.S. national interests."
Ronald O'Rourke, a naval specialist at the Congressional Research Service, said lawmakers have a number of factors to consider as they evaluate funding requests going forward.
"The Navy's large UV programs pose a number of oversight issues … including issues relating to the analytical basis for the more distributed fleet architecture; the Navy's accelerated acquisition strategies for these programs; technical, schedule and cost risk in the programs; the proposed annual procurement rates for the programs; the industrial base implications of the programs; potential implications for miscalculation or escalation at sea; the personnel implications of the programs; and whether the Navy has accurately priced the work it is proposing to do," O'Rourke wrote in a recent CRS report, "Navy Large Unmanned Surface and Undersea Vehicles: Background and Issues for Congress."
James "Hondo" Geurts, who served as assistant secretary of the Navy for research, development and acquisition prior to the presidential transition, told reporters that robotic platforms are meant to supplement manned ships, not replace them, saying it's not an "either/or" choice. The sea service is planning additional testing events and exercises to demonstrate USV and UUV capabilities and develop concepts of operations to determine how best to integrate them into the larger fleet architecture.
"Do I see a place where we're having large numbers of [ships] running around doing ISR and collection and creating comms nodes across a vast expanses of ocean? Absolutely," said Geurts, who as of press time was performing the duties of undersecretary of the Navy. "Now it's just, how do we do it? And can we do it cost effectively?
"When you get into the lethal end of things, I think we have notions and ideas that we've got to go off and experiment and demonstrate and prototype," he added.
The service has already been experimenting with prototypes such as the Sea Hunter USV, which has successfully sailed from Hawaii to California. Other platforms, such as the Orca extra large UUV, are under development.
Geurts said each new platform will have to prove its capabilities and utility to get integrated into the fleet.
Speaking at the Brookings Institution, Milley said at some point in the future there could be sailorless aircraft carrier battle groups. "I'm not saying it's going to happen, but it's theoretically possible."
However, some missions such as carrier operations are extraordinarily complex, noted Vice Adm. James Kilby, deputy chief of naval operations for warfighting requirements and capabilities.
"Let's stair-step our way into this" introduction of robotic platforms, he told reporters. "Let's think about manned and unmanned teaming.
Let's look at complexity of the mission, let's look at duration of the mission. … Let's not drive to the toughest case" in the early stages.
The portion of the fleet that is unmanned will be determined not just by how many robotic vessels are procured in coming years and decades, but how many manned boats are acquired.
Right now, there are currently just shy of 300 manned platforms in the battle force. Under the latest plan, that number would grow to 316 by 2026 and surpass 400 by the mid-2040s.
However, the proposed buildup would come with a hefty price tag — between $27 billion and $36 billion annually over the next 30 years, according to Labs. Many observers have questioned the plan's affordability.
For comparison, Congress allocated about $24 billion for Navy shipbuilding in 2020.
"To get to this larger fleet is going to require substantially more resources … than what we've seen" in recent years, Labs said.
Also unclear is the extent to which the new U.S. administration will back its predecessor's vision.
President Joe Biden has said the military writ large should emphasize capability over capacity, and he has touted unmanned systems as a key technology for the future.
Biden's nominees for senior Defense Department positions have been noncommittal about the longstanding goal of a 355 manned-ship fleet, but touted the importance of artificial intelligence and autonomy — key enablers of robotic platforms.
The new administration is expected to put forth its first shipbuilding plan this spring. Sadler said it is possible that Biden's team will only make minor adjustments to the existing one.
"They might even actually slam on the gas and say, 'We need more, this is not good enough,'" he said. "But given the strength of the voices of those that want to use DoD ... as a bill payer [for domestic programs], I'm not as optimistic that that's a likely outcome."
Another key factor that will affect the Navy's plans is the state of the industrial base. The service has highlighted the need to bolster industry and the workforce to achieve its vision, and has promised more investments.
Traditional players in the military shipbuilding sector such as Huntington Ingalls Industries will be involved in producing robotic vessels, Sadler said.
In January, HII announced that it had completed the first phase of its new Unmanned Systems Center of Excellence in Hampton, Virginia. It will be used to assemble hull structures for Boeing's Orca XLUUV offering for the Navy, the company said in a press release.
The main facility, sized at 135,000 square-feet, is scheduled to be completed by the end of 2021, and will be used for prototyping, production and testing of new platforms.
"HII has made significant investments in the unmanned systems industry during the last year," said Duane Fotheringham, president of Huntington Ingalls' Technical Solutions unmanned systems business group. "This facility solidifies HII's commitment to advancing development of unmanned systems for our current and future customers."
However, nontraditional players can be expected to expand the industrial base for these types of ships and supporting technologies, Sadler noted.
"There are other … builders out there that we may not be thinking of yet," he said. "There may be more entrants into this market once the money and the contracts start going out and it becomes more real."
However, right now "too many questions are swirling" regarding the budget and other issues to encourage a rush from nontraditional companies to jump into the market, he added.
Down the road, growth in the robotic ships industry — and the jobs it provides — will likely bolster support for these programs in Congress, Sadler noted.
However, any push to shift funding away from manned platforms toward unmanned programs would make lawmakers whose constituents would be negatively impacted "kind of pissed," Sadler cautioned.
"You don't want to mess with that … because from a purely political calculation, you're going to make enemies" on Capitol Hill, Sadler said.
What is the right mix of manned and robotic ships for the future fleet?
"I have not seen or heard of any argument that would make me think that unmanned has no place in the future," Sadler said. "It will have some role. How big it is, is really the question — and how fast" the Navy adopts the technology.
The Future Naval Force Study envisioned the unmanned portion increasing to as high as 35 percent, or more than one-third of the fleet.
"I would certainly start to get skittish if the ratio of unmanned vessels became upwards of 30 percent of the total force," Sadler said. "I would start to worry that we're becoming a little too unbalanced."
Robotic ships pose some disadvantages when it comes to interacting with allies and conducting peacetime operations, he noted.
"You don't have a crew that can go ashore and engage," he said. "You don't have a ship that can exercise with a partner navy or coast guard like a manned ship can. And those are very important missions, especially in the military diplomacy arena, which is very important if you're going to compete with the Chinese in the South China Sea and the East China Sea."
New systems need to demonstrate their reliability and ability to perform their assigned missions before the Navy should even consider reducing its demand for manned vessels, which are more proven platforms, he added.
Support for them will ultimately depend on how well they perform at sea, he noted.
"Congress needs to know that they're going to get a return on investment before they really expand the production," Sadler said, noting that interest in drone aircraft ramped up after they demonstrated their utility in combat zones in places like Afghanistan and Iraq.
"When they started killing bad guys up in the mountains and in the desert, it became, 'Oh wow, this is great! We want it.' Then it was on steroids for many, many years," Sadler said. "The same thing is true for these unmanned [naval] systems as well."
Topics: Robotics and Autonomous Systems, Navy News