JUST IN: Brown Wants More Data to Support Cuts to Legacy Systems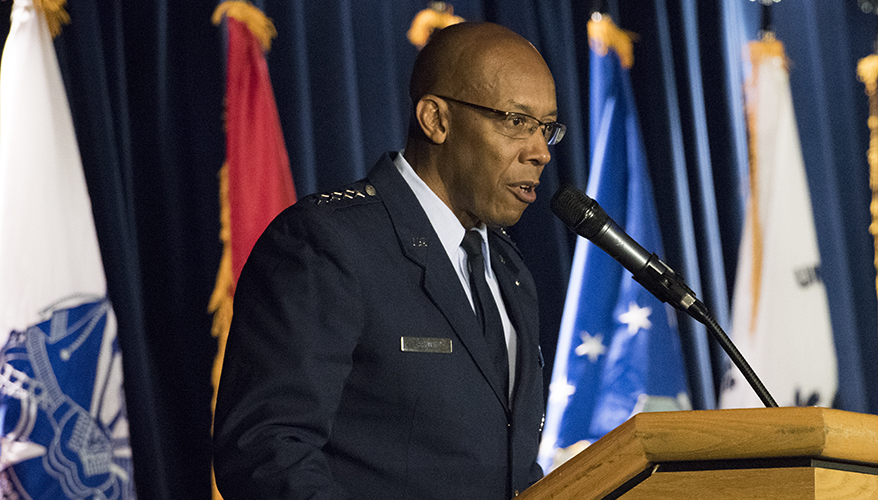 Gen. Charles "CQ" Brown Jr.
Air Force photo
Air Force Chief of Staff Gen. Charles "CQ" Brown Jr. wants to be armed with more data to support his push for Congress and other stakeholders to cut legacy systems.
The service's top officer has called for changes in force structure to bolster future readiness against advanced adversaries such as China, which Pentagon leaders have identified as the "pacing threat" that the U.S. military needs to address. The need for such reforms is part of Brown's strategic vision rolled out last year called "Accelerate Change or Lose."
Speaking Feb. 24 at the Air Force Association's virtual Aerospace Warfare Symposium, Brown said he isn't necessarily looking to get rid of systems simply because they have been in the fleet for a long time, noting that the military plans to continue flying B-52 Stratofortress bombers — some of which have been in service since the 1960s.
"Typically when you say 'legacy,' your first mindset is old, right?" Brown said when asked about plans to cut legacy platforms. "I really think about it from a capability perspective. Is that capability going to be relevant today, relevant tomorrow? And if it's not going to be relevant tomorrow or it's going to be, you know, overly expensive to make it relevant for tomorrow" it needs to be retired.
"This is where I think data and analysis is important," he added. "Because at some point I have to go defend that answer" about what capabilities are needed — or not needed — to officials who make decisions about program funding.
Brown declined to identify which systems might be on the chopping block.
"If I came in with, you know, a big knife and started slashing things I think I'd probably mess it up by myself, which is why I really want to have the analysis to do that," he said. "This is something we've got to do better and be able to articulate that as we engage with all of our key stakeholders internal to the Air Force, inside of the Pentagon, with our congressional members and staffs, and then also with our industry partners as well."
Wargames will yield valuable insights to drive decisions about what the future force should look like, he noted.
Brown has also directed a review of the service's tactical aircraft portfolio to help determine the right force mix. That study, to be conducted in the next few months, is expected to affect budget proposals for fiscal year 2023 and beyond.
Brown also wants to develop a new "force presentation model" that will help project future readiness.
"Right now, we have a hard time as an Air Force articulating, you know, our near term [and] our longer term readiness and how it impacts modernization," he said. "By having a force generation [or] force presentation model it's … much easier for us to articulate that and show the impacts" of deployments.
Brown could face major headwinds on Capitol Hill in his push to cut legacy systems, said defense analyst Mackenzie Eaglen, a fellow at the American Enterprise Institute think tank.
"Your predecessors have tried valiantly to free up more dollars for modernization by divesting or retiring or truncating programs or existing fleets and inventories," she said during the discussion with Brown. "There were no dollars freed. And so I encourage you to keep tilting at this windmill, but … it has been tried with some mixed success."
A notable example of lawmakers shooting down Air Force efforts to jettison legacy systems and reinvest savings in modernization, is their repeated refusal to allow the service to retire the A-10 Thunderbolt II, a close-air support platform nicknamed the "Warthog."
But Brown said he sees opportunities ahead to make his case for divestments.
"Part of the opportunity is how we engage," he said. "I'm pretty open and transparent and really wanting to engage with our members in Congress and their staff much earlier in the process than I think we have in the past."
Brown said he had three meetings lasting several hours with congressional delegations over just the past week.
The Air Force can make force structure proposals but ultimately Congress has the power of the purse.
"I can make a decision on my level, but it's got six or seven different layers before it actually becomes the decision when it comes out in the [National Defense Authorization Act] and the appropriations bill," he noted.
Brown can help the service make its case by providing information about "the forks in the road" and discussing the modernization challenges that need to be addressed, he said.
However, a significant challenge in discussing these issues is classification levels. The Air Force has more classified programs than any other service, Brown said.
"How do we, one, get classified briefs to members and staff, but also simplify some of that so you can bring it down a classification level or two, so they can talk about it more broadly and … in an unclassified forum?" he said. "The more we do that, that builds the confidence that we have a plan — and it's executable — that we can work on together."
Topics: Air Force News