ANALYSIS: Air Force's Roper Is Gone, But His Vision Lives On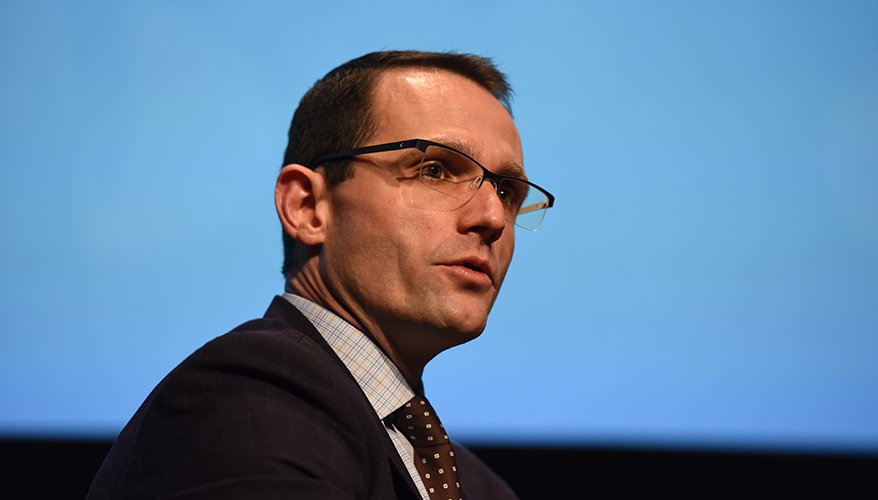 Photo: Air Force
Former Assistant Secretary of the Air Force for Acquisition, Technology and Logistics Will Roper left public service in January at the change in presidential administrations, but his legacy of innovation — along with all the cutting-edge programs he left behind — will continue, service officials said Feb. 24.
"With Dr. Roper moving on, there are a lot of people who've asked me every day, 'What does that mean? Are we no longer going to proceed down the path that he had us going?' And the answer to that simply is 'no,'" Darlene Costello, who took Roper's place as the acting assistant secretary for AT&L, told reporters during a briefing.
In fact, the service is looking to enshrine many of his acquisition innovations, she added.
Roper's tenure at the Defense Department began during the Obama administration as the founder of the Pentagon's secretive Strategic Capabilities Office, which had a mission of developing disruptive military technologies.
As Air Force assistant secretary beginning in 2018, he championed digital engineering as a means to more rapidly develop and field systems. These initiatives have the support of the service's current Acting Secretary John Roth and Chief of Staff Gen. Charles "CQ" Brown Jr., Costello added.
Roper recently joined consulting firm Pallas Advisors as a senior counselor after leaving the Air Force.
"All the initiatives that were started under him — and that we all believe in and our secretary and our chief believe in — are going to be continuing," Costello said. "There are a few details we'll work through, but we believe strongly in digital acquisition and how that will help us down the road."
What Roper called the Digital Century Series, where new modern engineering approaches are worked out on computers before fabrication begins, is now called the E-Series. The practice is spreading throughout the Air Force, Costello said.
"We are looking at implementing it and institutionalizing it, making it more solid, giving it an organizational construct that will stand the test of time," she said.
Some of the programs Roper championed at the SCO and as the assistant secretary — such as swarming drones and robotic wingmen — are also moving ahead as part of the Air Force Research Laboratory's Vanguard Program.
AFRL Director Brig. Gen. Heather Pringle said the robotic wingman program Skyborg is seeing slow, but steady progress.
"We are looking to take the components of the autonomy, fly it in some very rigorous test capabilities … and then look to slowly add to the abilities, measure, learn from our successes, and then keep the program going," she said during a panel discussion at the Air Force Association's Virtual Air Warfare Symposium.
Swarming munitions, now known as the
Golden Horde program
, also scored a recent test success. Four munitions dropped from an aircraft were able to collaboratively correct their trajectories in mid-flight and hit their targets, she said. A similar experiment carried out last year with two steerable bombs failed to correct their flight paths and missed their targets.
"Moving ahead, what we are looking to do is the beginning of a phase of an open collaborative autonomy architecture," Pringle said. The government-owned reference architecture will allow more organizations to compete their own versions of "what autonomous collaborative weapons should be," she said.
Meanwhile, progress continues on another project, the Next-Generation Air Dominance program. In September, Roper revealed to the press that a test flight of a prototype next-generation aircraft had been conducted for the initiative, much of which is shrouded in secrecy.
The program, also known as NGAD, is expected to yield a family of systems to potentially include a sixth-generation fighter jet and drones. The research-and-development effort is further along than many anticipated, thanks to the digital engineering efforts that Roper championed, officials have said.
Lt. Gen. Duke Richardson, military deputy in the office of the assistant secretary of the Air Force for acquisition, technology and logistics, said the program is continuing to mature air vehicles, sensors and the architecture.
"We're working very closely with the Congress to make sure that we explain the program with clarity so that we can keep the money flowing," he said at the AFA symposium.
"We're quite happy with it being one of … our exemplars for what we mean by digital acquisition," he added.
Topics: Air Force News