BATTLEFIELD COMMUNICATIONS
JUST IN: Northrop Grumman Tackling Joint-All Domain Command and Control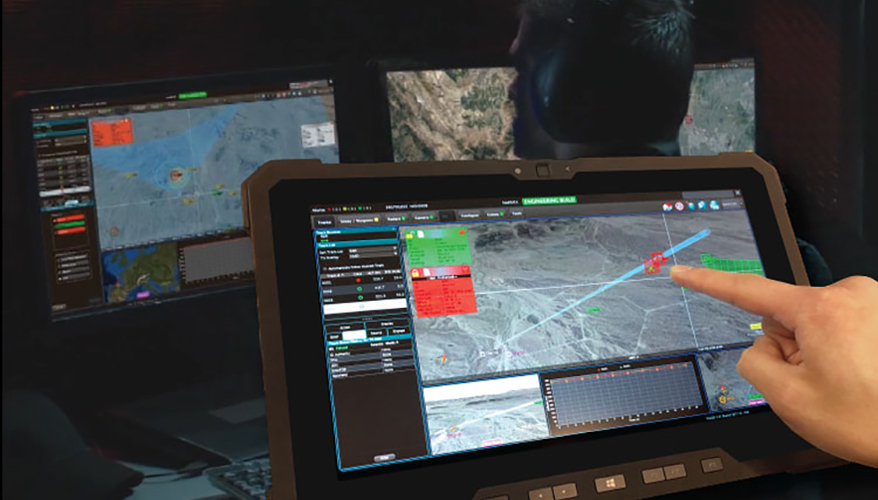 Northrop Grumman photo
As the Defense Department continues to invest in joint all-domain command and control technologies, Northrop Grumman is bolstering its own portfolio of JADC2 offerings to meet the increasing demand signal.
Joint all-domain command and control, or JADC2, is envisioned as a way to better link the armed forces' sensors and shooters on the battlefield. The services are working to develop this vast network — a military internet of things of sorts — through efforts such as the Air Force's Advanced Battle Management System, the Army's Project Convergence and the Navy's Project Overmatch.
JADC2 "will be ubiquitous across the government," said Scott Stapp, Northrop Grumman chief technology officer and JADC2 lead.
Although most of the services have already begun investing in the technology, the new Space Force — which was established in December 2019 — hasn't done as much, Stapp noted.
"With space being so critical, both from a battle space awareness and communication standpoint, it wouldn't surprise me if in the near term or their future, you would see some instantiation of JADC2 within that Space Force," he said during an online panel discussion with other company subject matter experts on Feb. 23.
The technology will eventually need to be tied into the intelligence community and even into the Department of Homeland Security, Stapp added. That offers industry a number of opportunities moving forward.
The company is working on a variety of projects, both for the military and with its own internal research-and-development dollars. It is focusing on technologies such as artificial intelligence; machine learning; advanced networking; communications; cyber; transformational and advanced computing; intelligence, surveillance and reconnaissance; battle management; command and control; and autonomy, he said.
Already these technologies are at a high technology readiness level, Stapp said.
Northrop recently showed off its gatewayONE technology during an Air Force Advanced Battle Management Systems "on-ramp" exercise, said Jenna Paukstis, vice president of the company's communications solutions division.
"Northrop is really focused on rapidly developing and fielding a gatewayONE prototype for multiple on-ramp demonstrations that leverage our proven Freedom Radio and our gateway technologies," she said. "The result is a net-centric, fifth-to-fifth generation aircraft communications [system] that … [is] able to integrate across multiple platforms in a modular open architecture gateway."
Other communication platforms the company is working on include its high-altitude battlefield airborne communications node, or BACN, gateway system, she said.
BACN "enables platforms and warfighters to effectively communicate and securely share data across all branches of the military, which is really at the heart of JADC2," Paukstis said.
The system recently reached 200,000 combat operational flight hours since its first deployment with the Air Force in 2008, according to the company.
Northrop is also investing in low size, weight and power gateways that will facilitate communication across domains between beyond-line-of-sight and line-of-sight networks and data links, including fifth-to-fourth and fifth-to-fifth generation aircraft, she added.
The company is also developing artificial intelligence platforms which will be key to JADC2, said Vern Boyle, the company's vice president of advanced capabilities.
"As we connect the force, as we build this military internet of things, there's going to be an information overload bubble, and it's understood that artificial intelligence is going to be an important part of addressing that information overload," he said.
Some functions facilitated by humans will need to be transferred to machines that will be expected to perceive and reason on the battlefield, and ultimately make decisions and control things, he said.
"There's a myriad of interesting technical challenges, but one of them that I think could potentially drive adoption is this issue of security and ethics with the AI," Boyle said. "How do you know that the AI understands the environment correctly? If you're going to allow a machine to make a decision, how do you know it's going to make the right decision?"
Customers are looking for AI platforms that are governable, auditable, traceable and reliable, he said.
"What they're talking about are design features and requirements that need to be addressed very early in the engineering life cycle, and then carried forward into the operation of the system itself," he said.
Northrop Grumman is working on this problem by sponsoring industry-wide conversations through conferences, funding research on this topic at Carnegie Mellon University and also looking at large-scale wargaming, Boyle said.
Meanwhile, the company is also looking at how it can address non-technical issues as it develops JADC2 technologies, Stapp said.
"The services have operated in stovepipes, but they've recognized the need to operate outside those stovepipes," he said. "What you see in industry — and Northrop Grumman is not unique — [is] we have tended to mirror our customers, and we have a space business that supports the Space Force. We have an air business that supports the Air Force. We have Navy and Army business units that support them."
At the company level, "we can help integrate across the entire level of those," he added. As the services pursue JADC2, "at a corporate level, we can ensure that ... we provide that interconnectivity across the entire company, which will in the end … really help the services."
Stapp noted that he believes institutional issues opposed to technical hurdles will be a much more serious challenge to the implementation of JADC2 across the government.
Topics: Battlefield Communications