ROBOTICS AND AUTONOMOUS SYSTEMS
Marine Corps Awards OTA for Long-Range Sea Drone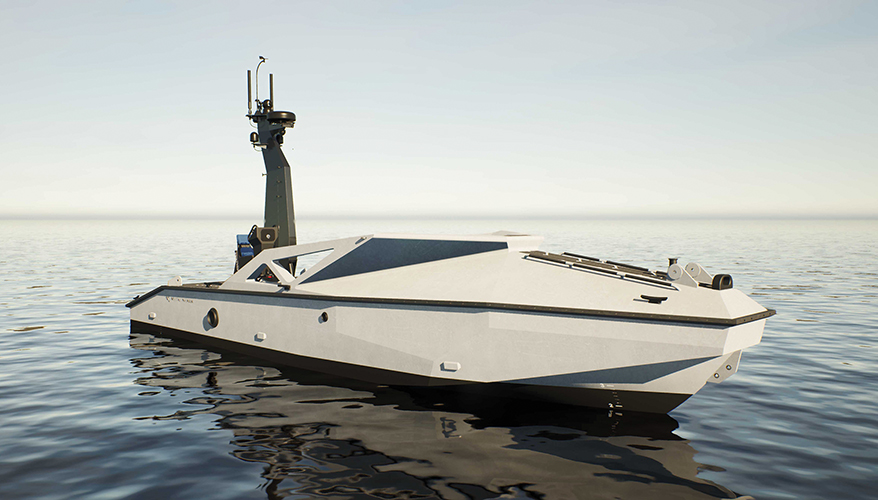 Concept of LRUSV system being developed by Metal Shark
Metal Shark concept
The Marine Corps has selected shipbuilding company Metal Shark to develop a long-range unmanned surface vessel.
The service awarded the Louisiana-based company an other transaction authority agreement in January to design, build and test the vessels. Metal Shark will also work with the Marine Corps to integrate autonomy and an advanced command-and-control software suite into the systems.
Immediate next steps for the company include "development of a low-rate production fleet, a series of early crafts that will be incorporated into the Marine Corps [fleet] and used to develop, test and demonstrate the technology, which is intended in the early winter of 2023," Metal Shark CEO Chris Allard said in an interview.
The system will be tiered and scalable, providing the service with the ability to track and destroy targets at range, Allard noted.
"We are designing the platform for long-term scalability [and] integration of different payloads, whether that be submarine detection, hydrographic survey, surveillance [or] mine hunting," he said. "We are going to be incorporating future opportunities for growth into the craft."
The long-range unmanned surface vessel will be fully autonomous with the option of being manned. The system can carry multiple payloads, which it can retrieve or launch.
Metal Shark is working with autonomous technology developer Spatial Integrated Systems — which was recently acquired by Huntington Ingalls Industries — to provide the autonomy capabilities for the platform, according to the company.
In addition to the autonomous unmanned system, Metal Shark will also produce manned support vessels for the LRUSV system utilizing its "40 Defiant" military patrol craft, which the company is currently producing as part of a Navy patrol boat effort.
As a number of new unmanned systems programs are being launched throughout the Defense Department and other government agencies, Metal Shark is eyeing new opportunities in the autonomous system market.
"There are a couple of other unmanned systems programs coming out of both the Navy and [the Department of Homeland Security] that we're excited to be a part of," Allard said.
Topics: Maritime Security