Defense Industry Could See Another Wave of Mergers, Acquisitions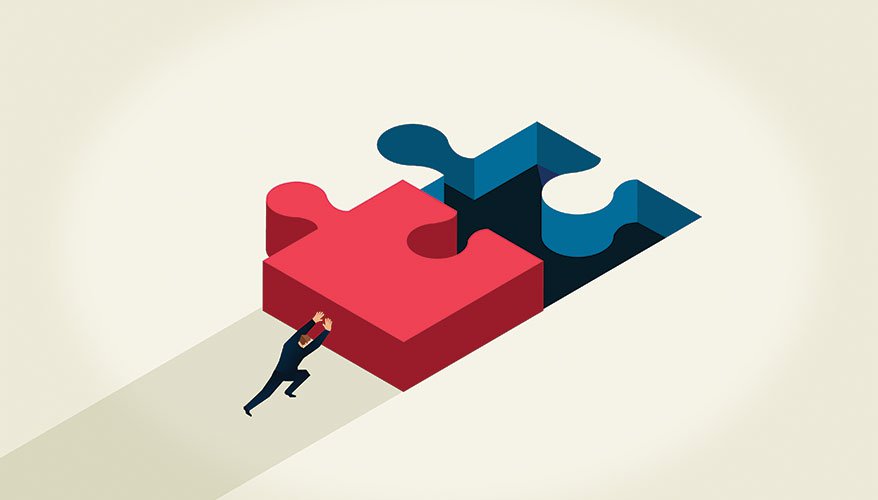 iStock illustration
This is part two of a five-part special report on the health of the U.S. defense industrial base.
The National Defense Industrial Association's second annual Vital Signs report on the health of the U.S. defense industrial base was released Feb. 2. To download a copy, please click HERE.
The defense industry could be on the cusp of further consolidation as contractors look to bolster their business portfolios and access to innovation through mergers and acquisitions, analysts say.
M&A has been a long-term trend since the end of the Cold War and the 1993 "Last Supper" when then-Deputy Defense Secretary William Perry encouraged consolidation among contractors to achieve efficiencies in an era of significantly reduced military expenditures.
"Merger activity in the defense industry increased dramatically," noted a study by the Center for Strategic and International Studies, with the number of major prime contractors dropping from 50 to just six between 1993 and 2000.
While military budgets ramped up again in the decade after the 9/11 attacks, spending constraints stemming from the Budget Control Act of 2011, as well as the drawdowns in Iraq and Afghanistan during the Obama administration, had a major impact on industry, according to the CSIS study published in 2019 titled, "Evaluating Consolidation and the Threat of Monopolies within Industrial Sectors."
"Across categories and vendor sizes, the analysis found that the number of vendors receiving prime contracts from the Department of Defense dropped in all by 17,000, or nearly 20 percent over the drawdown period," the study said. Sectors experiencing major reductions in contact obligations for products and services included ships, aircraft, land vehicles, space systems, and missiles and ordnance.
In 2015, then-Undersecretary of Defense for Acquisition, Technology and Logistics Frank Kendall voiced concerns about the state of affairs.
"The trend toward fewer and larger prime contractors has the potential to affect innovation, limit the supply base, pose entry barriers to small, medium and large businesses, and ultimately reduce competition — resulting in higher prices to be paid by the American taxpayer," he warned.
There have been a number of high profile mergers and acquisitions in recent years including the combinations of General Dynamics and CSRA, Northrop Grumman and Orbital ATK, L-3 Technologies and Harris Corp., Lockheed Martin and Sikorsky, and Raytheon and United Technologies Corp.
Analysts say another wave of consolidation could be on the horizon. Many observers expect a decline in defense spending as the nation grapples with the economic fallout from the COVID-19 pandemic and exploding federal budget deficits.
"We forecast a range of scenarios, with the best case being essentially a flat budget, and the worst being a steep decline. If the worst case occurs, it's likely that new programs will be postponed, R&D cut for all but the most strategic efforts, and current procurements will slip," analysts with the Boston Consulting Group wrote in a recent report titled, "Building Beachheads in the U.S. Defense Market Through M&A."
The report added: "Such downturns have historically been periods of consolidation in the industry, a chance for stronger companies to buy firms in financial distress and either establish a beachhead in the U.S. or expand their presence."
A number of factors could drive mergers and acquisitions.
"Intense competition for fewer programs and contract awards … coupled with possible re-emergence of [lowest-price technically acceptable] contracts, may expedite consolidation in some of the more fragmented and under-capitalized segments," according to a report by advisory firm KPMG titled, "After the Shock: Implications for M&A in the Aerospace and Defense Market."
This could prompt companies to pursue both vertical and horizontal integration strategies, it noted.
In another study titled, "2020 Aerospace and Defense Industry Outlook: A Midyear Update," consulting firm Deloitte noted that larger contractors may use acquisitions to gain access to new and advanced technologies. M&A activity could be shaped by demand growth in areas such as: command, control, communications, computers, intelligence, surveillance and reconnaissance, unmanned and autonomous vehicles and hypersonics.
During a quarterly earnings call in October, Lockheed Martin indicated it is on the hunt for opportunities.
"We're going to invest in R&D to sustain our technological leadership … but we're also going to seek acquisition and joint venture opportunities to deepen our capabilities and … add technological firepower to our existing company," said Lockheed president and CEO James Taiclet. "We plan to be active."
The company recently bought a company called i3 that gave Lockheed novel capability for hypersonic glide bodies, he noted. That is "something we wanted to bring in-house and again accelerate our own potential for developing that piece of the technology that's so absolutely critical."
Liquidity challenges and the prevalence of distressed assets could create a buyer's market for companies pursuing acquisitions, the KPMG report said.
M&A isn't just an option for the major primes, the Boston Consulting Group noted, suggesting other firms should pursue opportunities to become "conduits of innovation" for the large players.
To achieve that, contractors may need to acquire subunits from other companies, then couple their know-how with cutting edge capabilities.
Deloitte predicted that consolidation by parts family — components, aero structures, electronics and interiors — will also continue as firms focus on gaining economies of scale.
The Boston Consulting Group said: "Recent developments in the U.S. defense industry have placed it on the cusp of the next consolidation wave. Companies looking to make inroads have no time to waste. They need to lay their plans now to capitalize on opportunities."
What would be the consequences of further consolidation?
Basic economic theory would suggest that it would reduce competition and potentially lead to higher prices for goods and services for the Pentagon and taxpayers, said Greg Sanders, deputy director of the Defense-Industrial Initiatives Group at CSIS.
Primes have pushed back on the idea that larger defense contractors inherently undermine competition or inhibit innovation.
"What the companies will argue is that by bringing things together, they are able to rationalize, eke out efficiencies, get economies of scale, etc.," Sanders said. "Probably their best argument for that sort of thing might be that … there are better products they can provide, they are bringing different expertise."
There are a number of tools available to the Defense Department and other agencies to prevent unwanted consolidation and mitigate its effects.
One is regulatory scrutiny of proposed mergers and acquisitions. The Justice Department's Antitrust Division and the Federal Trade Commission lead the U.S. government's antitrust reviews, and the Pentagon provides input when deals involve the defense industry.
"The overriding goal of the agencies in enforcing the antitrust laws is to maintain competition going forward for the products and services purchased by DoD," the Justice Department and FTC said in a joint statement in 2016. "Competition ensures that DoD has a variety of sourcing alternatives and the most innovative technology to protect American soldiers, sailors, Marines and air crews, all at the lowest cost for the American taxpayer."
They assess whether a sufficient number of both prime and subcontractors will remain after a deal is consummated to ensure that future procurement competition is robust.
As part of its reviews, the agencies also consider procompetitive aspects of a proposed transaction, including economies of scale, decreased production costs and enhanced R&D capabilities.
"However, if a transaction threatens to harm innovation, reduce the number of competitive options needed by DoD, or otherwise lessen competition — and therefore has the potential to adversely affect our national security — the agencies will not hesitate to take appropriate enforcement action, including a suit to block the transaction," the statement added.
President Donald Trump has expressed concerns about combinations in the defense industry.
At the annual Defense News Conference in September, Undersecretary of Defense for Acquisition and Sustainment Ellen Lord was asked if she also had concerns.
"I actually put a process in place early on when we are notified of M&A deals that we go out very formally to all the services and agencies and ask for objective evidence as to whether or not these mergers or acquisitions will constrain competition in any way," she said.
"We've worked very, very closely with either FTC or DoJ on those deals to make sure there are divestitures, if needed," she added. "We watch very carefully. And at this point we think we've made some smart divestitures on some of those. And we like competition. It's our friend."
Another path the Pentagon could pursue to fend off consolidation is to award contracts to multiple offerors to build a particular type of system, "taking a bit of quantity from each" rather than conducting "big winner-take-all" competitions, Sanders said.
Requiring open systems architectures is another way to encourage competition when it comes time for technology upgrades, he noted.
Additionally, the Pentagon could utilize cost-based contracting in an effort to keep prices down.
Under that construct, "DoD gets access to a lot of cost and accounting data and will take a very close look, and you end up with a bit more of a utility model than a commercial competition model," Sanders explained.
To add more players to the marketplace, the Defense Department can try to do business with nontraditional contractors and commercial firms.
The military is already making a big push to tap into commercial tech and expand the use of other transaction authority agreements to speed prototyping and fielding of new capabilities. Most of those agreements are with nontraditional companies. (For more on OTAs, see story on page 35)
However, that could potentially lead to unintended consequences.
"Traditional defense technology developers may feel compelled to acquire or partner with emerging nontraditional suppliers, given nontraditional firms' current dominance in the prototyping marketplace," analyst Rhys McCormick wrote in a CSIS report titled, "Defense Acquisition Trends 2020."
If traditional players are unable to increase their market share in the next generation of defense systems, their revenue base will start to erode, he said. "This raises the potential for a substantial round of industry consolidation in the next five to 10 years."
However, Sanders doesn't anticipate consolidation on a scale seen in the 1990s after the Last Supper for several reasons. One is the expectation that U.S. defense spending will remain more robust than it was after the threat posed by the Soviet Union disappeared.
"The Cold War had ended. There was a definite sense that we were just in a different strategic state, whereas [today] there's a … very big bipartisan concern with Chinese activities," he said. "Even if you disagree about the amount of defense spending needed, we're not going from a period of higher tension to a lower one."
The amount of consolidation that has already occurred also means there are now fewer opportunities for contractors to merge, and analysts predict that proposed combinations of large companies would face intense regulatory scrutiny.
Some elements of the Democratic Party are less friendly toward big business. Sanders said the incoming Biden administration will likely be more wary of M&A than the previous one.
"We haven't seen that much detail on Biden antitrust policy," he said, "but I think that probably this administration would be a little more skeptical … on how much they want to encourage consolidation."
Part One: Second Annual Study Reveals 'C' Average for Defense Industrial Base
Part Three: Future Uncertain for Industrial Base as Pandemic Spreads
Part Four: Enthusiasm Growing at Pentagon for OTAs
Part Five: Nothing Seems to Stop Relentless Hackers Exfiltrating Trade Secrets
Topics: Defense Department, Defense Contracting, Business Trends