JUST IN: Commandant Calls Marine Corps Tech Refresh 'Urgent'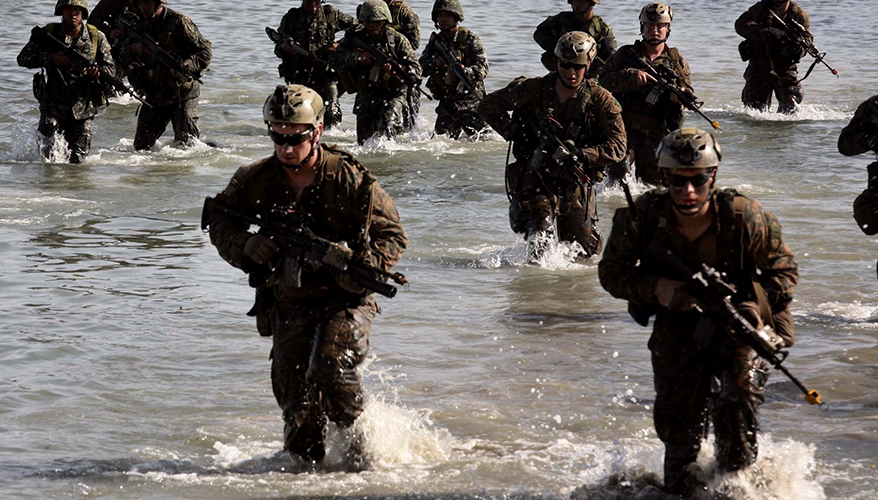 Marine Corps photo by Sgt. Anthony J. Kirby
Sending the Marines Corps into battle with the legacy equipment it has on hand would be "irresponsible," Commandant Gen. David Berger said Feb. 2.

"There is an urgent need for innovation and rapid change. We are being driven by a pacing threat. And we have to do it with no additional funding, no additional resources," he said at the Virtual Expeditionary Warfare Conference, organized by the National Defense Industrial Association.

Berger outlined technology requirements that he said were needed for Marines to fight advanced adversaries such as China and Russia. Long-range fires, advanced sensors, a new amphibious warship and robotic systems topped the wish list.

"I am convinced that yesterday's force will not compete effectively with tomorrow's adversary, especially in the maritime gray zone. In other words, putting it bluntly, just making our legacy platforms better, or just making more of them available will not allow us to maintain an advantage against either China or Russia in the maritime domains," he said.

"Operating in an expeditionary, distributed operational environment … with just repurposed kit or repurposed equipment — that would be irresponsible," he added.

Berger has been actively promoting a Force Design 2030 blueprint — released in March 2020 — that recommends "sweeping changes" carried out by eliminating several legacy platforms, while adding advanced technologies such as robotics. Without these changes, the service would be at a disadvantage taking on peer or near-peer competitors in highly contested battle zones.

"We can't continue to invest in programs that don't support Force Design," he said. A new improved version of a light armored vehicle is not going to solve the service's problems, he added.

At the top of his technology wish list are long-range precision fires that can protect U.S. forces and attack adversaries on land or at sea, he said.

"It's a combination of ground-based and anti-ship missile [capability] that's on the back of some kind of vehicle and it's very expeditionary. And it's also a cruise missile or some kind of variant of it. It could be a maritime strike Tomahawk or something like that that allows us to control maritime terrain. We don't have that right now," he said.

Improved sensors are second on Berger's list. He envisioned a kind of sensor warfare where the Corps and its adversaries were constantly attacking each other's ability to do surveillance.

"I think there's no question that global sensors are going to proliferate. They're also going to be threatened. So we're going to find ourselves in a fight for surveillance of the other side. They are as well. Both of us are going to try to deny each other sensors," Berger said.

The Marine Corps needs a new unmanned aerial vehicle to perform reconnaissance missions, he noted.
"We're moving towards a medium-altitude, long-endurance capability that are truly the eyes and ears forward, where the standing force is going to operate," he said.

"I know there are counterpoints about that [suggesting] those platforms are not going to be survivable in a high-end fight. I understand all of that. The fact of the matter is you need sensors forward," Berger said.

Third on his list is the Light Amphibious Warship, which is in the early stages of development.

'We need vessels on the water that allow us to move from an operational to tactical environment. Things like the Light Amphibious Warship. We don't have that right now at all. We have L-class ships and then we have connectors. We need the things in the middle," Berger said.

Finally, he advocated for more robotic systems in the Marine Corps inventory. "I'm a believer in manned and unmanned teaming. I think that's where we're headed," he said.

"We have got to move at an uncomfortable pace in unmanned systems," he said, adding that the service needs a variety of systems such as aerial drones, unmanned surface vessels and unmanned underwater systems. That includes automated systems that are armed, he suggested.
Currently, Defense Department policy calls for a human to always make the final call when to pull the trigger on a weapon system.

"We have programs right now — capabilities right now — that allow for fully automatic processing of sensor-to-shooter targeting, but we don't trust the data," Berger said. "And of course with each intervention by humans we're adding more time, more opportunities for mistakes to happen."

"With long-range precision fires, combine that with the mobility of things like our amphibious combat vehicle and light amphibious warships, unmanned surface and undersea vehicles. Now you have a survivable option. Now you have the ability to buy time for the remainder of the joint force to bring the rest of the cavalry to the fight," he said.

Currently, the Force Design 2030 goals have been reflected in authorizing and appropriations legislation before Congress, Berger said.

Lawmakers "support the direction we're going," he said. "What they're concerned about is the oversight to make sure that — especially in the research-and-development phase of things ... we're not going left and right, and left and right, and using authorities in the wrong way or an inappropriate way or an inefficient way."
"It's challenging for us to keep [congressional] members informed … but we have to move quickly," he added.
Topics: Marine Corps News