London Calling for Military Tech Cooperation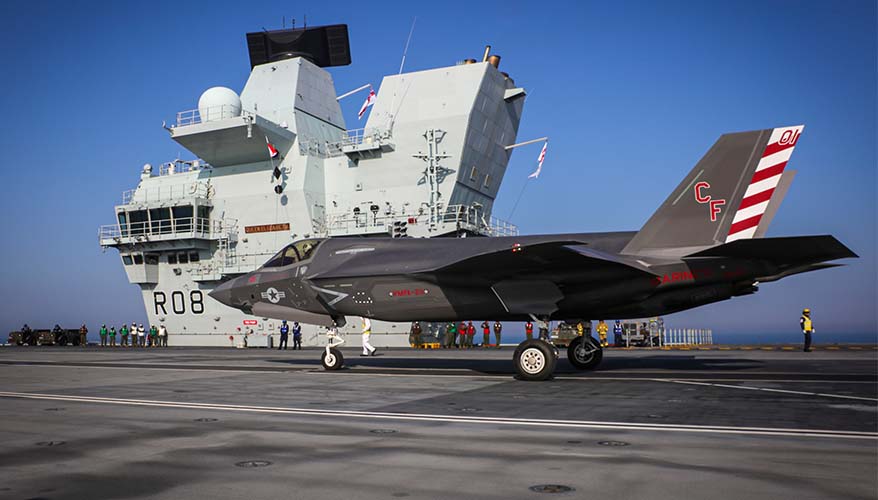 A U.S. Marine Corps F-35B onboard the HMS Queen Elizabeth off the coast of the United Kingdom.
Royal Navy photo
With extra money in its coffers for modernization, the U.K. Ministry of Defence is looking for additional opportunities to work with the United States on high-tech military capabilities.
The British government in November announced that it had approved about $22 billion in additional defense spending over the next four years, including a major plus-up for research and development.
"It will represent an increase of around 10 percent in defense spending as a whole," Karen Pierce, the British ambassador to the United States, said during a discussion hosted by the Washington-based Center for a New American Security. "It's about strengthening NATO, but it's also about taking us into these new areas of defense, these new areas of weaponry and technology like AI, like quantum, like cyber and … space, where we are going to have to do a lot more thinking in the years to come."
Angus Lapsley, director general for strategy and international at the MoD, called the plus-up — the largest in decades — an "historic" reinvestment in military capabilities. The move is being driven by the evolving threat environment, a desire to demonstrate Britain's international commitment post-Brexit, and changes in technology, he noted.
The defense community has reached a technological "pivot point," according to Lapsley.
Digital tech is transforming the way in which conventional platforms can be used, he noted. Meanwhile, opportunities for new weapon systems such as directed energy and hypersonics are emerging.
"We reached the conclusion that we have to speed up if we were going to remain competitive in some of these areas," he said. "One of the big features of the budget that we've announced is that there's a lot of extra money for research and development. … We felt that what we spend on science and R&D needed to increase quite substantially to give us a chance of addressing these new technological challenges with the best possible edge."
Pursuing these new capabilities will mean working with the United States in some areas. The MoD and the Pentagon have a next-generation weapons program underway looking at how the U.S. and the U.K. can support each other in technology development, he noted.
Some of the focus areas for the initiative include hypersonics, directed energy, command-and-control, and anti-submarine warfare.
In October, U.S. and British naval leaders during the Atlantic Future Forum announced the opening of a new international "tech bridge" in London that will initially focus on artificial intelligence, autonomy and unmanned systems, biotechnology, space and directed energy.
Meanwhile, the British government plans to release a new defense and security industrial strategy in early 2021, around the same time that it releases more details about its military spending plans.
"One of the things which is driving it is that kind of recognition that the international defense industry is changing quite fast. There are many new players in it and there are some serious opportunities," Lapsley said.
One of the expected conclusions of the policy review is that a key strength of the U.K.'s defense industrial base is its international nature, he noted.
U.S. companies like Lockheed Martin, Boeing and General Dynamics all have a significant presence in the United Kingdom, as do European firms such as Leonardo, Thales and Airbus.
"As long as European or American companies are working with us and … generating IP and investment in the U.K., that's a good thing for the U.K. industry," Lapsley said.
Lapsley added that the United Kingdom would like U.S. International Traffic in Arms Regulations to be less protectionist.
"There are still some aspects of the U.S. ITAR regime which … sometimes act as a pretty big disincentive to allies to work with America and share our technology with you," he said.
"Also, we're very keen that Congress doesn't go down the road of … [legislating more] Buy America provisions that make America a closed market for participation and cooperation with European and British companies," he added.
Topics: Global Defense Market