JUST IN: SOCOM Could Purchase 'Armed Overwatch' Aircraft in 2022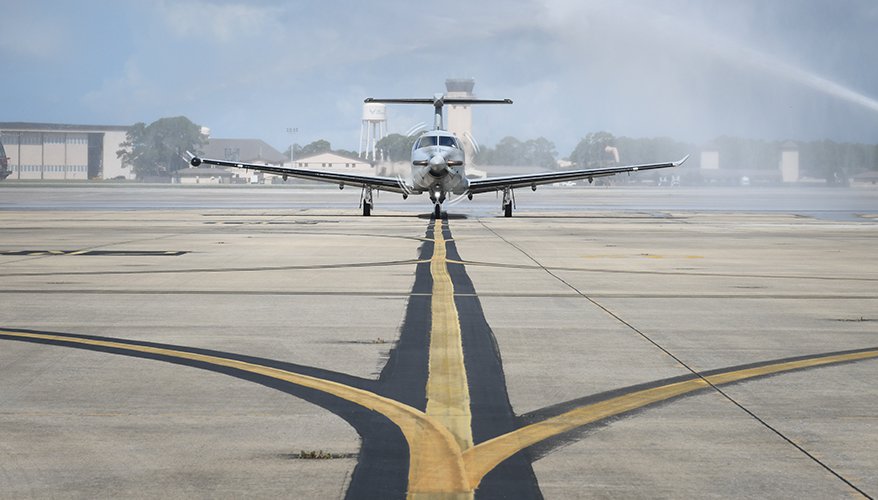 Air Force photo by Senior Airman Dennis Spain
Depending on the results of an upcoming demonstration, Air Force Special Operations Command may begin procurement of a replacement for its U-28A Draco manned intelligence, surveillance and reconnaissance platform in fiscal year 2022, said the head of the command Feb. 16.

The replacement platform, known as Armed Overwatch, is envisioned as a commercially available, multi-role airplane that is capable of operating with a small logistics footprint in austere regions, said Lt. Gen. James "Jim" Slife.
AFSOC had originally planned to begin procuring platforms in fiscal year 2021, but lawmakers in the 2021 National Defense Authorization Act barred the command from doing so, Slife said during a Mitchell Institute for Aerospace Studies event that was held virtually.

"Congress appropriated money in the FY '21 budget for us to continue RDT&E — research, development, test, evaluation — to conduct a flying demonstration of commercially available platforms … before we go to a procurement decision," he said. "I don't anticipate that we would get into aircraft procurement until FY '22 at the earliest."

AFSOC plans to demonstrate the capability this year and then move forward with the acquisition process following that event, he said.

While Slife did not mention which companies will be participating in the upcoming demo, he said the command is interested in the same "general class of airplanes" as Sierra Nevada and Embraer's A-29 Super Tucano, Textron/Beechcraft's AT-6 Wolverine and Textron AirLand's Scorpion.

Congress is exercising its oversight role in asking the command to conduct a demo before moving forward, he noted.

While he views the program as a lower risk than some lawmakers do, "the fact that we see it differently doesn't mean that they're wrong," Slife said.

Support "varies across the committees," he said. "Some are more supportive than others, but I think Congress is being prudent about this. … Ultimately, I believe that SOCOM will be able to demonstrate to the Congress that this is a viable program and it's required for the future operating environment."

Slife said he is "cautiously optimistic" that the command will be able to procure the platforms which could be useful in regions such as Africa, where threats to relatively slow-moving aircraft aren't as high.

Armed Overwatch offers special operators a light platform with "a multi-role capability that has the ability to provide the intelligence needed to remain aware of the threat and to take action where necessary … without drawing a lot of attention to our host nations that may be hosting those operations," he said.

SOCOM does not see Armed Overwatch as a "rehash" of the Air Force's OA-X light attack experiments which the service declined to move forward with in a program of record, Slife said.

"SOCOM envisions this as more of a multi-role platform that can perform level delivery of precision munitions," he said.
Topics: Acquisition, Air Power, Special Operations