Marine Corps Embracing Synthetic Training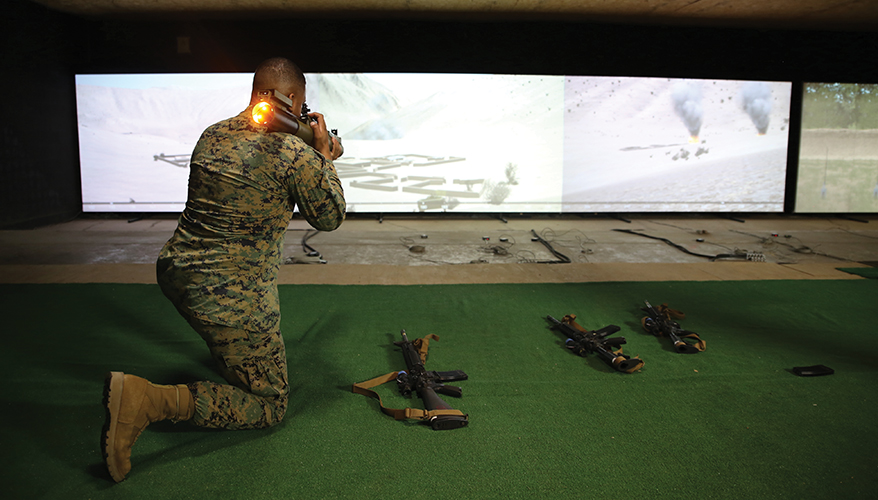 The Indoor Simulated Marksmanship Trainer III
Marine Corps photo
Live, virtual and constructive training is coming to the forefront of the Marine Corps' priorities.
Col. Luis "Lou" Lara, program manager for training systems at Marine Corps Systems Command, said his office has been reorganized to include a synthetic training systems team.
Synthetic training is the integration of force-on-force instrumentation, Lara said. The systems include command-and-control and weapon systems combined with modernized live-fire ranges and training areas.
"It will significantly expand our ability to train to standard against continuously evolving enemy threat capabilities," he said during the Virtual Interservice/Industry Training, Simulation and Education Conference, which was hosted by the National Training and Simulation Association, an affiliate of the National Defense Industrial Association.
Koren Odermann, product manager for synthetic training systems, said the new group is working on live, virtual and constructive training, or LVC, technologies.
LVC combines real-world exercises, virtual reality and computed-generated entities into one environment.
These will support the Marine air-ground task force and provide increased training capabilities that will also give common tools to servicemembers, she said.
One product under the office's jurisdiction is the advanced small arms lethality trainer. The service expects to award a contract for the system in the fourth quarter of fiscal year 2021, Odermann said.
The system will allow the service to boost live-fire performance and increase combat readiness. It will provide detailed feedback that measures overall human performance, she noted.
A request for proposals was released in June. According to the RFP, the service wants a system that will be able to measure a Marine's abilities in target acquisition, marksmanship and shoot/no shoot decision-making.
"This training will better prepare the Marine to be prepared to survive and be less vulnerable during first contact with enemy forces," the solicitation said.
The synthetic training office is also upgrading the indoor simulated marksmanship trainer. The current platform, known as ISMT III, is a five-lane 3D simulation system that reached initial operating capability in 2017, according to the service. The Marine Corps has not yet established an acquisition strategy for the upgrade, but plans to award a contract in March 2021, Odermann said.
Topics: Marine Corps News