JUST IN: Air Force Looking to Expand Role for Tankers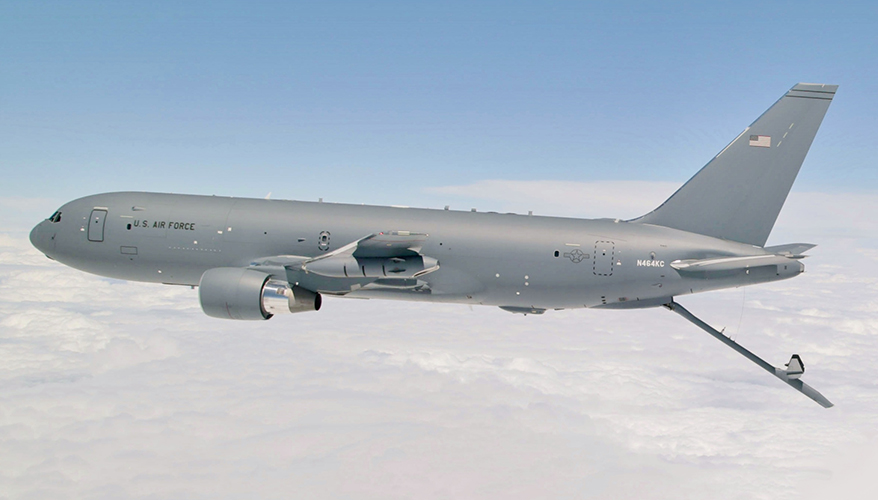 KC-46 aerial refueling tanker
Air Force photo by Christopher Okul
Air Mobility Command wants the tankers and other platforms in its portfolio to take on more mission sets to help the joint force.
Additional roles being envisioned include command-and-control and data transport, according to Gen. Jacqueline Van Ovost, commander of AMC, whose primary missions include providing airlift of personnel and cargo, aerial refueling and humanitarian support and aeromedical evacuation for the U.S. military.
The command has been doing experiments to see if its aircraft could do more in a high-end fight.
"What we're learning is that we can move to more non-traditional mobility air forces support to the combat air forces by becoming a robust node in the network," Van Ovost told reporters Feb.1 during a Defense Writers Group event.
Air Mobility Command is experimenting with processing data "at the edge."
"We're going to use that antenna on the C-17 [cargo plane] to gather information across the network, to crunch data forward at the edge … and then providing it back to our fifth-gen and fourth-gen aircraft," she said.
Van Ovost envisions tankers and cargo planes contributing to the Air Force's Advanced Battle Management System concept, which is part of the military's effort to boost joint all-domain command-and-control capabilities by better linking sensors and shooters.
The Air Force is working on "pods" that could be attached to aircraft to facilitate that type of data sharing, she said.
AMC's aircraft could also potentially drop palletized munitions that would be controlled by other platforms, she noted. The command is in the early phases of experimenting with that technology.
"We drop it off into a point in space in the air where the combat air forces then take over … the targeting and movement of those munitions," she said. "That's pretty revolutionary. It's a way to get more mass airborne in a quicker and in a more rapid fashion to react to scenarios out there."
As it eyes nontraditional missions, Air Mobility Command has high hopes for the KC-46 Pegasus aerial refueling tanker, the newest such aircraft in the inventory. AMC recently used the plane as a "translator" to move data between the F-35 joint strike fighter, F-22 Raptor and X-58 Valkyrie drone, she noted.
"That platform when fully developed and capable is going to give us a lot of advantages over our current legacy fleet, especially with respect to its agility, the multiple missions it can do, its ability to have additional battlespace awareness … and its ability to support the joint force, both as a communications node and potentially as a data node forward" during combat operations, she said.
The service is currently working with prime contractor Boeing to address "deficiencies" in the KC-46, she noted, including those associated with the remote visual system and the telescoping boom that is used to refuel other aircraft. Van Ovost said she expects those issues to be resolved by fiscal year 2023 and fiscal year 2024, respectively, which will enable the tanker to achieve full operational capability.
Meanwhile, the Air Force is already eyeing a next-generation "advanced air refueling" platform — previously referred to by some as the KC-Z — that could help the military take on peer adversaries. The service will likely to conduct an analysis of alternatives in fiscal year 2022, Van Ovost said.
Key questions that will need to be answered include: "Is it going to be autonomous? Is it going be pilot-on-the-loop [or] pilot-in-the-loop capability? Is it going to be small? Is it going to be large? What kind of self-protect [capability] is it going to have? What kind of, you know, electromagnetic spectrum capabilities is it going to have to both protect itself and enhance the lethality of the joint force while it's out there?" she said.
That platform will be a new developmental aircraft. However, the fielding of such as capability is "a little ways away," she noted. In the interim, AMC wants to acquire a "bridge tanker" to fill any capability gaps before a new advanced air refueling platform is available. Some observers have referred to the system as the KC-Y.
There will be a full and open industry competition for a non-developmental platform that will serve as the bridge tanker. "In other words, a commercial capability that's out there," Van Ovost said.
Topics: Air Power