JUST IN: Austin Emphasizes Need to Help New Tech Cross 'Valley of Death'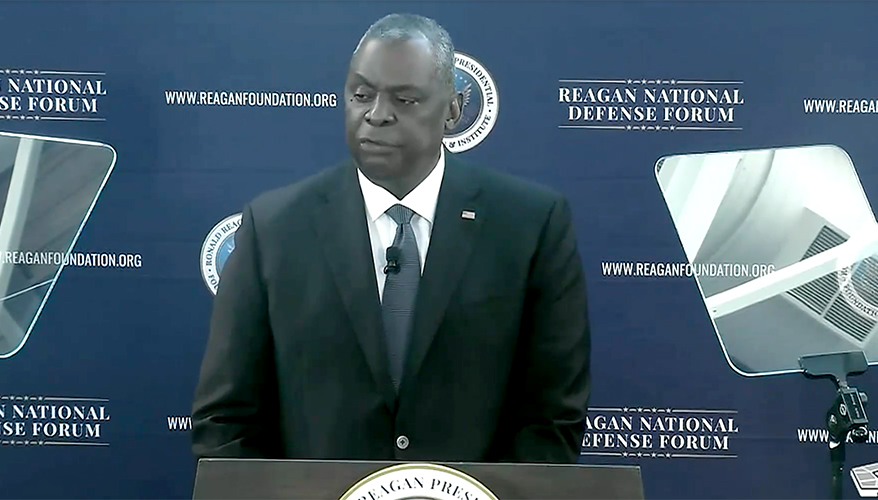 Secretary of Defense Lloyd Austin III
Defense Dept. image
SIMI VALLEY, Calif. — The Defense Department is "doubling down" on efforts to help small businesses and other innovators bring new technology to the military, Secretary of Defense Lloyd Austin III said Dec. 4 at the Reagan National Defense Forum in Simi Valley, California.
Leveraging innovation from small businesses and other organizations that develop cutting edge tech will be key to staying ahead of China in the ongoing strategic competition in the Indo-Pacific region and elsewhere, Austin said during his keynote address at the annual confab, dubbed the "Davos of the defense world."
The conference brings together Pentagon leaders, defense industry titans, and executives from Silicon Valley and other commercial tech hubs to discuss the most pressing national security issues.
"Innovation lies at the heart of American security," he said. "Now, huge advances in AI and edge computing and nanotechnology are already underway in America. And much of that right here in California. Nobody innovates better than the United States of America. But we can't take that for granted."

The Defense Department needs to make it easier to work with the department and get funding, he noted.

"Let's face it — for far too long it's been far too hard for innovators and entrepreneurs to work for the department, and the barriers to entry … [are] often too steep — far too steep," Austin said.

Additionally, it often takes too long to get new technology into the hands of warfighters, he added.

"Let's say that some great California startup develops a dazzling way to better integrate our capabilities. All too often, that company is going to struggle to take its idea from inception to prototype to adoption by the department. We call this syndrome the valley of death. And I know that many of you in this room are painfully familiar with it," he said.

The Pentagon is taking a number of steps to try to tackle the problem.

That includes "doubling down" on the Small Business Innovation Research program, Austin said. The SBIR program provides funding to small companies to perform research-and-development work on technology that is tailored to the department's unique technology requirements

So far this year, the department has awarded funds to more than 2,500 small businesses working on "groundbreaking" tech, he said.

Additionally, the department has opened new Defense Innovation Unit offices in Seattle in Chicago, which are intended to help bridge the gap between the Pentagon and commercial tech hubs. DIU has other sites in Silicon Valley, Austin and Boston, he noted.

The Defense Advanced Research Projects Agency is also working more closely with the business community, he said.

"DARPA is legendary for scientific breakthroughs. But now DARPA is also connecting its top research teams with corporate leaders and U.S. investors so that those teams can build successful businesses with cutting edge technologies that they develop," he said.

The Pentagon has also established a new rapid defense experimentation reserve being spearheaded by Undersecretary of Defense for Research and Engineering Heidi Shyu. The new initiative will "let us quickly see if promising tech and prototypes can help our warfighters," Austin said. It will help the military identify its most pressing capability gaps and make funds available to test new technologies that that could be "game-changers," he added.

For these initiatives, "the goal here is simple: Connect with new talent who will help us compete and win," Austin said.
Topics: Defense Department