Navy Puts Training at the Forefront of Modernization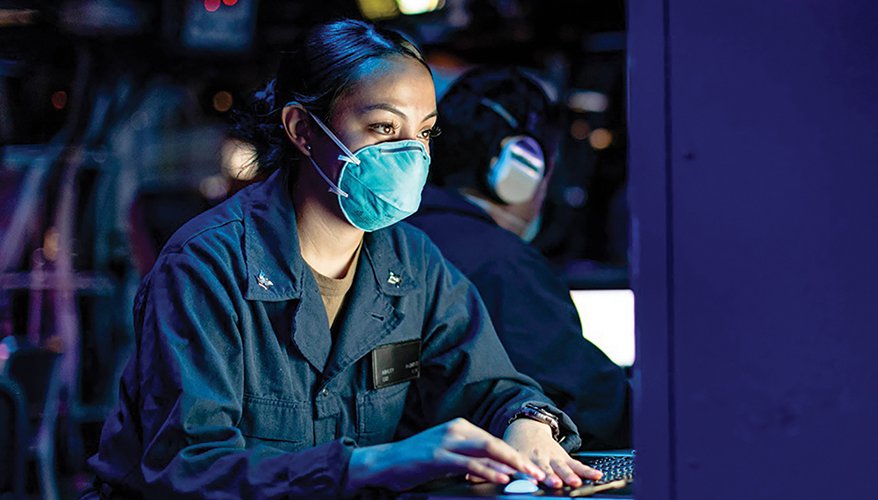 A sailor tracks platforms using an amphibious assault direction system during a large-scale exercise.
Navy photo
ORLANDO, Fla. — Navy leaders are pushing for new training initiatives and technologies that match the pace of the service's modernization efforts, expressing concern that current platforms aren't preparing sailors well enough for the future fight.
With the Defense Department's shift to strategic competition with China, the Navy is trying to keep up with U.S. adversaries, including a renewed focus on maritime dominance and investment in new capabilities. As sailors face new challenges, they need more relevant training and information to effectively do their jobs, said Rear Adm. Peter Garvin, commander of Naval Education and Training Command.
"To continue our advantage in the maritime environment and maintain our organic capability to operate and repair complex equipment at sea, we must provide our sailors with the tools and resources required to enable and enhance skills and proficiency … at the point of need," Garvin said during a panel at the National Training and Simulation Association's annual Interservice/Industry Training, Simulation and Education Conference in Orlando, Florida. NTSA is an affiliate of the National Defense Industrial Association.
Garvin said this goal hinges on training systems that are more responsive and can be easily upgraded, "so that we don't shove it all in [sailors'] craniums at the beginning of their career hoping that they remember it by the time they actually need that knowledge."
Since taking the helm in 2019, Chief of Naval Operations Adm. Michael Gilday has made training one of his top priorities, he noted during remarks at the conference. In his 2021 Navigation Plan to the Fleet, Gilday included training efforts as key components for both developing a dominant naval force and achieving readiness. The Navy is funding new platforms and improving the sea service's training exercises for the modern battlefield, he said.
However, he pointed to areas where training initiatives and technologies have room for improvement.
First, he said the service needs a "continuous feedback loop" that allows sailors to give real-time input to industry as it develops capabilities.
This would make the Navy's training more relevant, he said.
In addition, future training systems have to be as realistic as possible and able to accurately replicate aspects "of not only our forces but of potential adversaries," Gilday said.
He also pointed to technology that can track an individual sailor's training performance and progress as an important tool.
During training for explosive ordnance disposal, for example, Gilday said the Navy is using a virtual environment that evaluates a sailor's mental and physical states. This kind of technology could be leveraged better in Navy training to understand and track where an individual sailor may excel or fall behind in certain skills, he said, comparing the capability to having a "baseball card" of data for every service member.
"What we're really after is warfighting proficiency," Gilday said. At the individual level, leaders need to know "not only what we're good at but what we're deficient at, and then to focus on those deficiencies in a way to raise the bar for individuals and then collectively across the team," he said.
Also connected to improving individual readiness is the "absolutely essential" capability to record and track data from training sessions, Gilday noted.
The Navy is trying to make parts of its training more personalized for sailors. The service is currently piloting a customized, adaptive learning platform called "My Navy Learning" that uses artificial intelligence and machine learning to recommend objectives, track progress, manage training pace, and more, according to a news release. It is aiming for initial operational capability by the end of fiscal year 2022.
The service also revamped pilot training in 2020 with Naval Aviation Training Next-Project Avenger. The program combines both virtual- and mixed-reality training with flying time in the T-6B Texan II turboprop aircraft using a syllabus that allows students to move through the program at individualized paces, said Rear Adm. Robert Westendorff, chief of Naval Air Training.
"It's all about producing a higher competency aviator to win that next conflict," Westendorff said during a panel discussion at I/ITSEC. The program's self-paced design can help reduce training times for pilots with previous aviation experience or a natural aptitude for learning, while giving others who may need more practice additional time to hone their skills, he added.
Additionally, the Navy is leaning into simulator-based technology like live-virtual-constructive to improve fleet readiness. LVC training uses virtual reality and computer-generated elements to link live platforms with manned simulators.
Gilday said the Navy "upped the ante" in August when the service completed a global large-scale exercise with the Marine Corps that included three naval component commands and five numbered fleets positioned across 17 time zones. To accomplish this, the Navy used an LVC training environment to evaluate modern warfare concepts, including distributed maritime operations, expeditionary advanced base operations and littoral operations in a contested environment. The exercise was facilitated by the Navy Continuous Training Environment's networks, simulations, simulation routing equipment, data translation devices and live training range systems.
"What capabilities like [LVC] has allowed us to do at scale is to test ourselves, to mature our fighting concepts, to hone our skills, to sharpen those skills, to learn from them," Gilday said. "That also informs not only what we're going to fight with, but also how we're going to train and what we're going to train with."
Rear Adm. John Meier, commander of Naval Air Force Atlantic, emphasized the potential for virtual training. To reduce readiness costs, pilots should spend more time in simulators before getting into the cockpit of a real aircraft, he said during the conference.
As an example of how leveraging more virtual training could improve readiness and warfighter capabilities, Meier cited the Navy's Strike Fighter Squadron 11 currently equipped with the Boeing F/A-18F Super Hornet and assigned to Carrier Air Wing One at Naval Air Station Oceana, Virginia. After training at Naval Air Station Fallon in Nevada with other squadrons, leaders realized the unit had a kill ratio two-and-a-half times greater than any other unit.
"What we found in that, pure and simple, was the commanding officer and the training officer … really focused on utilizing the simulators to the maximum extent possible," Meier said. "We're talking about a high-end training event, high-end tactics overseen by a training officer."
Meanwhile, as the Navy continues to prepare for a more complex, all-domain battlefield, it should also prioritize developing virtual environments for information warfare and satellite communication exercises, said Rear Adm. Susan BryerJoyner, director of the Navy's cybersecurity division.
In 2022, the service will begin introducing information warfare capabilities into the Navy Continuous Training Environment, BryerJoyner said. It is also developing an information warfare certification exercise it will begin piloting to ensure "we understand how to operate together as a team in order to improve our warfighting lethality," she added.
"I have communicators that don't know how to switch from satellite to satellite because we do it exactly once, maybe twice, per deployment and we hold our breaths until the last possible moment because we want to reduce the impact to the warfighter and their ability to do assured [command and control]," BryerJoyner said during I/ITSEC. "That may work when we have the luxury of time. It does not work when we have to switch … quickly and minimize disruptions to communications."
BryerJoyner also warned that training needs to be integrated service-wide — an impossible feat without system interoperability. She asked industry to help the Navy figure out the best way for its simulated training environments to talk to one another, stressing the importance of doing so easily and swiftly.
"If we do not include data interoperability as part of that transition, we've probably missed something," she said.
Because of the pace at which technology is evolving, Navy leaders are promoting less traditional acquisition paths to industry. During his remarks at I/ITSEC, Gilday invited smaller companies to explore NavalX and the service's Tech Bridges across the country as an entryway into the acquisition system. Launched in 2019, the endeavor aims to boost collaboration between Naval labs, industry, academia and other military branches in order to accelerate technology innovation.
NavalX can also help industry and government identify the best acquisition path to accelerate capability development. For example, other transaction authority agreements, also known as OTAs, allow the government and industry to bypass many of the rules designated under the Federal Acquisition Regulation. They can get prototypes into warfighter hands faster, said Hallie Balkin, the learning director for other transactions at the Defense Acquisition University, during a panel discussion at I/ITSEC.
"The way the system is built right now … it's not sufficient. We are not keeping up with our adversaries," she said. "But that OTA can be a way that can at least alleviate some of the burdens and pitfalls you have because of this."
However, NavalX Director Capt. Ben Van Buskirk acknowledged that prioritizing time for training with rapid acquisition paths can be a "big problem."
"As we're moving through this development across the pipeline of prototyping, at some point you need to take training into consideration," he said.
Despite acknowledging NavalX hasn't reached its full potential, Gilday said the Navy likely won't be able to develop modern capabilities jointly with industry "unless we have an easy entryway."
Topics: Training and Simulation, Navy News