Military Preparing for New Era of Explosive Ordnance Disposal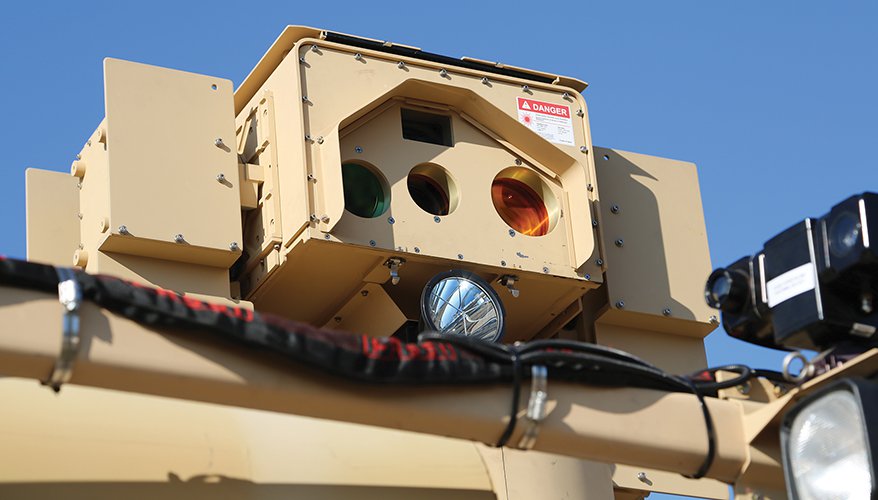 The Radbo system being tested in Huntsville, Alabama.
Air Force photo
COLUMBUS, Ga. — With the Iraq and Afghanistan Wars in the rearview mirror, the Defense Department is preparing for a new era of explosive ordnance disposal that will bring fresh challenges and require new technology solutions.
Improvised explosive devices planted by insurgents were one of the top threats during the post-9/11 conflicts. But now, the U.S. military is refocusing on neutralizing bombs and mines that it could face in future conflicts against more advanced adversaries such as China and Russia.
"We have a lot of great capabilities," said Air Force Brig. Gen. William Kale, a member of the Pentagon's EOD program board. However, "what's good today is not good tomorrow, and there's definitely a lot of areas where we need to get after it."
"We need to find out what that new technology is and be able to exploit that technology to be effective for the near peer competition," he said at the Future Force Capabilities Conference and Exhibition in Columbus, Georgia, hosted by the National Defense Industrial Association.
The military needs to be prepared for large-area clearance operations, officials say.
"We're starting to get after this from a joint perspective," said Air Force Senior Master Sgt. Cole Pasley, superintendent of the Defense Department's joint EOD technology division. "A large area for [the Air Force] in our next wars will likely always be some sort of an airfield.
For the Marines, it could be a beach. For the Navy, a carrier. For the Army, a huge mass of land somewhere."
The military is pursuing new technology to address these challenges.
A science-and-technology effort is underway to find a next-generation breacher to replace the legacy mine-clearing line charge. The concept calls for mounting payloads on robotic combat vehicles that can help defeat minefields by using sensors to detect hazards, launching payloads from a standoff distance, and employing guidance systems that can tailor payloads for precision or scalable effects.
"We need industry's innovative ideas, whether kinetic or non-kinetic, on what the next-generation breacher will look like and how the entire kill chain can be integrated," said Army Col. Russ Hoff, project manager for close combat systems at the joint program office for armaments and ammunition.
Another large-area clearance challenge that officials are worried about is rapid airfield damage recovery, which could be required if U.S. air bases are hit by Chinese or Russian munitions.
In that scenario, EOD technicians and civil engineers would be expected to perform damage assessment, mitigate potentially thousands of explosive hazards, and repair extensive damage to the airfield — and do it all so quickly that aircraft could be launching from the runway again within eight hours of an enemy assault.
For the purposes of area denial, an adversary could drop thousands of submunitions that would have to be cleared. Additionally, penetrating munitions could create craters that would have to be repaired before resuming flight operations, noted Dr. John Olive, an EOD expert at the Air Force Civil Engineering Center.
The Pentagon is putting resources toward addressing the challenge. The Air Force has invested more than $4 billion into rapid airfield damage recovery capabilities, according to Olive, who said they are a "huge priority" for the service.
One such technology that officials have high hopes for is a directed energy system known as Radbo, which features a Parsons-made Zeus laser mounted on a mine-resistant ambush protected vehicle. It is intended to zap large numbers of explosive hazards from up to 300 meters away and neutralize them.
The Air Force has been testing a Radbo prototype at Tyndall Air Force Base, Florida. The first production model of the 15 currently under contract was slated to go to Nellis Air Force Base, Nevada, in November. Additional systems are to be deployed at other bases in the United States and overseas beginning in 2022, according to Olive.
Another capability in the works is an armored front-end loader which is to be paired with a large clearance blade assembly and robotic applique to enable efficient removal of unexploded ordnance from airfield surfaces.
The clearance blade assembly — which was developed by Redstone Arsenal in Alabama — is about 4 inches thick, 16 feet wide and 4 feet tall. It was made with special durable material, Olive noted.
"It's basically indestructible," he said. "You can run it and it won't miss a piece of ordnance."
With a few of these systems, technicians could clear a 10,000-foot-long runway of explosive hazards in just a couple of hours, he said.
The Air Force plans to buy 86 systems, and the first tranche is already on contract with Caterpillar. They take about 15 to 18 months to build, Olive said. "We're looking forward to getting those before too long."
However, those technologies might have trouble addressing what officials say is currently the biggest capability gap within the rapid explosive hazard mitigation portfolio: SLAM. The acronym stands for subsurface locate and mitigate, and refers to finding and neutralizing underground threats.
Penetrating bombs could leave holes in an airfield that have to be cleared, including unexploded ordnance, Olive explained. "Right now, we don't have a great rapid way to do that, let alone detect the penetrator to let an [EOD] operator know exactly what depth and how it's orientated … to rapidly mitigate it."
Kale noted the military has been using handheld devices to detect and locate underground threats.
"That's not going to be a good thing in the future, in particular with the larger munitions that our near-peer competitors are going to throw at us, and the potential of them getting buried under airfield pavements," he said. "This is not something that I think will be hugely effective, and we need your help to … figure out how to get after this," he told members of industry.
What are some potential solutions?
"I would assume that eventually we could probably come up with some sort of unmanned aerial system that would have some sort of X-ray-like technology that can fly over an airfield and detect those things, and do so in a way that is precise," Kale said. It would also be helpful if such a platform could identify the specific types of munitions that are present so that "if we do have to send the EOD tech out there to get after it, they can do so knowing what they are dealing with," he added.
Pasley highlighted another problem: current EOD capabilities for identifying and accessing subsurface munitions can cause additional damage to a runway after an enemy attack.
"As we start addressing this buried munition problem, how do I get access to some sort of an ordnance that's beneath my commander's runway without blowing numerous more holes into his or her runway and making that eight-hour [timeframe] … just an unfeasible task to repair that, because my EOD team has gone out and created a dozen more holes looking for something?" he asked.
Kale said the military needs better tools for mitigating that type of threat.
"I would hopefully think that we could do that from a standoff position," he said. Additionally, "we want to disable these munitions where they don't have a huge second-order blast because we have to go in and repair those runways after and fly aircraft. … There's a lot of opportunity for industry to look at these things and provide" solutions.
Olive said there is "no doubt" the Defense Department is going to continue to invest research-and-development dollars to try to find better SLAM capabilities.
Pasley noted that at some point in the future, the hope is that rapid airfield damage recovery operations can be conducted autonomously.
Robotics and machine learning are going to be "huge on that mid- to long-term vision of where all this capability goes," he said.
Maj. Ben Olsen, an EOD capabilities developer at Army Futures Command, noted that his service's explosive ordnance disposal community already has three programs of record for robotic platforms: Common Robotic System-Individual, a small backpackable robot; Man-Transportable Robotic System Increment 2, a medium-sized platform that weighs a little over 100 pounds; and a larger platform known as the Common Robotic System-Heavy.
But the Army is also keeping an eye out for other technologies that could be useful, to include non-tracked platforms that may be less vulnerable to flipping over, he noted.
The service is looking at small drones that could scan areas that would be difficult for ground robots to reach, such as the top of a building or the opposite side of a wall or other obstacles. The platforms could be used to look for explosive hazards and drop charges to neutralize them, he added.
"Having a small UAS capability … is going to be extremely beneficial and very useful," Olsen said.
The Army also plans to integrate multiple disruptors on its robotic platforms to provide additional standoff capabilities for mitigating threats using percussion actuated non-electric rounds or other types of energetics, he noted.
Additionally, there is a requirement for extended range mesh networking to enhance communications between machines and EOD technicians.
"Looking at built-up cities, anybody who's ever operated the robot knows that as soon as it starts turning the corner, you're going to start losing comms," Olsen said. To address the problem and extend their range, platforms need the ability to "drop repeater nodes as we go along," he said.
For future increments of robots, the Army is looking at semi-autonomous features that would enable point-to-point navigation.
"As the team arrives, they can say, 'Hey, I'm here, I need the robot to go to this location just by point and click,' and the robot will choose its own path there — the best path possible — and make sure that it's avoiding the obstacles," Olsen said.
Machine learning and artificial intelligence could also enable robots to scan the surrounding environment while they are on the move and identify potential threats, he noted.
Pasley said moving away from the "one man, one bomb" model for explosive ordnance disposal will be key to increasing operational speed and keeping EOD technicians out of harm's way in future operating environments.
"One, it's time consuming, so we can't do [the mission] within that established timeline. But two, you're going to have attrition," he said.
Leveraging unmanned systems and other emerging technologies will be critical, he noted.
"We took a lot of losses during OIF and OEF," he added, referring to Operation Iraqi Freedom and Operation Enduring Freedom. "We want to try not to do that in this future fight, right? So the more things we can build and create more tools for the operators where they can either do [EOD] remotely or do it more safely, … that's where we want to go."
Topics: Bomb and Warhead