Army's Project Convergence Continues on 10-Year Learning Curve
A UAV returns from testing during a Project Convergence exercise.
Army photo
YUMA PROVING GROUND, Ariz. — The Army brought more than 100 technologies to the desert in late fall to see if it could one day perform the Herculean task of connecting them all in a seamless AI-driven network of sensors and shooters that can fight faster than the speed of human thought.
And just to make things more difficult, the service invited the Air Force, Navy and Marine Corps along to integrate some of their capabilities into a series of exercises to learn whether they can fight together in "multi-domains."
Project Convergence is the Army's version of the joint all-domain command and control concept that is transitioning to a new U.S. military doctrine. The Air Force calls it the Advanced Battle Management System and the Navy, Project Overmatch. Its originators call it "mosaic warfare."
While the names are different, the overarching goal is the same: link manned and unmanned platforms through a network that passes sensor data to weapon systems, using artificial intelligence to quickly pick the most appropriate "shooters" regardless of what service owns the platform. And do that while fighting in every domain — not just land, sea and air — but space, cyberspace and the electronic spectrum.
In one scenario, a small drone hunting for enemy tanks spots a potential target. It uses the computational power of the "combat cloud" to provide a trigger puller with the best options to match that particular target: long-range artillery, a nearby armed drone or jet fighter, or perhaps a Navy ship.
At this point in the concept's development, a warfighter then "pulls the trigger" because Defense Department policy wants a human in the loop when it comes to launching lethal effects.
Project Convergence 21 — the second year the experiment was held — is part of a learning curve that will continue for about eight more years, Army officials said.
At the end of a long day watching demonstrations, Chief of Staff of the Army Gen. James McConville said he is already seeing "exponential progress" in the second year, especially in the ability to move data across the network at higher speeds.
"We want to provide the combatant commander with multiple options of different types of forces that can work together, really to deter any strategic competitors in the region. And that's what I'm seeing," he said.
Project Convergence is different from other experiments that show the service how to employ present-day technology. This is about the future, he said.
Col. André Abadie, solutions architect at Army Futures Command and one of the co-leads that designed the exercise, said this is "not a one year or two years, and we're done kind of thing. Our leaders have said this will probably be a decade-long endeavor."
Platforms still under development such as the optionally manned fighting vehicle and helicopters under the future vertical lift initiative had legacy systems to act as surrogates.
Next-generation combat vehicles and future vertical lift are part of Army Future Command's top six modernization priorities. The other four are long-range precision fires, the network, air-and-missile defense, and soldier lethality.
Many of the technologies being developed under that umbrella were at the exercise. The Army has a list of capabilities it's developing called the 31-plus-four. Army leaders have vowed that these new items won't languish in development forever and that about two dozen of them will be fielded in the next two years.
Abadie said: "We have some capabilities that are going to field in '23 and '24. We have others that will be 2028 and beyond. There are some things you just can't experiment with — they're just too immature — but the idea is the sooner we can bring things out here, get them in the dirt, get them in soldiers' hands, the sooner we can learn."
McConville noted that the addition of the Air Force, Navy and Marine Corps during the second year was another step forward. The next exercise in 2022 will seek to add a few close allies, organizers said.
Ultimately, the four services and their allies will "converge" in what is being called a "multi-domain task force" to deter any competitors, organizers said.
The multiple domains include sea, air, ground, space, cyberspace and the electronic spectrum.
The latter two will be crucial as information moves over a network that must be robust and protected. "It underpins all Army modernization efforts — touching everything from vehicles and aircraft to sensors and individual soldiers," a Project Convergence fact sheet said.
"Data fabric" is what the developers are calling the computer algorithms that make it all work.
The 2021 exercise sought to establish an experimental network that could provide interoperability and sensor-to-shooter data exchange and "deliver the right data at the right place at the right time," the fact sheet said. Army researchers tested its resiliency, range, ability to manage data, as well as making it energy efficient.
One piece of the data fabric is the FIRESTORM application, or Fires Synchronization to Optimize Responses in Multi-Domain Operations.
Its software seeks to reduce the sensor-to-shooter timeline by recommending at all echelons the best effects for a target, said Benjamin Pinx, Combat Capabilities Development Command experimentation chief.
Presently, soldiers must make their own assessments of a target, then figure out the most appropriate weapon to use. FIRESTORM seeks to provide them with the best options, he added.
"In the old way you got tens of minutes," McConville said. "Ideally you want to get down to tens of seconds. In order to do that, you have to have the ability to move data between systems very, very quickly."
Integrating legacy platforms and their sensors has proven to be one of the biggest challenges, Abadie added. At one time, each of these weapon systems was developed in response to an exquisite requirement. The sensor and the weapon were linked in a stovepipe and there was no demand to have them connect to a larger network.
In preparation for the exercise, each of the 100-plus technologies were sent to a joint systems integration lab at Aberdeen Proving Ground, Maryland, to ensure they would connect to the network.
"We're not going to find out the hard way when we come out in the desert environment that these things don't connect," Abadie said.
Secretary of the Army Christine Wormuth noted that the exercise wasn't only about employing weapons for offense or defense. Logistics also played a key part.
"In the future, contested logistics are a real issue, not just overseas but even in the homeland. Getting people from port to port is going to be a challenge," she noted.
Work will begin on Project Convergence 22 immediately after 21's conclusion, Abadie added. The Army will take the lessons learned to inform concepts and requirement documents.
Then "our acquisition partners can help pull them across that infamous Valley of Death," Abadie said, referring to the fact that many developmental technologies are never adopted and deployed to the battlefield.
"As a campaign of learning, it means that every action I take needs to build upon something else and form something else, and allow us to continue to get better," he said.
Some Project Convergence Technologies
The organizers of Project Convergence 21 brought more than 100 technologies to Yuma Proving Ground, Arizona, and some outlying bases such as White Sands Missile Range, New Mexico, during a seven-week span in October and November.
The Navy, Marine Corps, Air Force as well as Special Operations Command and the Defense Advanced Research Projects Agency also took the opportunity to bring technologies that were deemed to be at a high enough readiness level to participate.
Here are just a few of them:
Integrated Visual Augmentation System
Soldiers at Project Convergence tested the new Integrated Visual Augmentation System, a night vision goggle on steroids that also provides thermal imaging, 3D maps, waypoint overlays and other features.
Travis Thompson, deputy director of the Army's soldier lethality cross-functional team, said soldiers on different aircraft on their way to an air assault were able to share stable images of their objective while on the move, which was a first.
The IVAS goggle — through a router connected to the network — also allowed them to share target information seen through the systems to higher echelons, he said.
FIRESTORM
This was the second iteration of the FIRESTORM, or Fires Synchronization to Optimize Responses in Multi-Domain Operations, after it was used at Project Convergence during its first year.
Its software automatically pairs targets with the best weapon system for the job so warfighters can make quicker decisions on what kind of lethal force to apply, said Benjamin Pinx, Combat Capabilities Development Command experimentation chief. This version included more artificial intelligence to speed up the process.
During the 2.0 exercise, soldiers were able to apply patches and initiate firmware upgrades themselves, Pinx said, "although there were software engineers looking over their shoulders," he added.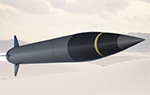 Precision Strike Missile
Part of the Army's long-range precision fires portfolio, the Lockheed Martin-made Precision Strike Missile flew about 310 miles (499 kilometers) during a Project Convergence 21 test before the Army lost telemetry data, suggesting it went a few miles beyond that mark.
Because of the long distances, the test took place at Vandenberg Space Force Base, California, with the missile landing in the Pacific Ocean.
Gen. Mike Murray, commanding general of Army Futures Command, said, "We're confident we got past 499 [kilometers] and probably farther if we hadn't lost telemetry."
The program's stated goal was 500 kilometers. The missile is slated to replace the Army Tactical Missile System, which has a range of about 300 kilometers.
Aerial Tiered Network
Col. Chad Chasteen, G-3/5/7 director of the Army future vertical lift cross-functional team, raved about a Kraus Hamdani Aerospace-manufactured unmanned aerial vehicle that provided an airborne tactical communications hub to rotary-wing aircraft during Project Convergence 21.
It is "silent, quiet, flexible, adaptable. You can load it in the back of a [Ford] F-150. You can assemble and disassemble it with an Allen wrench," he said. The drone operates on solar power during the day and a battery at night.
As for the communication payload, eight different waveforms were successfully used aboard the aircraft.
"It was basically the heart of our network. We were able to connect from the objective all the way to the command post — the entire length and width of the training area. We were actually limited by the size of the training area, not the technology," Chasteen said.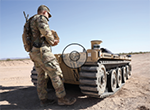 Autonomous Ground Resupply
The Marine Corps for Project Convergence 21 brought its flatbed, tracked Expeditionary Modular Autonomous Vehicle as part of an extended logistics tail that is designed to reduce the number of war­fighters doing mundane work.
The supply chain started with a leader-follower convoy of trucks, which traveled to a staging point, said Lt. Col. David Olsen, G-3 operations officer for the next-generation combat vehicle cross-functional team.
From there, the Marine robot autonomously carried a new engine out to a waiting tank crew. "The human crew members on the convoy loaded it onto the vehicle which had its route and its destination and autonomously moved to the tank to deliver that repair part."
The robot also carried heavy ammunition to soldiers and performed reconnaissance missions, he said.
ARTEMIS
ARTEMIS, the airborne reconnaissance and target exploitation multi-mission system, is a contractor-owned sensor platform housed in a Bombardier Challenger 650 business jet that carries signals-intelligence and other sensors designed to look deep into enemy territory.
The Army's Intelligence, Surveillance and Reconnaissance Task Force is flying the system as a "campaign of learning," but more often than not, the military is using it in "real-world" operations, task force member Andrew Evans said.
ARTEMIS' participation in Project Convergence 21 was cut short as it was pressed into duty monitoring Russian forces massing on the border with Ukraine.
As a jet-powered aircraft, it can fly faster and higher — at greater standoff distances — than legacy airborne sensor platforms it may one day replace such as the propeller-driven RC-12 Guardrail.
Topics: Army News