JUST IN: Info-Sec Restrictions Hampering F-35 Partnerships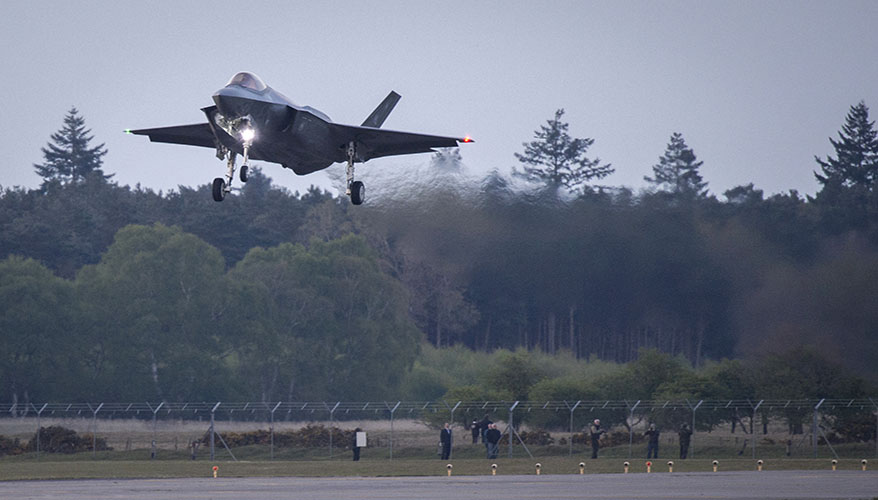 An F-35 Lightning II lands at Royal Air Force Lakenheath, England, April 19, 2017.
U.S. Air Force photo/Staff Sgt. Emerson Nuñez
Information security restrictions are hampering collaboration between allied and partner nations that fly the F-35 joint strike fighter, the commander of U.S. Air Forces in Europe and Africa said Dec. 13.
The jet is currently in use or has been ordered by more than a dozen countries, including the United States, United Kingdom, Italy, Norway, Denmark, Belgium, Poland, the Netherlands, Israel, Australia, Japan, South Korea and Singapore. Last week, Finland announced its intention to buy the aircraft, which is touted for its stealthy features and information-sharing capabilities.
U.S. Air Force Gen. Jeffrey Harrigian said working with allies is key to getting the most value out of the Lockheed Martin-built platform.
Being able to practice operations and share data between systems will "build the muscle memory we need in theater to be able to respond quickly" during crises, he said at a Mitchell Institute for Aerospace Studies event.
"That is the underpinning of success that an F-35 brings because we speak the common language, and we've worked our way through many of the issues," he added.
Participating countries have made progress through talks on maintenance, training and tactics. However, information security restrictions are still in the way, he noted.
"We have to figure out how we break through some of the barriers so that we can truly get everything out of the airplane and not be inhibited," he said.
U.S. forces and their partners should develop ways to protect sensitive information while optimizing F-35 collaboration, Harrigian said. "We've got to keep collectively as an enterprise leaning into that together."
Officials should "smartly" push for innovation related to information-sharing that gets around security obstacles, he suggested.
"If we're going to do this and we got to go fight together, then we got to be lockstep with each other — understanding what the threat is, what our airplanes are telling each other," he said.
Topics: Air Power, Joint Strike Fighter, International