SPECIAL REPORT: U.S., Australia Increasing Tech Transfer to Take on China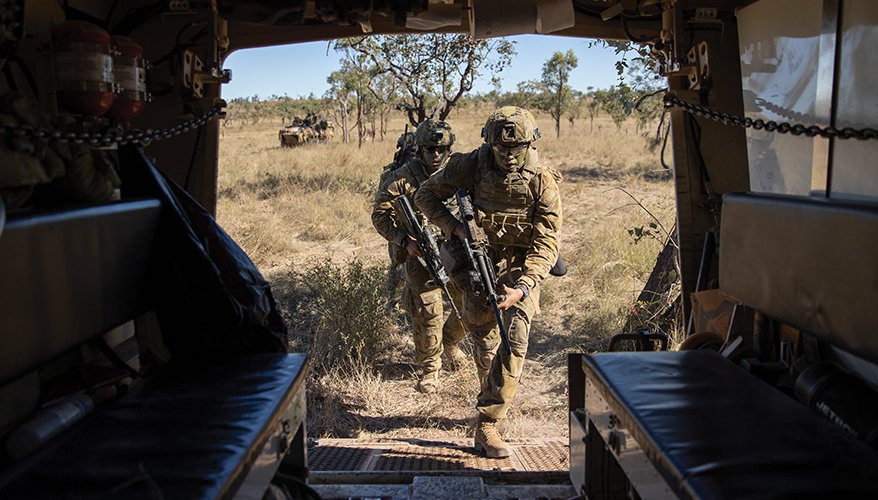 Australian army soldiers enter an Australian light armored vehicle.
Australian Defence photo
This is part 4 of a 4-part special report on the Quad.
With Beijing creating discord in the Indo-Pacific region, the United States and Australia are tightening their alliance to take on the Chinese dragon.
While Washington and Canberra already share a close bond through the Quadrilateral Security Dialogue, news of a new trilateral security agreement between the United States, Australia and the United Kingdom recently sent out shock waves.
The announcement was a mixed bag diplomatically. Unveiled in September, the AUKUS pact led to a fiery row with France over a soured submarine deal, resulting in U.S. President Joe Biden apologizing for the "clumsy" rollout. But experts say the agreement successfully rattled China, and the move will better position both Washington and Canberra technologically to take on Beijing.
Key to the AUKUS alliance is military technology transfer, most notably eight nuclear-powered submarines that will be built in Adelaide, Australia, in close cooperation with the United States and United Kingdom. Canberra had previously planned to purchase diesel-electric attack submarines from France but pulled out of the deal.
During the unveiling of the new security pact at the White House in September, Biden said the alliance is a "historic step to deepen and formalize cooperation among all three of our nations because we all recognize the imperative of ensuring peace and stability in the Indo-Pacific over the long term."
Through the agreement, the countries will invest in new technologies to ensure that each nation has the most modern capabilities needed to maneuver and defend against rapidly evolving threats, he noted.
"AUKUS will bring together our sailors, our scientists and our industries to maintain and expand our edge in military capabilities and critical technologies, such as cyber, artificial intelligence, quantum technologies and undersea domains," Biden said.
A key project will include the acquisition of conventionally armed, nuclear-powered submarines for the Royal Australian Navy, leveraging technology that both the United States and United Kingdom have employed for decades.
"This will significantly improve the Australian Navy's reach and defensive capabilities," said U.S. Secretary of Defense Lloyd Austin III during a joint press conference in September. "It will also help to contribute to what I call integrated deterrence in the region."
The three nations will embark on an 18-month consultation period to delve into "every element of this program" including workforce, training requirements, production timelines, safeguards, nonproliferation measures, and nuclear stewardship and safety, to ensure full compliance with commitments under the Nuclear Non-Proliferation Treaty, Biden said.
Even before the AUKUS pact, Australia had been a major purchaser of U.S. arms. The nation is one of the top five importers of weapons in the world, according to the Stockholm International Peace Research Institute's latest annual "Trends in International Arms Transfer" report, which was released in March. The data looked at sales between 2016 and 2020.
Australia is the United States' second biggest customer, behind only Saudi Arabia, according to SIPRI. It accounted for 9.4 percent of total U.S. arms exports, and the United States supplied 69 percent of the nation's total weapon imports during that period.
Michael Green, senior vice president for Asia at the Center for Strategic and International Studies, a Washington, D.C.-based think tank, said the agreement for nuclear-powered subs is an important development.
This is an "almost unprecedented level of technology sharing and capability building to restore a better balance of naval power in the Pacific which we … need and which a lot of countries in the region really want," he said during a press briefing hosted by CSIS.
Australia has become increasingly alarmed about the strategic environment past its shores with China exhibiting aggressive behavior, Green later said during a panel discussion.
The Australians have "seen the Chinese try to build submarine bases in Vanuatu in the … South Pacific near them," he said. "They've seen the general power projection of the Chinese military beyond the First Island Chain — which is Japan and Taiwan and the Philippines — to the Second Island Chain, which is Guam … and into the Pacific."
Australia has also faced economic pressure through a Chinese embargo on coal, he noted.
With the Chinese threat growing, Australia needs new submarine technology to project power, Green said. That was not something Canberra felt France could provide, he added.
"The French and Australian version of this differs, but the Australian version is the French submarines were not on time, they weren't to spec," he said. "So, they brought this to the U.S."
For the Biden administration, a deal with Australia does two things: it gives a close ally the ability to hold Chinese forces at bay while also signaling to Beijing the consequences of its coercive behavior, he said.
Green likened the situation to a soccer game: "The Australians were looking at defending their own goal over the next 20 to 30 years; now they're going to go and make the Chinese worry about their goal."
However, the transfer of nuclear submarine technology — which has only been given to the United Kingdom previously — will be complicated, he noted.
"Australia has one small isotope reactor, so it's a big lift," he said. "But they're serious and there's bipartisan … support for it."
Tony Abbott, the former prime minister of Australia from 2013 to 2015, noted that the submarine agreement is one of the most significant decisions the country has made in decades. However, it will still be some time before the boats are in the water and on patrol.
"As things stand, we are not going to acquire an actual operational nuclear submarine perhaps for two decades and we need more and better submarines now," he said during an event hosted by the Wilson Center in October.
Australia currently has a small, but effective, fleet of Collins-class subs, he noted. However, the country needs better, bigger, faster and more wide-ranging boats immediately.
"One of the issues that I've been informally discussing here in Washington and elsewhere in the United States is, might it be possible for Australia to acquire a retiring L.A.-class boat or two and to put it under an Australian flag?" Abbott said. The system could be used for training or, if required, operationally in the Western Pacific, he said.
Alternatively, instead of a Los Angeles-class boat, Australia could procure a Trafalgar-class submarine from the U.K. Royal Navy, he noted.
"It is important to socialize these ideas with people in Washington — and were I in London, I would be doing the same thing there — because as I say, the challenges are pressing," Abbott said. "The peril is not far off. It is important to be conscious of what could happen quite soon and be ready to deal with it."
Besides submarines, other areas for technology sharing between the United States, United Kingdom and Australia include artificial intelligence, quantum computing, cybersecurity and underwater technologies, said Gen. Nick Carter, chief of the United Kingdom's Defence Staff.
There are already "capability overlaps, particularly when you talk about the underwater piece," he said during an event hosted by the Center for a New American Security in October. "Both ourselves and the Australians, for example, share the P-8 [Poseidon maritime patrol aircraft] as does the United States."
There are still some questions about how information and technology will be shared, but Carter said he hoped AUKUS would serve as a catalyst for the three nations to be more open minded when it comes to information sharing.
The agreement will boost cooperation in science, technology, strategic capabilities and defense industrial base integration, said Australian Defence Minister Peter Dutton during a press conference. That includes the space domain, which is becoming increasingly contested.
The Australian Department of Defense and the U.S. National Reconnaissance Office have committed to a broad range of cooperative satellite activities, he noted.
The countries will work together to enhance cooperation and innovation in critical technologies to advance the peaceful use of space through a framework agreement, Australian Foreign Minister Marise Payne added.
Canberra will also be enhancing its military force posture cooperation, increasing interoperability and deepening alliance activities in the Indo-Pacific region, Dutton said. This will include rotational deployments of U.S. military aircraft to Australia as well as the establishment of combined logistics and sustainment centers for maintenance to support the nations' enhanced activities, he added.
These activities will be complemented by conducting more bilateral exercises and greater combined exercise engagement with partners in the region, he said.
Michael Shoebridge, director of defence, strategy and national security at the Australian Strategic Policy Institute, said while some are pegging AUKUS as a new military alliance, it is not.
"What it is is a technology partnership, a technology accelerator," he told National Defense. Besides the nuclear-powered submarines, the rest of the equipment the alliance is targeting — AI, cyber, quantum, and more — are fast-moving technology areas.
"AUKUS is about accelerating these technologies in the hands of our three militaries in an enterprise way across the three countries' industrial bases," Shoebridge said.
Meanwhile, the AUKUS agreement shows how drastically relations between Canberra and Beijing have soured, Green noted.
China has used economic coercion to try and influence Australia. However, AUKUS shows that Australians will not be pushed around, he said. It is "a very strong statement of willpower from the Australian side."
Recently, the Chinese government put sanctions on several types of Australian goods as a means of employing economic coercion, according to the Pentagon's "Military and Security Developments Involving the People's Republic of China" 2021 report which was released in November.
"Shortly after Australia called for an independent investigation into the origins of the COVID-19 pandemic in April, the PRC halted beef imports from Australian meat processing plants and imposed an 80.5 percent tariff on its barley exports, citing pretextual anti-dumping and regulatory concerns," the report said. "In October, amidst a continued deterioration in relations, China imposed additional restrictions blocking most Australian coal imports."
In trying to squeeze the Australians economically, Beijing created tension, said John Schieffer, the former U.S. ambassador to Australia from 2001 and 2005.
The AUKUS deal has likely been a wakeup call for China, he said during an event hosted by the Center for Strategic and International Studies.
Beijing has bristled at the creation of security pacts such as AUKUS, and the Quadrilateral Security Dialogue, said Bonny Lin, director of the China Power Project at CSIS.
"China is very much opposed to the Quad and sees the Quad in many ways as very … pointed and geared towards containing China," she said.
To undermine Quad countries — which include the United States, Australia, India and Japan — Beijing has engaged in disinformation campaigns; sought to pressure, divide and sow discord among the alliance; and offset the Quad's influence through partnerships with other countries, Lin said.
"We're also seeing additional messaging that the United States might favor Australia in the Quad … at the cost of Japan and India," she said.
"In other words, China is now messaging that AUKUS itself will undermine the Quad."
Traditionally, Beijing has considered Australia and India to be weaker nations within the alliance, she said. "Australia has more or less borne the brunt of Chinese retaliation and punishment," Lin said.
However, Canberra has not yielded to Chinese economic coercion, she noted. The sanctions have "not caused Australia to change course or cause Australia to take a different position with respect to the Quad," she said.
So far, Green noted that the Quad is bearing fruit. "It has become really one of the most important parts of the diplomatic toolkit for these four countries," he said.

AUKUS Could Signal More Arms Exports for Australia

While Australia has much to gain from the new AUKUS trilateral partnership between itself, the United States and the United Kingdom, the country has its own robust defense industry that could benefit not only Washington, but other regional partners.
Despite being only the 16th largest arms exporter in the world, according to the Stockholm International Peace Research Institute's latest annual "Trends in International Arms Transfer," Australia is home to thousands of defense companies that focus on specialized technologies.
The United States is Australia's second biggest customer and accounted for 27 percent of its arms exports, according to SIPRI's data that looked at sales between 2016 and 2020.
Areas of Australia's expertise include robotics, artificial intelligence, cybersecurity and undersea technology, said John O'Callaghan, the Victorian Government of Australia's defence advocate. O'Callaghan is an expert in the Australian defense industry and spent 15 years working for the country's Department of Defence.
"We are quite sophisticated in terms of our research," he said. "We are growing … capabilities in those areas, and the university sector and other research arms — including the Defense Science and Technology Group, which is part of the Australian Department of Defence — are heavily involved in all of these technologies."
The Australian government believes that agreements such as AUKUS and groupings such as the Quadrilateral Security Dialogue — which includes Australia, the United States, India and Japan — will increase exports of arms, O'Callaghan said.
The regional defense industry is heavily involved in undersea technologies, he noted.
"In Victoria alone, there are some hundreds of Australian companies who've got an interest in submarine-related activity," he said. "It's not just about building hulls, it's about what goes into the submarines and how they operate."
Because of the nature of where the country mainly operates its Collins-class conventional submarines, principally north of Australia near the equator, the water is very warm. That requires the boats to be built with certain specifications in mind, O'Callaghan noted.
"The technologies associated with operating principally in warm water are different, for example, to the United States Navy's operations in the North Atlantic," he said.
Additionally, the country is also known for its work in improvised explosive device protection, he said.
"Australian defense personnel on deployment in the Middle East were constantly having to deal with growing IED threats," he said. The country's industry responded by taking lessons learned from war zones and manufacturing new technologies, including the Bushmaster protected mobility vehicle, to protect personnel. The Bushmaster is manufactured by Thales.
"That vehicle has proven to be not only the best vehicle in the Middle East but the best vehicle in the world for … that particular threat," he said.
Additionally, much of the nation's export activity regarding the defense industry is related to service support, maintenance and training, he noted.
Besides the United States, there is also a greater demand for Australian defense exports from regional partners such as Singapore, the Philippines, Malaysia and Indonesia due to strategic uncertainty in the Indo-Pacific region, he noted.
While Australia will likely always lean heavily on the United States for military equipment, the ongoing COVID-19 pandemic has resulted in a strong push from the government in Canberra to have more indigenous capabilities.
"The Australian government is now requiring, for example, that prime contractors … specify in their tendering bids the level of Australian industry engagement or Australian industry capability," O'Callaghan said. That will compel companies to do more work in Australia.
The government has said that it plans to invest over $200 billion over the next decade to grow its defense capabilities.
"Investment will power expertise and innovation," according to the Australian Trade and Investment Commission. "In turn, this places Australia's defense industry in a strong position to export cutting edge products, technologies and services."
Many American prime contractors have offices in Australia, including Boeing, Lockheed Martin and Raytheon.
Boeing Australia has made headlines recently with a collaborative effort it is undertaking with the Royal Australian Air Force for a "Loyal Wingman" unmanned aircraft. Earlier this year, the organizations completed the first flight of the system.
In November, Australia's Department of Defence announced that the program — which is the first military aircraft to be designed and manufactured in Australia in more than 50 years — reached new milestones with two aircraft successfully completing flight missions at the Woomera Range Complex in South Australia.
"The Loyal Wingman sets new standards for capability development and shows what collaboration between industry and defense can achieve," said chief of the Australian air force Air Marshal Mel Hupfeld in a statement.
Flight testing will continue the rest of the year, he noted. More than 35 Australian companies have contributed to the program.
Another major effort is a joint U.S.-Australia program to build air-launched hypersonic cruise missiles. Hypersonic weapons can travel at speeds greater than Mach 5 and maintain maneuverability.
The U.S.-Australian project known as the Southern Cross Integrated Flight Research Experiment, or SCIFiRE, was formally announced by the two nations last year.
The weapon will be a Mach 5-class precision strike missile that is propulsion-launched and powered by an air-breathing scramjet engine, according to the Royal Australian Air Force. It will be capable of being carried by aircraft such as the F/A-18F Super Hornet, EA-18G Growler, F-35A Lightning II and the P-8A Poseidon.
In September, the Pentagon awarded Boeing and Lockheed Martin contracts for the program's phase one preliminary design review. The value of the contracts were $39.6 million and $27.2 million, respectively.
Meanwhile, Victoria is a key industry hub, O'Callaghan said. The defense industry adds $8.4 billion annually to the state's economy, according to an informational white sheet about the region's defense sector. The defense industrial base there — which includes about 3,000 companies — has expertise in land, aerospace, maritime, weapons and munitions, digital technology and cybersecurity.
"Victoria has been the centerpiece of defense industry manufacturing" because of circumstances going all the way back to World War II, O'Callaghan said.
It was an area where industry could safely support military personnel, he explained. "Because of Victoria's physical location in the bottom of the nation, it was the safest and most secure area to do defense industry manufacturing."
Part 1 - The Quad: Creating a Defense Tech Alliance to Stand Against China
Part 2 - U.S., Japan Set to Enhance Cooperation on Military R&D
Part 3 - India Manages Diverse Arms Sources for Military Modernization
Topics: Global Defense Market