COMMENTARY GLOBAL DEFENSE MARKET
India, United States, Israel Should Pursue a Defense Innovation Triad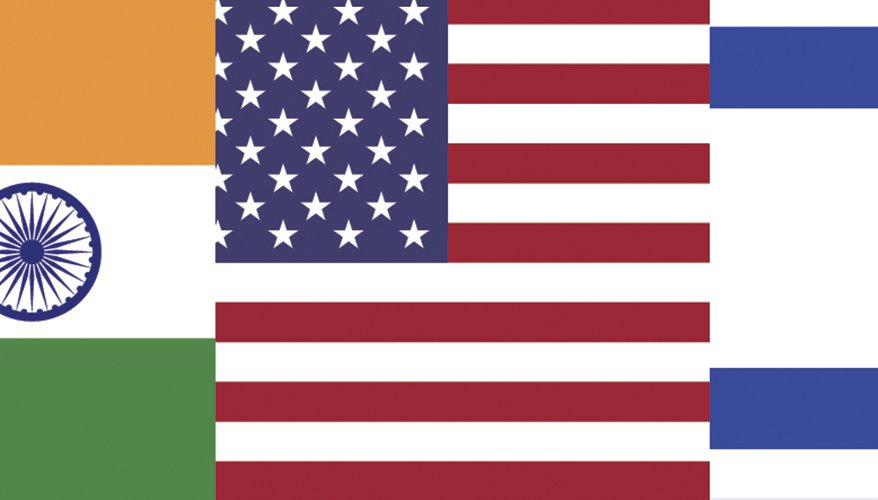 iStock illustration
The United States and India on Sept. 3 signed an agreement to co-develop air-launched unmanned aerial vehicles as part of the Defense Technology and Trade Initiative, a bilateral cooperation mechanism for defense trade and joint technology development. Under the agreement, the U.S. Air Force Research Laboratory will collaborate with India's Defence Research and Development Organisation and air force for "design, development, demonstration, testing and evaluation of systems" to co-develop the UAV prototype.
Capitalizing on this agreement on air-launched UAVs, the United States and India can advance their shared defense technology goals by involving a close military partner, Israel. If these three like-minded and tech-savvy democracies join hands to bring together their defense innovation communities in Silicon Valley, Tel Aviv and Bengaluru, it will be a crucial step in materializing a new kind of trilateral defense partnership.
The underlying assumption behind this potential collaboration is this: with the breakneck speed of advancements in emerging technologies like robotics, artificial intelligence and quantum computing, solo national efforts in developing and adopting them won't go far.
The United States and India commenced defense technology cooperation in 2015 when they renewed the "Framework for the U.S.-India Defense Relationship," a bilateral defense pact. Under this agreement, they explored basic technologies in the beginning, termed as "pathfinder projects." The intent was to harness America's advanced defense industrial base to India's desire to achieve self-reliance in defense technology through the "Make in India" campaign.
But despite their synergies, both countries were unable to make good on this collaboration as they discussed and explored many projects in the next few years, only to abandon them later. Some of the initial projects included the RQ-11B Raven unmanned aerial system, mobile electric hybrid power sources and a digital helmet mounted display system.
Therefore, the present agreement on air-launched UAVs is significant as it marks the first time that both countries appear to have made progress beyond initial deliberations. It leverages the U.S. and Indian governments' defense research establishments to deliver the next-generation combat capability.
Leveraging this progress in bilateral defense technology cooperation, the United States and India must look at ways to achieve more from their partnership.
One way to do this is by shaping trilateral cooperation involving Israel, with a focus on emerging technologies. Such a partnership would build on Israel's robust bilateral military ties with the United States and India. U.S.-Israel defense cooperation already has a strong research and development component to innovate capabilities ranging from missile defense to anti-tunnelling systems. Likewise, India and Israel have carved out a solid defense trade and R&D partnership including the development and operationalization of the Barak-8 air-and-missile defense system.
U.S.-India-Israel trilateral cooperation on emerging technologies will capitalize and expand on these existing bilateral synergies. A focus on startups and the deep defense innovation in Israel and the United States offers a clear pathway to initiate and nurture this cooperation.
The Pentagon has tapped into Silicon Valley's innovations by setting up the Defense Innovation Unit. It works closely with the tech industry and startups to shortlist, fund and develop emerging technologies including AI, autonomous systems and cyber.
Israel too has created a thriving defense innovation base centered in Tel Aviv. This has made Israel a technologically advanced military power and earned it the "startup nation" nickname.
India is following the lead set by Israel and the United States in tapping startups for defense innovation. Under a new flagship initiative called the "Innovations for Defence Excellence" (iDEX) program, India is asking its domestic startup ecosystem, particularly in Bengaluru, to arm the Indian military with technologies like soldier protection systems, secure hardware encryption devices, unmanned surface and underwater vehicles, and AI-based satellite image analysis, among others. This is also bringing commercial participation from the United States as many Indian startups have investments from Silicon Valley venture funds like Artiman Ventures (Tonbo), Accel and IDG Partners (Axio Biosolutions) and WRVI Capital (ideaForge).
There is an opportunity to take this one giant step forward by creating a startup corridor that conjoins the three innovation hubs of Silicon Valley, Tel Aviv and Bengaluru.
This corridor can potentially cover emerging technologies like quantum science, AI, drones, blockchain, autonomy and robotics, 5G/6G, additive manufacturing, and advanced battery technology and power sources.
For many of these technologies, Israel and the United States have already reached an advanced stage of research and cooperation, compared to India which is still discussing the implications of some technologies like AI and quantum computing, and expanding its technological capabilities in others such as robotics. Their acquisition will augment options for the Indian and American militaries in dealing with an aggressive China.
Beijing has anchored its flagship national policies such as "Made in China 2025" on these strategic technologies. Beijing perceives them as multi-use, thereby blurring the distinction between civil and military applications. It has also joined hands with Moscow to develop new technologies. As a result, the United States, with the largest spending on defense R&D among the democratic states, no longer enjoys the absolute technological lead it earlier had.
China's determined pursuit of tech supremacy coincides with its confrontationist attitude against neighbors and adversaries, as seen most recently in the border standoff with India in the Himalayas and escalated violations of Taiwan's Air Defense Identification Zone. These developments make it imperative for the United States to bolster its existing R&D activities in emerging technologies by enlisting allies like India and Israel.
The idea of trilateral cooperation is not new. In recent years, Indian American diaspora associations and Jewish American associations in the United States have repeatedly argued for creating a technology triangle between the three countries. Even the governments have tried their hand. In September 2020, Bonnie Glick, then-deputy administrator of the U.S. Agency for International Development, mentioned that the three countries had explored initial cooperation in 5G communication technology.
Against this backdrop, the three countries can initiate discussions for a formal collaboration between India's iDEX, Israel's Directorate of Defense Research and Development and the United States' DIU. They can then institute flagship technology programs to develop use-case scenarios. Alternatively, they can establish a joint group to identify and monitor emerging technologies, before deciding to collaborate.
To enable partnerships between these defense innovation ecosystems, the three countries can create a seed fund that offers initial funding to the startups' ideas, even before they reach the technology demonstration/prototype stage. The seed fund may take the form of a multi-year commitment from the three countries. An additional layer will be an academic collaboration among the nations' premier tech institutions.
Another way to forge collaboration between startups is to hold hackathons where teams representing the countries will work on problem statements identified by their militaries. There is a precedent for this. In 2008, the Indian and U.S. armies held an event called MAV08 in India to develop feasible micro air vehicles technology.
Steps such as these will facilitate collaboration on defense innovation.
The idea is not without its challenges. One principal obstacle is Israel and India's defense relations with other countries. Among these are India's Cold War-origin defense ties with Russia. India has veered away from Russia in the last decade, with Israel and the United States becoming principal weapons suppliers.
However, New Delhi continues to purchase major equipment from Moscow, like the S-400 long-range surface-to-air missile system. This purchase has caused considerable irritation in India-U.S. ties. India has explained the rationale of acquiring this system to the U.S. government, but Washington has clarified that New Delhi is not guaranteed to get a waiver under the Countering America's Adversaries Through Sanctions Act, which imposes sanctions against countries that engage in significant transactions with the Russian security establishment. This issue is expected to generate friction as the delivery of the S-400 is scheduled to begin by the end of 2021.
Meanwhile, Israel's defense ties with China and Pakistan can be problematic for trilateral cooperation. Israeli arms sales to China began in the 1980s and flourished over the years. But by the late 1990s, the United States, concerned by Chinese military modernization, began vetoing these sales including a highly lucrative deal involving the Phalcon airborne early warning radar system.
In 2005, the U.S. showed its resentment by imposing sanctions on Israel over the latter's reported sales of Harpy drones to China. There have been no additional sales to Beijing since then, but Israeli media has reported instances of unofficial and illegal sales to China. It has also reported similar sales to Pakistan, despite the absence of formal diplomatic relations between the two countries.
These defense ties with other countries, overlooking the partners' security interests, may complicate a potential trilateral teaming. However, a frank dialogue addressing these differences and developing a shared understanding of the threat environment can certainly enhance compatibility.
Rapid technological advancements today will ensure that those nations which harness and adapt them will be ahead of their competitors. Hence, the United States, India and Israel need to join hands to expand their advantage. The logic of undertaking such an effort becomes even more apparent in the face of the challenge of a once-in-a-century pandemic of COVID-19, which has strained economies and resource mobilization and distracted many countries from their strategic goals.
This trilateral partnership, therefore, holds promise for overcoming these trying times.

Sameer Patil is a fellow at the International Security Studies Program at Gateway House, a Mumbai-based foreign policy think tank.
Topics: Global Defense Market