I/ITSEC NEWS: Navy Eyes Simulators to Cut Pilot Training Costs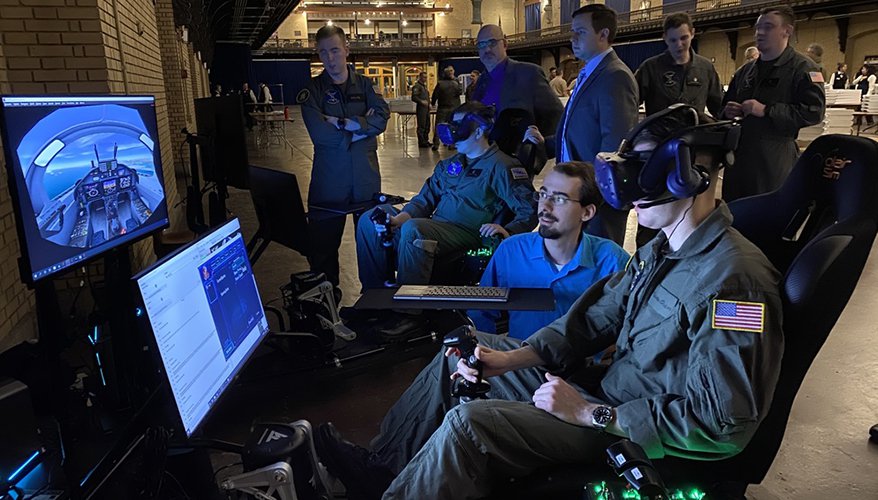 A Naval Academy midshipman conducts a simulated flight on a virtual reality trainer at the U.S. Naval Academy.
Navy photo by Lt. Cmdr. Rick Healey
Orlando, Fla. — To help offset financial pressures, the Navy plans to increase its employment of simulators for its naval aviators, officials said Dec. 1.

By bulking up the amount of virtual training sailors receive before moving into live exercises, the sea service could strengthen its technological abilities while keeping training costs low, said Rear Adm. John Meier, the commander of Naval Air Force Atlantic.
"We recognize that the cost to operate our business, the cost to train and develop a carrier air wing is pretty high — and the cost per flight hour is pretty staggering, the cost to maintain our aircraft is staggering," he said during a panel discussion at the National Training and Simulation Association's annual Interservice/Industry Training, Simulation and Education Conference in Orlando, Florida. NTSA is an affiliate of the National Defense Industrial Association.
"One of the areas that I've got a laser dot on is: how can we reduce some of [those] flying hours and increase more on the simulation side?" he said.

Meier said flight training for naval aviators is being largely conducted via live flight hours. He assured the audience that he wouldn't "take a hatchet" to live training, and that he wouldn't want simulators to exceed 25 percent of an aviator's training.

"I'd be happy to move the needle" to even just one more simulated flight for student pilots, Meier said. "That'd be a step in the right direction, and I think we could measure that with cost savings."

The Navy is already leveraging simulators, such as virtual and mixed reality systems, to train pilots through an effort called Naval Aviation Training Next, said Rear Adm. Robert Westendorff, chief of naval air training. The goal for the program is to create more competent pilots that can react to current and future threats, rather than previous ones, he said.

"The global war on terrorism was a unique skillset for naval aviation," Westendorff said. "But it doesn't translate well in many aspects to this near-peer threat that we have to deal with in the future."
The Pentagon has flagged China as the nation's pacing threat, and has also warned about Russia's growing military.
Naval Aviation Training Next is "the most innovative thing that I've seen in the training business in a long time," Meier said.

Meanwhile, the Navy is working to modernize its equipment faster in order to keep up with pacing threats through innovative acquisition programs. NavalX and Naval Tech Bridges are two efforts that often use other transaction authority agreements, also known as OTAs, as an acquisition tool to bypass bureaucratic red tape that can come with traditional Defense Department procurement processes.

Hallie Balkin, the learning director for other transactions at the Defense Acquisition University, noted that the traditional procurement process makes it difficult for the Navy to keep up with adversaries.

"The traditional way to get stuff — things like technology, a widget, whatever it might be — is not sufficient," Balkin said. "But an OTA can be a way that can at least alleviate some of the burden that people have."
Topics: Training and Simulation