JUST IN: Pentagon Leader Hits Back at JADC2 Criticism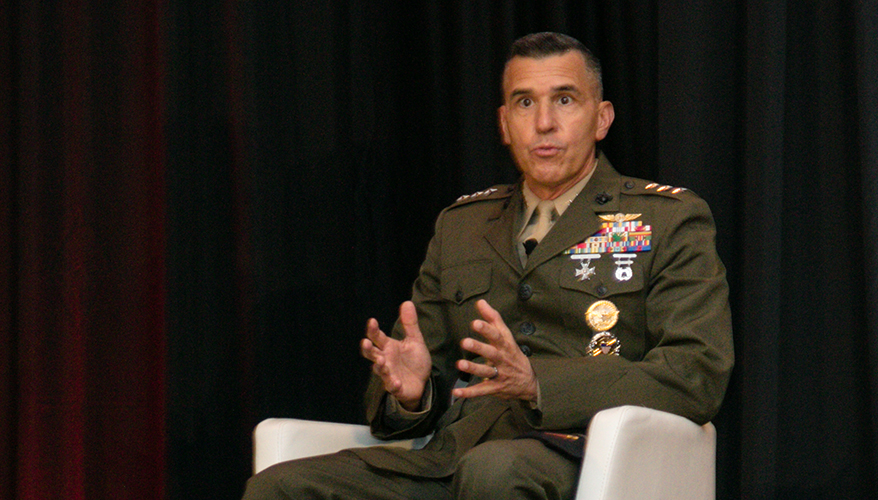 Marine Corps Lt. Gen. Dennis Crall
Photoi by Melanie Yu / NDIA
The joint staff's point man on all things information warfare hit back at critics of the military's three separate efforts to create interoperable networks that tie together sensors and shooters.
Known as joint all-domain command and control, or JADC2, the concept calls for an interconnected battlefield where sensors aboard manned and unmanned platforms can autonomously and seamlessly pass around sensor data to weapon systems.
The problem is that that Army, Navy and Air Force are all pursuing their own programs, which is calling into question whether the end product will truly be "joint," as the concept demands.
Todd Harrison, director of defense budget analysis at the Center for Strategic and International Studies, wrote in a recent issue brief, "Battle Networks and the Future Force" that "while many programs and activities are simultaneously underway across DoD, a major impediment to making meaningful progress is that no one 'owns' the overall JADC2 mission area."
The current approach risks creating "
stovepiped
" networks that aren't as interoperable as they would be with a more coordinated approach to program management, he wrote.
The Army calls its JADC2 program Project Convergence, the Navy has Project Overmatch and the Air Force calls its effort the Advanced Battle Management System.
"Each of the military services owns their respective programs, platforms and battle networks — and the budgets that fund them — but there is no effective forcing function that ensures the services' systems will be able to work together," he added.
Marine Corps Lt. Gen. Dennis Crall, director of command, control, communications and computer and chief information officer on the joint staff, J6, said the premise of the argument is fair, but that's simply not the case.
"I guess the thesis behind that argument is if you don't have some governing structure, you will probably be doomed is fair," he said Nov. 4 at the National Defense Industrial Association's Special Operations/Low Intensity Conflict annual conference in Washington, D.C.
"What is not addressed in that report are the steps that the vice chairman and the deputy secretary took to ensure that exact thing would not happen," he said.
A cross-functional team, of which he is a member, has taken over to coordinate the three programs. Pentagon leaders looked at forming a joint program executive office or designating one of the three services as the "lead," but settled on the cross-functional team, he said.
"I will say today that the cross-functional team is performing the role exactly as the deputy secretary had envisioned," he said. "We are producing a level of synergy between Project Overmatch, Project Convergence and ABMS."
In the team, no single service has more "equity" than another and it serves as a "neutral ground," he said.
"But one of the biggest advantage is you can take risks," he said. Program executive offices try to eliminate all risks, but the cross-functional team believes that it should model itself after the private sector, which believes in failing fast, learning from mistakes and moving on quickly.
Quoting Vice Chairman of the Joint Chiefs of Staff Air Force Gen. John Hyten, Crall said he expects the cross-functional team to work itself out of a job in three to five years "once JADC2 has irreversible momentum and is demonstrating minimal viable products."
"Then we can talk about where to house these things," he added.
"The year of planning is done. This is the year of execution," Crall said.
Topics: Defense Department